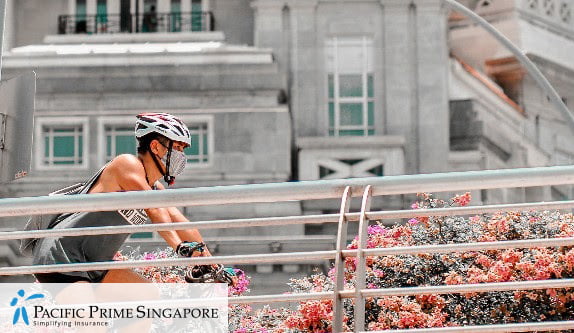 Where do you get tested for COVID-19 if you have symptoms?
If you are concerned that you might have contracted COVID-19, (some of the more common symptoms are a prolonged fever, cough, runny nose, sore throat, or breathing difficulty),  you should seek medical attention at one of the designated Public Health Preparedness Clinics (PHPCs). Find your nearest PHPC by heading to www.phpc.gov.sg. If you are suspected of having COVID-19, you will be referred to a local public hospital for testing, and follow-up care treatment if the result comes back positive.
Currently, the government will cover all COVID-19 treatment costs at public hospitals, excluding outpatient treatment expenses at polyclinics and private medical facilities such as private general practitioner clinics.
Does expat health insurance cover COVID-19?
Normally, most insurance policies will outright exclude coverage for pandemics like COVID-19, but since the coronavirus is a new and unknown disease, many local and global insurers will treat it as a special condition that is not subjected to general exclusions.
That means insurers are likely to cover the following expenses, but up to the agreed limits of your active policy:
Expenses for diagnostic tests when authorised by a medical practitioner.
Expenses for inpatient hospital treatment, including admission into isolation wards and use of specialised equipment, like ventilators.
Outpatient treatment expenses for the virus and its symptoms, as approved by a medical practitioner.
I have international expat health insurance; do I still receive the same benefits?
If you have international expat health insurance, then you are also covered overseas. For example, if you live and work in Singapore, but your work requires you to travel to Bangkok, Thailand. If you are diagnosed with the virus when you are there, then you will most likely be covered at one of the agreed networks of healthcare providers. As the policy provides coverage overseas, your policy will work as if you are still in Singapore.
For those with such a plan, be sure to review the terms and conditions attached to your policy. You should be aware of the arrangements for international cover and whether extended benefits like medical evacuation are included. If you are unsure, always get an update with your insurer or broker.
Need more help and information?
Besides checking your policy's terms and conditions, you can also contact Pacific Prime Singapore's team of health insurance experts, who specialise in creating health insurance plans for individuals, families, and groups. For expats looking for international expertise, Pacific Prime Singapore has the right mix of knowledge and experience to help formulate a plan that meets your needs and budget.
To help prevent and curb the spread of COVID-19, you can download Pacific Prime's free Coronavirus Avoidance Guide to help you stay safe amidst the pandemic.