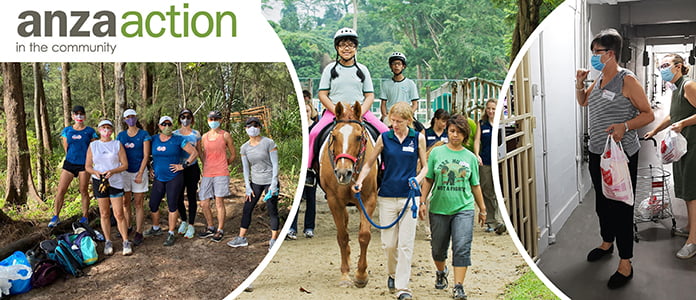 ANZA Action is ANZA's community affairs arm. We support charities in Singapore, through various fundraising and volunteering activities. It's a way to give back to our adopted home and integrate into the local community.
Latest News!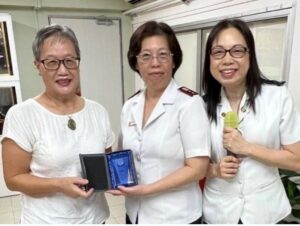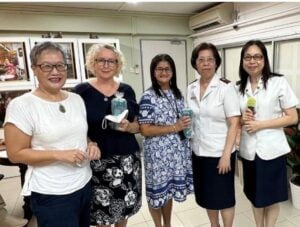 Some of our ANZA Action volunteers were invited to the Salvation Army Family Support Services at Beo Cres, Tiong Bahru. Along with witnessing a showcase of special portraits of the elderly taken by Singapore photographer, Charlie Lim, awards were also given out to long-time benefactors and volunteers. ANZA's very own Virginia Soh was one recipient for her 14 years with the food delivery team. "It was lovely to catch up with the elderly who use the drop-in centre once a week. We last saw them pre-Covid and they were happy to see us as well," she said.
📸 Virginia, Mary Ann, Naomi, Capt Wai Cun Yong and Ivoine Tang.
Salvation Army
Pack and deliver food to the elderly in HDB accommodation in the Tiong Bahru area on Tuesdays or Wednesdays 10.15am – 12.15am (once or twice a month) with a designated Salvation Army social worker and driver. To sign up contact info@anza.org.sg  There are also volunteer opportunities with the elderly community at the Family Support centre, assisting with crafts, hand massage or a game of Mahjong.
Babes Pregnancy Crisis Support
Babes Pregnancy Crisis Support (Babes) provides support to pregnant teenagers in Singapore through casework, crisis management and community integration. Find out more about Babes volunteering opportunities at http://www.babes.org.sg/ or email hello@babes.org.sg 
Dress for Success Singapore
Dress for Success Singapore supports lower-income women to enter the workforce. They offer volunteer opportunities in styling, career coaching, mentoring and skills-based assistance such as marketing and communications, fundraising and event support. Find out more at  https://singapore.dressforsuccess.org/get-involved/volunteer/
Aidha
Aidha provides financial literacy and self-improvement classes for Foreign Domestic Workers, with the aim of helping them to set up businesses or make investments in their home countries. Mentor a class on Sunday, supporting campus management staff during the week, or take on fundraising and research work. Attend an orientation session to find out more https://www.aidha.org/get-involved/volunteer/
New2U Thrift Shop
This Singapore Council of Women's Organisations (SCWO) thrift store sells pre-loved clothing, bric-a-brac, toys and books, all donated by the public. New2U is managed entirely by volunteer and proceeds go towards the Star Shelter and the various SCWO Initiatives. The store is open 10.30 – 2.30pm on weekends and the last Sunday of every month. For more information contact volunteer@scwo.or.sg or visit https://www.scwo.org.sg/get-involved/be-a-volunteer/
Riding for The Disabled Singapore
RDA Singapore offers equine assisted activities and therapeutic horse-riding program for children and adults with disabilities. They welcome new volunteers to help with horse-riding therapy sessions at their centre in the Upper Thomson district. No experience is needed as full training will be provided. There are both morning and afternoon volunteering opportunities. To find out more or apply, contact volunteer@rdasingapore.org.sg or visit http://rdasingapore.org/
Ronald McDonald House Charities (RMHC)
RMHC is a small facility supporting the Paediatric ICU at the National University Hospital, Kent Ridge. ANZA members staff the front desk here, either in the House or the Family room. Shifts are from 9am-1pm, 1pm-5pm and 5pm-9pm. Duties involve answering the phone, taking deliveries, replenishment of snacks and registration of guests. RMHC also has the Happy Wheel Cart which offers drinks and snacks to children and caregivers at the outpatient clinic.
All volunteers will be trained on-site by staff. For more information visit http://rmhc.org.sg/index.php/get-involved/  or email contact@rmhc.org.sg
Singapore Cancer Society
The Singapore Cancer Society require volunteers to give their time and talents to help minimise the impact of cancer in Singapore. There are a range of volunteering needs – from communications to community engagement. For more information contact volunteers@singaporecancersociety.org.sg
Cycling Without Age
Cycling Without Age Singapore is looking for volunteer 'pilots' to take seniors and people with disabilities on trishaw rides in an innovative intervention programme that tackles social isolation in Singapore. To volunteer go to https://cyclingwithoutage.sg/get-involved/volunteer/ and fill in their sign up form.
IC2 Prephouse
IC2 Prephouse is a welfare organisation working with children with low or no vision. They require volunteer support for events, fundraising activities and preparing teaching materials, as well as home support with readingand conversational English. For more information and to sign up go to https://ic2.com.sg/volunteer/
Children's Aid Society – Melrose Home
Melrose Home is a children's home located in Boon Lay. Volunteering opportunities include home improvements, recreational outings, mentorship, fundraising and skills-based support.  For more information visit http://childrensaidsociety.org.sg/cas/be-a-volunteer/
Project Dignity
Project Dignity is a social enterprise providing vocational training and employment services to differently-abled Singaporeans. Support their mission by ordering from their bento box and muffin catering services, engaging in their corporate team building days or taking a cooking course. Find out more at  https://projectdignity.sg/
ANZA Knitters
Join the ANZA Knitters and create lovely beanies for chemotherapy patients through the Knit for Love Singapore Cancer Society programme. The knitters also make newborn clothing packs for Babes and knit for other good causes. They meet at the ANZA office on the third Friday of every month. Contact info@anza.org.sg to be "hooked up" with the knitting group.
Love, NILS Holiday Toy Drive
Love, NILS needs your help donating NEW, high-quality toys, games and electronics for children of all ages. There is NO limit on the number of toys needed. Cash donations are also in need to purchase new toys, especially for teens. Find out more on the Love, NILS page.
For the most up to date opportunities and to say hello, contact anzaaction@anza.org.sg  and join our Facebook page.