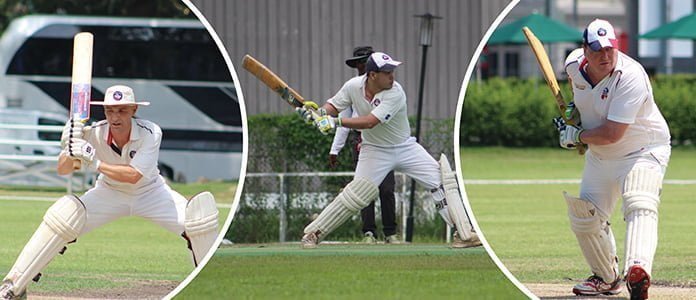 One of the original sporting groups, ANZA Cricket has been an integral part of the hallowed game in Singapore for many years. We currently have two league teams, as well as a social team. The aim is to offer cricket for all levels of players. Whether you're a gun player, or someone who hasn't played in 10 years and wouldn't mind rolling the rusty arm over once more (most of us are the latter!). It's a great way to meet people, settle into Singapore life, enjoy some banter and relax!
Grab a bat or ball, don the whites and join in!
ANZA Cricket fields two teams in the lower Divisions of the Singapore Cricket Association ICC League (ANZA Diggers, ANZA Bushrangers). These games are played on weekends and may be either T20 or T30 format. A season constitutes 14 games spread out through the year and we try to black out dates such as school holidays etc. Teams are managed by our TeamStack app. With people travelling, there is always an opportunity to play and the team each game does vary.
For those interested in a social game, the "Dream Team" is the social team we offer. They play against other social teams (usually 30 overs per side), followed by a few drinks. These games may be on Weekends (1-2 a month) but from 2023 more will be held on Friday afternoons from 1pm, so lock in those flexible work arrangements.  Friday games are a great way to finish the week and best of all, leaves you all weekend with family and friends. Social rules are similar to league but one bowler is capped at 5 overs, Batsmen retire hitting 40 n.o and come back at the end, and wide rules are relaxed. This allows everyone to get-a-go. The standard of League and Social is not too far apart as many play both, but the attitude of the opposition and your captain is different, and not so serious with Social Cricket. Everything is more relaxed than in Aus or NZ.
Weekly NETs are held on Wednesday evenings from 7pm. These are informal and everyone is welcome, so bring your friends. There is no requirement to attend NETs. It is a chance to practice, get some exercise and catch-up with friends.
ANZA Cricketers also hold social functions throughout the season – all are welcome.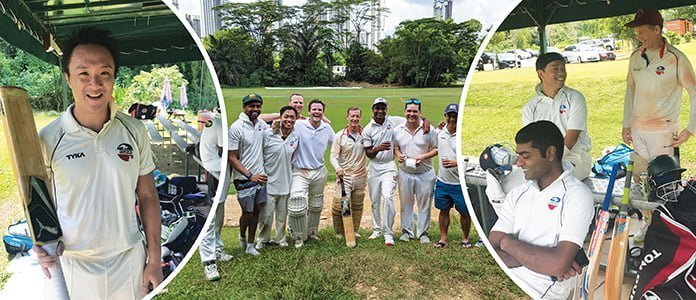 When: League games are on Saturdays or Sundays. The season traditionally runs all year round. Occasional nets sessions will be organised through our teams' WhatsApp groups.  Social cricket is on both weekends and Friday afternoons. We try to arrange it so League and social games do not clash on the same weekends.
Where: Game location varies from week to week but Dempsey is our home ground. NETs are usually held at the Cage Sports Park, Kallang.
Number of games: This will change depending on field availability, but we hope to offer each league team players 14 League games and socially 30+ games. There will be a few weekends away to JB, Batam and also two tours in SE Asia. So that's 45+ games in a season. Social Only players will get about 30+ games to choose from + weekends away, tours etc so there's plenty of cricket!
Fees: Three options depending on your availability and if you want to play league.
$260 for League players (Can play league games, tours and all Social Games – 45 games).
$200 for Social level (all social games, tours etc – 30 games) per player).
In 2023 we have introduced a Social Lite membership as a trial. If you're not sure about your availability because of family, travel etc, or whether you can get back into the game after a long break, we offer non-members this chance to play a few games with us as a trial. After a max of 8 games, you will be required to join ANZA.
Register HERE
Day Match fees are approximately $50 per game, which partly offsets ground charges, umpire fees and refreshments.
We do have some junior members who are able to play league and social cricket.  For them no membership fees are required if the family is a member of ANZA. If you have a budding Bradman or Trent Boult in your house, we would love to have them play with us and also alongside you. Social cricket is a great forum for Dad and Son/Daughter cricket.
Sponsored by