ANZA Soccer is a parent-run, parent-coached, not-for-profit kids soccer club catering for all levels of skill from beginner to expert, with our emphasis being affordable, fun and competitive soccer. The Saturday Club League is coached and run by parent volunteers and provides an inclusive and enjoyable environment with a focus on fun and fostering a love for the game, while still maintaining a competitive spirit. Each team emphasises fair play and guarantees a level of play time for all players, regardless of ability.
We started nearly 50 years ago with expat Australian and NZ kids, now have many European and other expat nationalities, and are open to absolutely all. Our main programme is an internal league played over about 30 Saturdays which all players participate in, where players in each age group are organised into balanced-ability teams of mixed-gender and girls-only teams (4-10 teams per age group) who then play an internal league and also Cup in older ages. About a third of main programme players also represent ANZA in external leagues on Sundays, which also includes 1 weekday training.
ANZA v ANZA Soccer
Volunteer!
Key Information
Request a trial
Matildas Girls-only Teams
Matildas Competition Teams
Holiday Camps
ANZA vs ANZA Soccer
ANZA Soccer is one of the many sports and social programmes run by The Australia and New Zealand Association (ANZA), so our registration page sets you up first with ANZA membership (per family) then ANZA Soccer membership (per child).

Volunteer!
We are a parent-run, parent-coached, not-for-profit club, and rely on wonderful parents to volunteer. Please reach out to your Age Group Coordinator to do so.
Key Information
Request a trial
We do not require you to trial for our main programme – we accept players of all skill levels, from beginner to expert, 2-18 years old. Commonly people just register directly, on the recommendation of their friends. However if you do prefer a trial, you can register using the button below:


The Matildas Girls-only Teams
From age 5, girls may choose to enter a Matildas team or a mixed team in the Saturday Club League. Girls younger than that will be placed in mixed teams. Please note, girls will play one age group down according to age. For example, if you were born in 2013, you will play in the 2014 age category. This follows generally accepted soccer practice to allow an even playing field against boys' and mixed teams. Every effort is made to place at least two girls together in any mixed team. We recommend that girls aged 5 and above join the Matildas program, as this provides them the best opportunity to develop and enjoy the game with their peers.
Sunday Competition Teams
The Sunday Competition Program consists of nearly 300 ANZA players in 24 teams with 1 weekly training by qualified coaches. These teams achieve outstanding results in the JSSL, ESPZEN and PYCL Sunday Leagues, and their excellent results showcase the dedication and hard work of our players and coaches.
ANZA Soccer enters mixed teams and girls-only Matildas teams into the Sunday Competition Program. Our dedicated and passionate competition players, coaches, team managers, and group coordinators work hard each season to make our teams competitive, while maintaining our ANZA Soccer fair play standards.
We form our competition teams from the pool of registered main programme players, through a series of trials in August each year, in preparation for the external leagues season starting in September. Selection is merit based, including skills, commitment, etc. You are required to register and pay for the Competition Team before trying out. If you are unsuccessful, a full refund of the Sunday Competition Program fees will be made.
We have a limited refresh of the teams in December, to replace players leaving Singapore, plug gaps etc, in preparation for the external leagues season starting in January.
Note that you need to register for, and participate weekly in, our main Saturday programme in order to be an ANZA player who can then represent ANZA in external leagues. Sunday comp registration is not available on its own (limited exemptions are available for returning players who needs an exemption for a single season, and our oldest G17 group is exempted).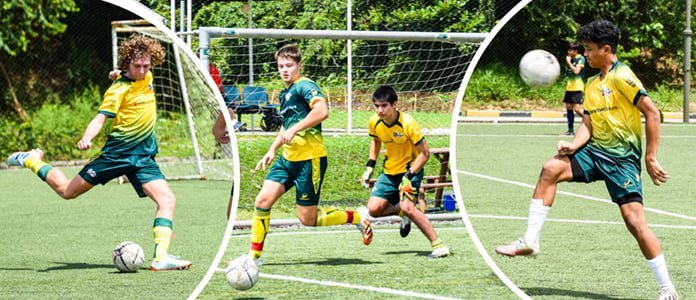 During registration, please indicate your volunteer preferences from our website. Thank you for generously giving your time to help make our programs happen!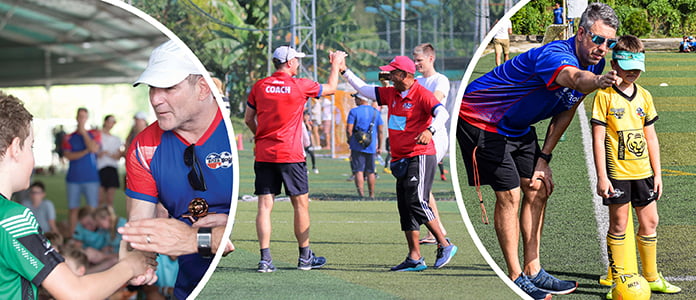 Holiday Camps
Looking for a school holiday activity for your soccer playing kids? ANZA Soccer runs four-day kids soccer camps. The camps are open to all ANZA members and their friends and will be run by our professional coaches. Groups will work with a dedicated coach on skills development, fitness and small sides games.
If your child is not already a participant in ANZA Soccer, it's a great way to get an introduction to our well-regarded programme and train with ANZA's professional coaches who provide camps, additional skills training and mid-week training sessions.
Interested in a camp? Email us to let us know
Fees
ANZA Soccer offers amongst the most affordable fees among youth soccer clubs and academies in Singapore.
The Saturday Club fees are $425 for those starting from November for the remainder of the season (til end-April), including 1x weekly age-group training, Saturday Club League games, and kit.
Sunday Competition fees are $475 for those starting from November for the remainder of the season (til end-April), including 1x weekly competition training, Sunday Competition League games, and kit.
ANZA Family Membership is required throughout the season, and costs $200 per year. Join ANZA now to become part of our soccer community.
More Information
Thank you for considering ANZA Soccer for your child's soccer journey. We look forward to welcoming them to our soccer family and providing them with an unforgettable experience.
If you have any questions or need further information, please do not hesitate to reach out to us at info@anza.org.sg
Thank you to our Sponsors