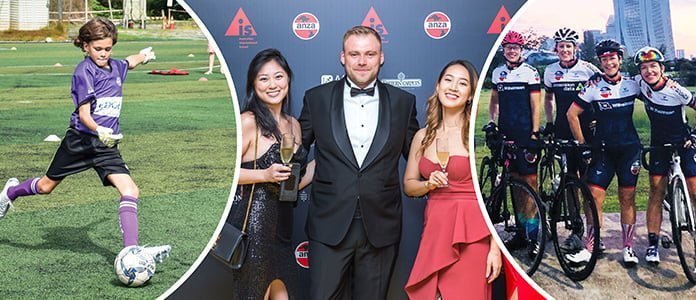 Founded in 1948, The Australian and New Zealand Association (ANZA) has a long history of welcoming newcomers to Singapore and supporting our members with a range of sports, events, tours, interest groups, networking and volunteering opportunities.
ANZA is a diverse and inclusive association. Our 7000+ members value our strong sense of community and connection, especially if they're expats living away from home and loved ones. ANZA's membership is made up of a wide range of nationalities – everyone is welcome.
History – how ANZA Sports developed 
ANZA first began life in 1917, when the Australian and New Zealand Association of Malaya was registered as a Society in what was then the Colony of Singapore.
In 1948, following the end of the Second World War, The Australian and New Zealand Association (ANZA) was founded and the original Australian and New Zealand Association of Malaya ceased to exist.
It wasn't until 1961 that ANZA was officially established, as there was much re-building after the war and the administration process took time. The early goal of the association was to provide friendship and support to Australian and New Zealand families based here, as well as a home-away-from-home, where Aussies and Kiwis could build important friendships and give back to the local community.
In the 1960s-70s, ANZA developed into a popular family association, with women at the forefront of activities, fundraising, and events. In 1974, The Women's Auxiliary Committee was formed. On the social front, the ANZA Ball was held the Seaview Hotel, and later at Raffles Hotel, The Tanglin Club and the Goodwood Hotel.
In 1969 a new ANZA logo was designed – featuring a stylised kangaroo and kiwi bird on red and blue backgrounds.
Sport has always formed the heart of ANZA. ANZA Soccer sent out its first registration letter in 1979, inviting young players to join the ANZA International Junior Soccer League. Tennis and swimming were also popular during this time.
ANZA has never had a clubhouse, but has maintained a welcoming office space for volunteers and visitors. Over the years the ANZA office has been located Tanglin Mall, Boat Quay, Kampong Bahru and now in a shophouse in the culturally diverse Kampong Glam.
In the 1980s the ANZA Fashion Parade was a hit, as well as expat classes in cookery, craft and exercise. In 1987, a newcomers Coffee Morning was established, which still runs today as Casual Coffee.
ANZA Netball was formed in 1991, to cater to girls wanting to play the popular team sport. ANZA celebrated its 50th Anniversary in 1998 with a commemorative book, titled Snippets from the Past. A grand Golden Jubilee Ball was held in the Shangri-La ballroom.
In the 2000's the longstanding Melbourne Cup Lunch was a high point on the social calendar. ANZA Cycling began in 2002, and began to attract keen cyclists around the island. A regular girls' night out, now known as Ladies Night, drew women together for a drink and a chat. In 2018, ANZA celebrated its 70th anniversary with a glamourous celebration at the Australian High Commission.
Now, ANZA's membership represents a wide range of nationalities and age groups. Current sports groups include Cycling, Soccer, Netball, AFL, Nippers, Cricket, Walking, Athletics, and more.
Our annual events include the Great Australia Day BBQ with the Australian International School (AIS), the ANZA Ball and ANZA Melbourne Cup Race Day Smaller meet-ups include book clubs, photography, mahjong, wine evenings, new members drinks, and more. Our charity arm, ANZA Action supports over 15 local charities.
ANZA Magazine through the years: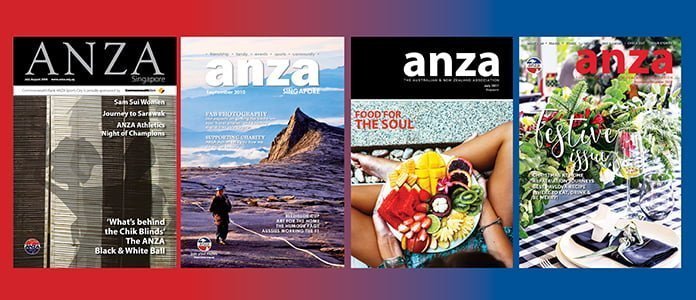 In the 60s a simple ANZA newsletter reported on the Women's Auxiliary, travel, charity work, and life on the red dot.
In 1979 a publication called First Edition was printed and a competition was held to name the magazine. The winning title was ANZA Antics.
In the 1990s came ANZA News, a black and white bound booklet which kept members updated with ANZA events, tours and classes.
The 2000's saw the development of ANZA Magazine – a glossy lifestyle publication with bold covers and colour printing.
ANZA now communicates both via the monthly ANZA Magazine, our website, eDM and though our Facebook page, which has 5500 followers.