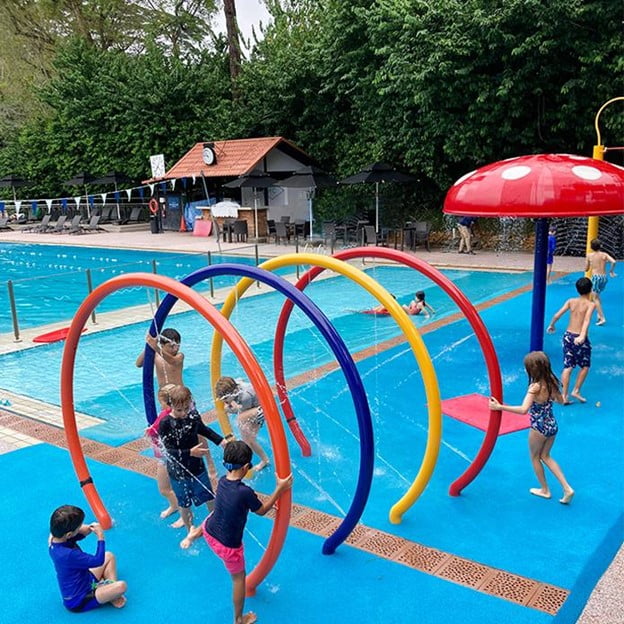 Tucked away amidst the lush surroundings of Bukit Timah, the Hollandse Club is a sports and social Club offering a relaxed, vibrant, and family-friendly environment, away from the hustle and bustle of everyday life. You don't have to be Dutch to call the club home as it has members from over 40 nationalities. In fact, the Australian and New Zealand community comprises over 10% of Hollandse Club's overall membership, the second highest nationality by membership at the Club.
Discover your next home-away-from-home
The Hollandse Club offers something for everyone:
Young parents looking for activities to entertain the whole family
Sporty individuals looking to join a community
New expatriates to Singapore looking to expand their network and meet like-minded people
Busy individuals simply looking for an oasis to unwind and recharge from the workweek
Robust sports programmes & activities
Sports enthusiasts will be spoilt for choice with over 10 sports and activities for all ages and abilities. Take your pick from tennis, padel, swimming, squash, dance, golf, hockey, karate, football, personal training, barre, body conditioning, and yoga. Those competition-oriented can enter ever-popular tennis tournaments and swimming competitions, while those who prefer the camaraderie of team sports can join tennis and squash socials to meet fellow players. The little ones can also look forward to children's camps during the school holidays.
Club facilities
In addition to five tennis courts, three swimming pools, two squash courts, a gym, and a co-working space, Hollandse Club also offers event spaces and meeting venues, perfect for networking sessions or tailor-made celebrations. Members can enjoy poolside dining at the Club restaurant while the little ones are entertained with craft activities at the Kids' Club. What's more, if you're looking for a mini getaway with the family, the Hollandse Club Hotel offers a Glamping Suite that sleeps two adults and three children, complete with Children's tents and Gift Packs.
The Club welcomed several new facilities in 2023 with the aim of expanding its sports and social offerings: a Padel Court, water play area, games room, and HC Shop. Hollandse Club is amongst a select few venues offering Padel – an exciting young sport which has fast gained popularity – both locally and worldwide. The outdoor water play area is a great way for young ones (and those young at heart!) to beat the Singapore heat. Older children and teens now have a new hangout location at Games Room, The Zone. Browse a selection of Dutch F&B specialties and wines at the HC Shop, as well as a variety of racket sports equipment and accessories.
Social events
Members can look forward to a host of regular and special events scheduled year-round, from Quiz Nights, monthly pool float parties, as well as a variety of family-friendly events such as Tweens Bash and Children's Disco. As a nod to the Club's Dutch roots, you can experience traditional events like King's Night and Sinterklaas alongside annual festivals and events such as Lunar New Year, Halloween, and Christmas.
Hollandse Club membership fees: $329 per month (Family Social Membership) / $174 per month (Single Social Membership).
Exclusive offer for ANZA members
Want to test the waters first? ANZA members can enjoy a two-week free trial upon completion of a free Hollandse Club Tour.
Hollandse Club is located at 22 Camden Park, Singapore 299814. For more information on membership packages, please contact the Membership team at membership@hollandseclub.org.sg or (+65) 6464 5225 ext 142.