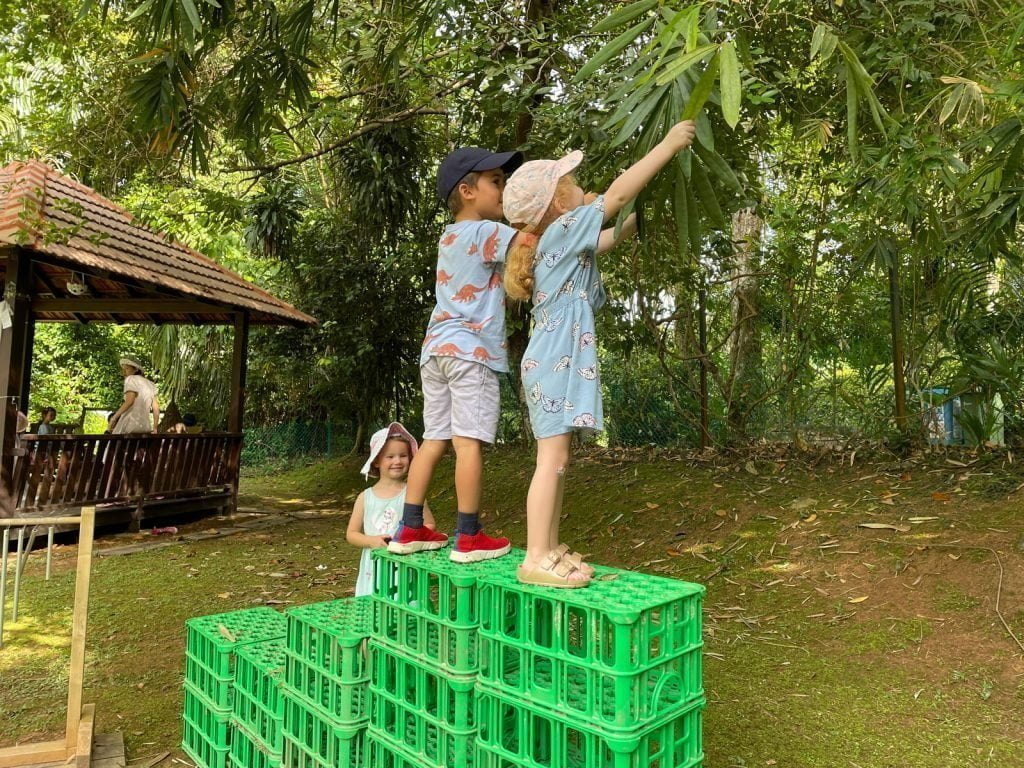 A child's early years are the most crucial when it comes to formative development, both mental and physical. It is at this critical stage that your child needs the right preschool or early childhood education centre where the focus is on building their confidence, social skills, curiosity, and manners. You need an environment that not only helps children explore and learn without boundaries, but also promotes interaction, curiosity, and inclusive learning.
The early years' experience, as it should be
Read on to find out how Blue House learning environment impacts a child' holistic development.
Founded in 2008, Blue House is Singapore's leading Reggio Emilia inspired preschool and childcare, welcoming children from 18 months to 6 years old through a half or full day programme. The early childhood learning centre was born out of the desire to bring the image of the child as capable, curious, and full of creativity in Singapore.
At Blue House, children are seen as the most valuable subject for educators to learn about. The uniqueness of each child is greatly valued, children can be themselves and feel empowered to explore while parents can rest easy with the highest standards of responsive care available all year round.
As opposed to the traditional top-down teaching method, Blue House provides a safe and nurturing environment for children to discover the world around them in a meaningful way. Children are given lots of open-ended materials and thought-provoking activities to fuel their curiosity and express themselves. At every stage, children are presented with indefinite materials so they can investigate and collaborate with each other to solve problems, hypothesise and test theories at their own pace encouraging social interaction and inclusive learning.
The educators at Blue House focus greatly on honouring each child's innate desire to discover and share their knowledge through words, graphics, sculpture, dance, technology, and a multitude of other mediums.
Indoor & outdoor programmes
Blue House educators are passionate about the environment and the important role it plays in inspiring the curriculum, so much so that they refer to it as 'the third teacher'. Spaces at Blue House are designed to encourage encounters, communication, and relationships. The programmes are led both indoors and outdoors so that little ones can forage, swing with the vines, and have picnics. As an innovative hub of discovery, all Blue House campuses give little ones the freedom to be curious, ask questions, and explore the world with all five senses.
When children know they are respected and their opinions and thoughts matter, their confidence grows, and they develop a strong sense of self.
Every aspect of education at Blue House is uniquely child-led with ample support from the educators, from enjoying a healthy meal served family-style to learning with friends – it's just the Blue House way!
If you are looking for an early childhood education centres that prioritizes the growth of your child through the lens of creativity and curiosity then Blue House is where it can come true.
Fully accredited by the Singapore Government's Early Childhood Development Agency, Blue House continues to lead the early childhood industry in Singapore, contributing to the betterment of early years practice and understanding, hosting regular international delegations for training and professional development, sharing our acclaimed Blue House pedagogy and framework.
Want to learn more about us? Contact us today at Blue House International to get your queries answered.
Blue House has three centres so you can find one near you!
Blue House Jalan Mutiara: 17 Jalan Mutiara, Singapore 249196, Tel: (+65) 6736 1037, Email: enquiries.jm@bluehouseinternational.com
Blue House Rambai Road, 17 Rambai Road, Singapore 424336, Tel: (+65) 6445 5765, , Email: enquiries.rb@bluehouseinternational.com
Blue House Kay Siang, 19 Kay Siang, Singapore 248935, Tel: (+65) 6472 3788, , Email: enquiries.ks@bluehouseinternational.com