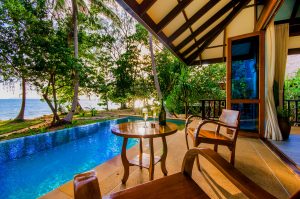 Koh Jum Beach Villas are a hidden gem where nature, relaxation and luxury combine.
Our boutique resort offers nineteen individually designed villas directly located on the resort's seven-hundred-meter-long beach or in lush tropical gardens with beautiful sunset views overlooking Phi Phi National Park.
Koh Jum is centrally located in Krabi while just only one hour away from Krabi International Airport. Ideal for exploring Krabi's amazing natural beauty, nearby islands or exploring one of Thailand's last great places – Koh Jum itself. You could also just lie by your private pool and read a book (or write one) the choice is yours!
Offer valid till 31 March 2021.
10% discount off the rates showing on website (except for Peak Season 20 Dec – 6 Jan) for a minimum 2-night stay. To book, email reservations@kohjumbeachvillas.com and show ANZA membership card.