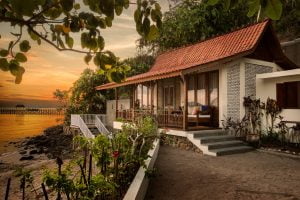 Secluded in a quiet cove on Waecicu Beach on the island of Flores, Plataran Komodo Resort & Spa is a true tropical paradise. A luxurious base for indulging in sun-kissed days of relaxation and adventure in one of Indonesia's most beautiful and untouched regions.
A million miles away from the daily hustle and bustle, luxuriate in the privacy of intimate yet spacious villa abodes that are a charming blend of luxurious comfort and Javanese style. Dine beside the ocean waves, on the beach, or on the jetty – all under the Flores sun or beneath a romantic canopy of stars. Explore the amazing marine life in the surrounding waters, or hop aboard one of the Plataran private cruises for unforgettable island-hopping excursions and the chance to see the fabled Komodo dragons up close.
Bookings to be made directly with the hotel.
Membership Card will need to be presented to reception upon check in.
Offer valid till 31 December 2020.
Discount of 10% on website accommodation prices using promo code: PLO2020.