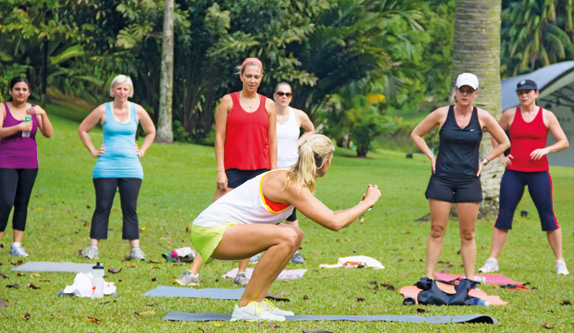 Remember when pilates was all the rage? How about when yoga was just for new-age salad scoffers and not for, well, everyone? While just yesterday it seems exercise was all about breathing, yoga, and pilates – low-impact workouts which, while they could make you huff and puff, were more likely to leave you with a peaceful sense of accomplishment, rather than an urge to collapse into a heap on the floor.
That's all changed in the new age of the workout. High-intensity is the new norm, and it has arrived in a variety of different vehicles. CrossFit, boot camp, TRX, boxing and mixed-martial-arts-style training: all those deadlifts, one-legged squats, three-minute heavy bag sessions and burpees are guaranteed to leave the user totally exhausted and in need of a nice holiday to show off those hardened muscles.
Although you could be a soldier or a champion fighter and benefit from the workouts, more and more mere mortals are taking up high-intensity challenges to shed kilos and tone up.
One person helping everyday office workers and mums take up the challenge is personal trainer Lisa Clayton, 30-year-old mum of two and the face of OZFit. She is a bootcamp instructor at the Botanical Gardens, Fort Canning Park and East Coast in mornings. She's a Sydney Northern Beaches girl and has been in Singapore for five years now. As well as twins Max and Cooper, she has another on the way. You won't get called a worthless maggot in her boot camps, however. "I'm not into the military style of training, yelling at you, making you crawl through mud. "We do a mixture of cardio drills and high intensity interval training, where we alternate periods of short, intense anaerobic exercise with short recovery periods. Strength training is also an essential part of the workout. We perform body weight exercises, use stairs, hills and benches to get the most out of all the parks have to offer. With the addition of resistance bands, we really can tone the muscles and build strength."
As well as the willpower to get fit, Lisa's boot camp recruits also have to have the willpower to get out of bed – the earliest starts at 6.15am at Fort Canning Park, well before the sun rises. This colourful collection of men and women clutching their yoga mats don't stay sleepy for long, though. Five minutes into the workout and the beads of sweat are starting to form.
Lisa says these days, people are bored with the monotony of the gym or the daily run, and are thinking about their wallets in these recession-prone times. "Personal training can be expensive, people get sick of the same routines of going to the gym and running the same route." It's also good to be able to egg your mates on. "The best way to get motivated is to turn up with a group of friends or like-minded people and not be the only one working hard. It's not a party, though, "You will have fun doing it but, I don't let people come for a chit chat, you're going to work hard! Not to mention, in order to see change and get results, you need to mix it up. No question about it. Boot camps offer the complete package of cardio and strength training-stuff you're never going to want to do on your own."
All that hard work can be humbling for cocky guys who think Lisa's big smile and easygoing manner means it's going to be an easy workout. "I tell you, it's the men who sometimes struggle the most as they can be really either cardio-fit and their core is really weak, making the strength component hard, or they are very strong due to lifting a lot of weights but they really could step their cardio level up. Every class can be tailored to all levels so no one will feel like they are holding anyone up. Everyone does their best."
Lisa's expanding her classes to include boxing – a response to growing demand for boxing-style workouts, which have long been fabled to be some of the toughest around. The typical image of a boxing gym – that of a dingy shed, smelling of ripe socks and filled with undesirable rogues – has changed in recent years. Now, many are modern, well-lit, smoothly-marketed machines catering for the office set, and are not so daunting for those wanting to give it a try and get fit.
One way to do that? How about signing up for a charity boxing match, training for months to get in the ring with another amateur for three rounds? That's exactly what ANZA member Jemma Hooykaas is doing. The 31-year-old Kiwi is a teacher at the Singapore American School, and when she's not teaching, she's at the gym, working the heavy bag and building up her endurance to last three rounds in the ring. That's more than three months of training for six minutes of fight – some of the most exhausting physical stress any normal person can put their body under. Jemma wanted to get involved "just the opportunity to see how far I can push myself". "Also, it's for an amazing charity," she says. Fighters are raising money for the Cambodian charity, the Children's Surgical Centre and its affiliate, the Cambodian Acid Survivors Charity.
Boxing training usually involves a variation of body-weight exercises such as push-ups and burpees, interspersed with shadow boxing, spar play, heavy bag work and other explosive exercises. It's incredibly draining work, as Jemma can attest to. She reckons she was pretty fit before signing up for the training. "I thought I was – but I wasn't! It's a whole another level of fitness." The first training was a bit of a shock to the senses. "We started with a 30-minute run, then did circuits. It was intimidating! "It's the first time in my life that within two minutes I'm dripping with sweat." And the training sessions don't get any easier. "They're hard. Man, you walk out the door and get on the train and I have to fight to stay awake!"
Of course, the bag doesn't hit back, and the exertion steps up a level once you get in the ring. Jemma had just started sparring with head coach Alexis. "I learnt that I drop my guard. It's thinking that you know something and quickly realising that you know very little. When someone starts punching you in the head [the training] all goes out the window." For Jemma, boxing training has it all. "It combines everything. I feel it's the ultimate fitness workout."
With that in mind, I went to see personal trainer Brendan Loo, founder of Fitness Evolution. I meet him at Energia fitness club in Robertson Quay, where he trains his clients. As a Singaporean with Australian residency, Brendan has been a personal trainer for 13 years, which he claims makes him an old man. He says CrossFit, boot camps, TRX, and other high-impact training regimes gaining popularity are all quite closely related. "Every few years someone will come in with something new. "CrossFit, kettlebells – they all come under the same thing. They all have the same benefits and variety. "People want variation in training – they want benefits."
Crossfit is a fairly new, high-intensity workout involving excercises with and without weights, from kettlebell swings to weightlifting-style snatches. Participants can score their progress to compete with others. All this new-age exercise isn't for everyone, warns Brendan. "Hardcore explosive exercises, you need a strong mind for it. Some of them are too hardcore for the average Joe." Brendan says exercise regimes like this are good, but only as a complement to more traditional, weights-based training methods. "Ninety per cent of [clients], they want to look their best. "But if they want to achieve these goals, the majority of the time has to be spent on the core basics. The other new-age methods complement them."
So, with that in mind, I had Brendan take me through a training combining some traditional and some new-age exercises. We started off with some traditional gym weight exercises. First, some incline bench presses. While managing to emasculate me by starting off with just the bar, Brendan eventually added more weight so I was lifting 60kg, with a lot of effort, shaking arms, and huffing and puffing. Brendan says these types of exercises build muscle on lots of different muscle groups. After that it was some lat pull-downs, which again work lots of muscle groups. This was a warm-up for the pull-ups which were to come next – pull-ups are a part of the CrossFit regime. Again with the emasculation, as I needed Brendan's help to compete a set of 10.
From there it was more new-age exercises, with kettlebell swings to strengthen the hips, and horrible TRX jump squats where I lift my feet off the ground and pull myself up by the arms. The latter truly did need explosive power, and I could barely manage 10. Then Brendan got me on the exercycle to tire me out, more weights, and finished with a hellish combination of sit-ups and boxing. It wasn't even an hour, and I felt like I'd been through the wringer, and as a fan of these new-age workouts, the extra weights had worked muscles I didn't even know I owned. Well, as they say – no pain, no gain!
This article was originally published in March 2013.
Some fitness clubs that may interest you:
OZFit www.ozfit.com.sg
Vanda Boxing www.vandaboxing.com
Fitness Evolution www.fitnessevo.com