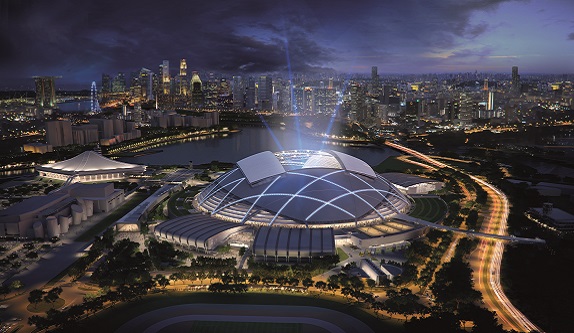 Singapore's ever-expanding skyline has another landmark – and this so big it can easily fit the Sydney Opera House under its roof.
It's the new Singapore Sports Hub, a 1.33 billion-dollar development which will transform the Kallang basin and put Singapore on the world's sporting stage. It's due to be completed this year and will feature a futuristic, fully enclosed stadium, which can seat 55,000 fans.
It will become the hub for soccer, cricket, athletics, and rugby, and will also be the go-to venue for any international concert which is too large for the Singapore Indoor Stadium.
The dome itself is 312 metres wide, 85 metres from pitch to ceiling, and is fully enclosed to keep out the weather. Cooling ducts underneath the seats keep the temperature down, and the seats will move to allow for different seating configurations depending on whether the sport is football, cricket or athletics.
The Hub's owners hope that one day the hub will host Commonwealth Games events and trainings for the 2019 Rugby World Cup in Japan.
But it's not just a stadium. The designers had bigger things in mind when they built this massive dome structure.
At 34.1 hectares, the whole site is a lot smaller than comparable sports stadium developments in East London, Sydney and Barcelona, but it still takes up a large chunk of the Kallang basin, and is packed with features.
On the sporting side, the Sports Hub will also house a world-class aquatics centre with capacity for 6000 spectators, and a number of sports arenas for sports such as basketball, badminton and table tennis, which has capacity for up to 3000.
And, being Singapore, of course there will be a huge shopping mall and a 17,000 square foot office space.
That's not all. Along the promenade, there will be plenty of other features to cater for smaller sports. On the water, a specially-designed area for kayaking, rowing and dragon boating will lure watersports fans.
An array of community spaces will surround the stadium, including beach volleyball areas, cycling and jogging tracks, lawn bowls, basketball courts, a skate park and rock climbing wall.
The Sports Hub replaces the old, well-loved Kallang National Stadium. The old stadium held lots of fond memories for Singaporeans, but at 40 years old is not suited to the task of being the number one spot for national sports games.
Our own ANZA president can also recall some momentous occasions from the old stadium:
"I have memories of the old stadium, ranging from the fond (commentating on various Singapore national team football matches including one against Australia in 2007), to the somewhat painful (preseason training back in my playing days), says PJ Roberts.
Project architect HP Teoh, from DP Architects says the project has been a big challenge, but eight months to go, the end is in sight.
"We've been spending about eight years on this project, and we're now on the final lap."
The designers of the Sports Hub have three goals: to be a place for sports, a community space and a way to enhance Singapore's identity.
"This is not just a stadium. It's actually a community place," says Teoh.
BY THE NUMBERS
55,000-seat National Stadium with a retractable roof, moveable seating tiers, and air-cooling to all spectator seats;
6,000-seat Aquatics Centre & Leisure Water facility;
Sports Arenas able to host indoor sports events of up to 3,000-seats;
41,000 sqm (441,000 sqft) of commercial retail space;
The existing 13,000-seat Singapore Indoor Stadium.
This article was originally published in August 2013.