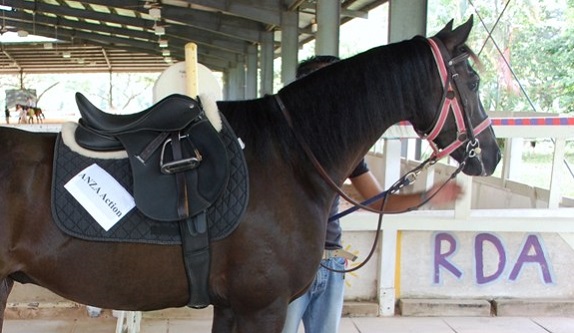 Don't have a mare? There are plenty of equestrian options for horse lovers in Singapore.
Aussies and Kiwis are renowned for their horse-riding prowess. So the good news for equestrians moving to small, tropical Singapore is that you don't have to put your riding skills out to pasture.
Several centres offer all things horsey, and your steed may well originally be from Down Under, and your instructor as well.
At least five places here offer anything from courses for child beginners, to coaching for experienced riders to even being able to stable your own horse. They are Bukit Timah Equestrian Centre, the Singapore Polo Club, the National Equestrian Centre, Horsecity and Singapore Turf Club Riding Centre. A short drive away in Malaysia there is also Riders' Lodge at Sedenak, and the Bale Equestrian and Country Club.
The polo club requires you to pay a membership fee but at the others there are courses for the general public.
I have to confess having soft spot (actually, a small hardened scar on my elbow) for Bukit Timah Saddle Club. I was a term member for several years.
The scar came courtesy of a refined bay mare called Scruples whose buck during a dressage lesson shot me out of the saddle. I landed elbow-first on the end of my whip. It was Scruples' unscrupulous way of telling me that the whip was unnecessary, thank-you.
The club's location is eye-popping, being a drive along verdant fields and a post-and-rail-lined grass track once used by racehorses, to the quaint clubhouse and stables, hardly a high-rise can be seen.
Coaching includes blocks of four 45-minute lessons costing $426.60 all up. Parents of pony-mad children will like its "own a pony" programme where you get a dedicated steed for several days during the school holidays.
Nearby in the Turf City area is Horsecity, which has over 150 horses and ponies, many of whom are antipodeans.
If retro rustic is not your thing, the Singapore Polo Club offers a more glamorous side to the horsey scene. While their children have their lessons, mums can adjourn to the paddock-side bar for a gin and tonic, and admire dashing men galloping around on the polo field.
Another notable thing about the club is that it has a covered arena for its lessons so you can trot about in all weather.
Equestrians can also hoof it to the National Equestrian Centre. Its key mission is to groom Singapore riders to be international competitors, but it is open to the general public. It has 51 horses, including some from Australia and which were used in the Youth Olympic Games. Well-known experts from Down Under visit to hold riding clinics, including Brook Dobbin, Clive Reed and Paula Hamood.
Then there's the Singapore Turf Club Centre, next to the racecourse at Kranji. While known for its co-curricular activities for Singapore children, expats can trot along, too. There are group lessons at $90 each for 45 minutes, beginners' trail rides at $50 for a 20-minute session, and individual dressage and show jumping tuition.
One resident of the club is Comet, a stocky, dun-coloured pony with heart-melting, dark eyes. He hails from Gisborne, in New Zealand, and looks like a Gisborne-bred mare I once owned in New Zealand, who was what horsey people call a "good doer", earning the name "Guts".
Guts has long gone to glory, but with all these riding options now here, I am tempted to dust off the riding helmet and get back in the saddle again…
This article was originally published in August 2013.
SINGAPORE