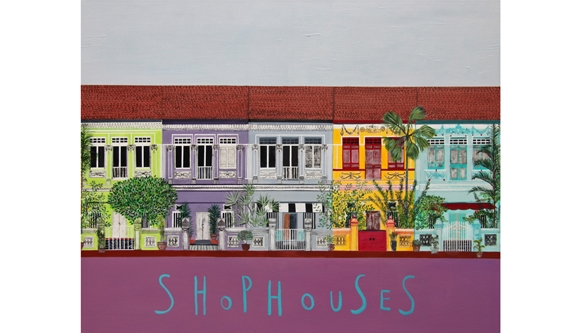 'Shophouses' by Clare Haxby
When expat friends, colleagues or neighbours return home after their time in Singapore, finding the right gift can be a challenge. One idea is to give a fine art print with a Singaporean theme. Kathy Chamberlain explores 3 artist options who provide a selection of their work as fine art prints. Each have very different paint styles from Derek Corke's more traditional water colours to Clare Haxby and Diana Francis who have more contemporary styles.
Clare Haxby
Since 2007 accomplished British expat artist Clare Haxby has lived and travelled throughout SE Asia . She currently enjoys working on a large scale exploring the iconic architectural landmarks of Singapore. Subjects range from The Colonial Black and White Plantation Houses to the Shophouses of Blair Road and the colourful community of Little India.
16 paintings of Clare's Singapore Landmarks Series are available as signed Fine Art Prints in a limited edition of 250. They are printed on museum quality A1 (594 x 841 mm) paper with embossed certified studio stamp and are artist signed. The prints are available online from Clare's website as well as her studio) and are sold framed for $600/unframed for $350. They are nicely packaged with her marketing label and rolled in a sturdy cardboard cylinder. On request the packaged cylinder can have a gift tag with personal message attached around the print & wrapped in tissue paper.
Delivery within Singapore is $20. Paintings and artworks to be shipped internationally are done so using Fedex and are quoted on destination. Clare has open days listed on her website otherwise the studio is open by appointment.
artist's studio: 41 Malcolm Road, Singapore 308276
phone: +65 9326 5502
email: clare@clarehaxby.com
Diana Francis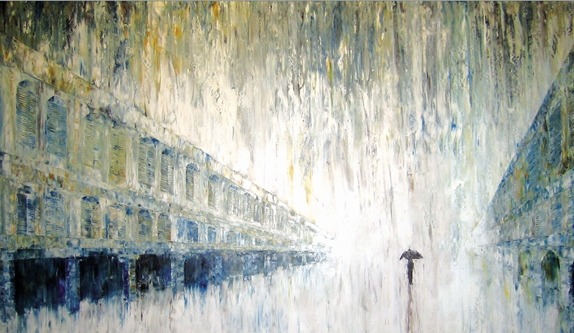 'Sudden Shower' by Diana Francis
Diana studied art in London then worked in the art world as an illustrator and graphic designer before settling in Singapore 16 years ago to work as a fine artist.
She paints architectural scenes ranging from Rocher Road, Boat Quay, St Josephs and other well known locations and has a range of limited edition print options to choose from. Her works are printed on both canvas (either stretched or unstretched) and paper. Generally there are 2 sizing options for canvas and one sizing option for fine art paper per artwork. The range of print sizes varies accordingly per original artwork size. Pricing ranges from $280 to $1000. Diana also has Lumi tiles (stand alone perspex blocks) and a wide range of other merchandise items on her website featuring her artwork. Unframed prints come in a sealed tube.
Orders take 3 working days and her studio accepts cash, cheque, Visa and Mastercard.
Diana Francis Studio
Block 43, Jalan Merah Saga
#03-76 The Workloft@Chip Bee
Singapore 278115
+65 9120 1989
email: studio@dianafrancis.com
Derek Corke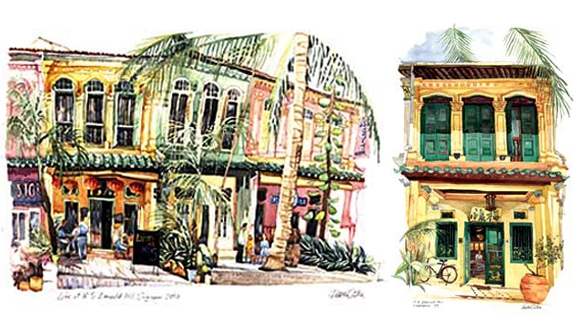 Derek Corke a London trained artist, portrays many well known Singaporean scenes. The ones on his web site are Casting Off, Boat Quay, Raffles Hotel, Basket Shop at Arab Street, Katong Corner, Harry's Bar, Beach Road and Emerald Hill.
Derek sells Digital Fine Art Prints in various sized Limited Edition Runs (200-480) of his watercolour portfolio as well as open edition runs. They can be purchased from numerous retail outlets listed on his website or online using registered mail, UPS and FEDEX as dispatch options. The prints vary in price and sizing and range from $18 for a single small (28 x 23cm) Open Edition print with mount to a large (58 x 45cm) Limited Edition print with mount. There are also print collections of 4 with mounts in small, medium and large sizes ranging from $65 to $350.
(65) 9730 1763
email: Wendy Shelly at ianandwendy@gmail.com