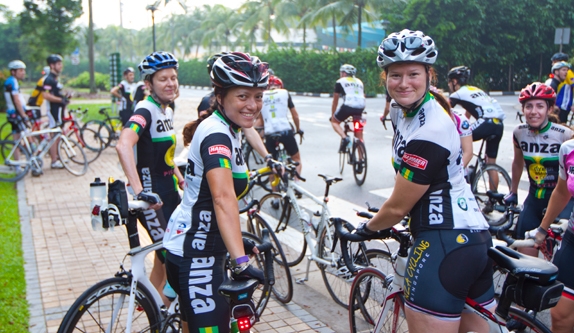 ANZA Cycling welcomes many new members in September. Megan Kinder summarises everything new members need to know about ANZA Cycling.
It's around this time of year that we receive an upsurge in enquiries about coming along for a ride with ANZA Cycling. Whether from people recently arrived in Singapore (in time for the new August/September school year) who want to get out for a ride and meet people, or from those who may have arrived earlier in the year but have taken a while to get settled, or even those who have been happily 'pootling' their way around the Little Red Dot by themselves (yet who may wish to start training for the increasingly popular 'Tour de Bintan' or a similar event) – no matter the reason, we are always happy to welcome new members and share our passion for cycling!
While there's a wealth of information available on the ANZA website about rides, routes, starting points, kit, etiquette and more, here are some answers to some of the more basic questions.
What kind of bike do I need?
To join our road rides, you really need a road bike. Some club members ride TT bikes (Time Trial/triathlon bikes) which are also fine – as long as hands are kept on brakes when in the bunch, i.e. not in aero position.
Hybrid/commuter/MTB bikes don't cut it in the bunch. If you would like to try a group ride without splashing out, consider renting/borrowing or buying a second-hand road bike to try it out first.
To join our MTB rides, either full suspension or hardtail MTB is fine.

What gear do I need?
1. Helmet
2. Front (white) and rear (red) lights
3. Drinks (minimum one bottle per hour)
4. Saddle bag with ID, emergency contact info, a credit card, enough cash for a taxi home and tyre changing gear.
How experienced do I need to be?
We cater to all levels of experience, from 'racers' to designated 'no-drop' rides for those at the slower end of the spectrum. We recommend everyone starts out with our 'newcomers' ride, held on the first Saturday of each month.
Can I just come along?
Sure but it's always nice to have a heads up! Contact cyclingmembership@anza.org.sg to signal your interest. You needn't sign up as a club member before your first ride but we expect you to join after a couple of rides.
Is it safe?
The road presence established with a group generally gives a greater degree of safety than that of a solo rider. While cycling has its risks, we try to minimise these as much as possible by establishing well-disciplined groups and promoting road sharing. We expect all club members to observe the road rules and practise good road etiquette, while looking out for each other.
Check out the ANZA website for more information, or join our ANZA Cycling Facebook group (facebook.com/AnzaCycling) for the latest route info, ride info and other updates.