Wondering what to wear to our Melbourne Cup event? Take inspiration from the striking outfits worn in previous years.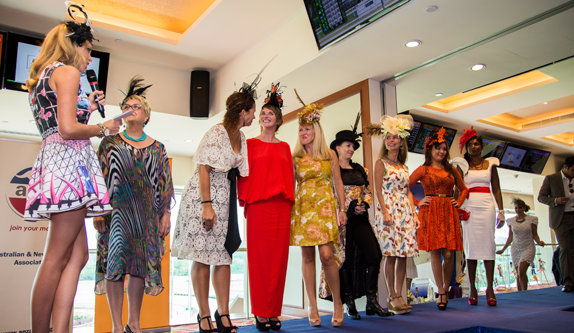 2013 Fashions on the Field Finalists.
Last year was my first ANZA Melbourne Cup experience; I ordered my fascinator on eBay, popped on a dress I found in the back of my wardrobe and off I went. Compared to the thought, effort and imagination that went into all the stunning outfits on the day, I felt a little plain. This year I am going bigger and better with my fascinator, brighter and bolder with my dress, but wearing much more comfortable shoes. Follow the links to be Melbourne Cup ready, inspired by the fashion stars of the previous ANZA race days.
For more of the 2013 fashion, see the full wrap up of the finalists and winners> story or view the 2013 Video below.
You can also view the photos from the 2012 Cup Day or the 2012 Fab Foto Booth on Facebook.