The stars were certainly aligned when ANZA Netball and coach Jolynn Loo joined forces, says Donna Williams.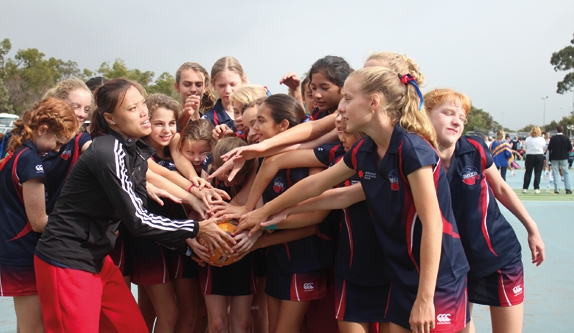 ANZA Netball has been building up its coaching team for a few years, sending willing and devoted volunteers to coaching courses that Netball Singapore provide throughout the year. As part of this development, ANZA Netball decided to develop our coaches and players by bringing in external expertise. The arrival of coach Jolynn Loo came about through this initiative.
Jolynn is an accredited Level 2 Coach with over 10 years experience in coaching girls of all ages and levels. In 2014 Jolynn was the coach for the U17s Singapore National Team.
At ANZA Netball, you will find Jolynn on court from 9.45am–1pm, first as head coach for the 12-year-olds age group, followed by head coach for 14- to 16-year-olds age group. She is instrumental in developing the coaching plan for these age groups, coaching the coaches(!), and of course coaching our girls. She also helped out as the coach of 11-year-olds rep team that travelled to Perth earlier in the year.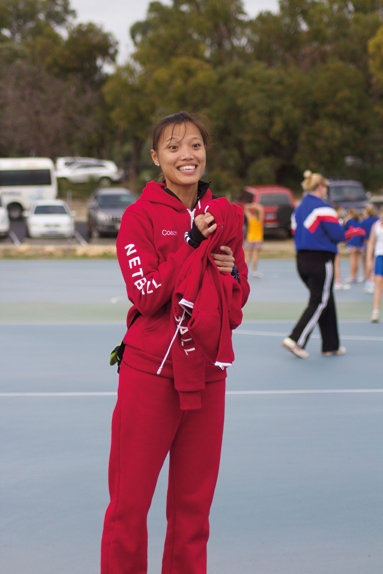 We recently caught up with Jolynn to talk about all things netball.
Why and when did you initially start playing netball?
Haha, this is funny. The ECA that I joined at school was cancelled, so my teacher forced me into netball. I was 14 years old. I hadn't considered it until then but loved it straight away.
What is your major playing achievement?
Singapore 19/U in 1999 and 2000.
When was your first coaching experience?
1998.
How old were you when you attended your first coaching course?
When I was 16.
What are your aspirations for coaching?
To develop a world-class team for international competitions.
What are you doing now apart from coaching with ANZA?
I'm coaching in two local schools ranging from 9- to16-year-old girls. Once in a while I coach my own elite netball club team – the Magic Marlins.
I'm involved in yoga too! It helps me to focus and be patient.
You just assisted the Vietnam National team and the Asian Championships last week. Can you tell us more?
Netball Singapore approached me to be attached to the Vietnam team to advise on any netball matters during the Asian Championships. This is the first time Vietnam has had a netball team participating in Asian Netball Championship. It was an eye-opening experience.
What is your coaching style?
Setting clear goals, working towards getting the girls to buy in on what they want to achieve, then supporting them as they do the hard work towards execution.
What are three top tips you have learnt from other great coaches?
Trust in your own coaching abilities; trust in your players' abilities; and praise works wonders! Coaching should never be just a coach's plan. It's all about enabling all the strengths of the players and combining them into a bigger strength for the team to excel together. No one person should be left out in the team, from players to officials.
Who is the best coach you have worked with?
Julie Hoornweg. She is able to make a low-confidence player an awesome player on court. She never stops praising players for good work done. She is able to make any player think of solutions rather than be given the solution from the coach.
In your opinion, what is more important, physical or mental toughness?
Both I guess, they are inter-connected. But if you want me to choose, I choose mental toughness. At the end of the day it is mind over matter.
How important is a positive attitude?
I would say a big VERY! Without a positive attitude, you will never go far as a humble and respectable player. The 'never die' spirit will lift anyone from the bottom of the pit.
Is it ever too late to learn to play netball?
NEVER! There's a Chinese saying that I grew up with, 'one is never too old to learn'.
Thanks to Jolynn for taking the time to do this interview and for being a part of our team as we continue to develop and grow at ANZA Netball.