A match with the British Club had many close calls, Rohan Wilson says.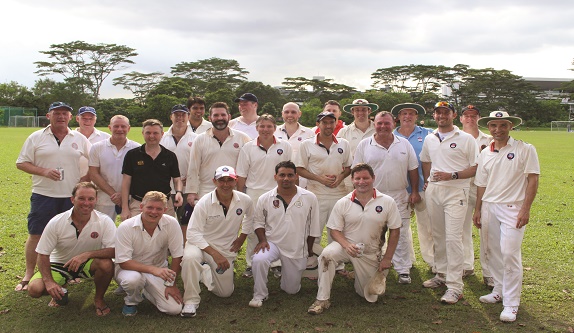 With the 2016 League season about to kick off, the ANZA Dream Team led the way taking on our friends at the British Club in the Commonwealth Cup.
While the strings of the old country may have held sway in years gone by, the youngsters of this side flexed their independence and one – possibly a Kiwi – was heard mentioning the removal of the Union Jack from the flag!
Led by fearless republican Mike Tsesmelis – himself a reformed Pom – who was skippering ANZA as part of his farewell tour of Singapore, ANZA elected to bat.
Progress was steady, as was the fall of wickets. In the intense cauldron, controversy abounded with Mark Ward caught out – possibly off the floppy white brim. Drew Norris caught off the back of the leg – in confirmation he later claimed he could not see it much less hit it. If only the British Club had allowed DRS (Decision Review System)! It should be noted however that it was our own umpiring.
Clive seemed unimpressed to be told 'it was a mighty good catch' on returning to the 'dressing room', having just failed to clear long off! Paul Stewart and Skipper Mike steadied the ship until Mike fell just short of retirement.
Paul made it back to the sheds 30 not out, ready to return if needed. A small rally into the close got us to 179 with veteran Brad Timbrell giving Paul and Vikrant great support, before running himself out having started a run after the keeper got the ball.
The British Club were quietly confident they would overcome the upstart colonials and square the ledger from last year. Mark Ward and Jeff Bye thought a few whistling past their ears might change that however.
Apart from an unplayable off cutter from Jeff uprooting the stumps, the British Club held firm. Ever watchful of Clive's tempting swingers 'they go both ways you know!', the British Club forged on towards victory.
At the point when all may have been lost, Captain and ex-Pom Mike hit upon a stroke of genius by offering the ball to fellow ex-Pom Drew Norris, who then produced a legendary spell to take 4 wickets for just 2 runs – the last being a massive skied slog over Clive's left shoulder…no make that his right…no back to the left, and then on 10 more meters!
As we held our breath Clive dived full length, caught it, hit the ground and dropped it…then caught it again. His Fitbit fitness tracker had him running 110 steps just in that one catch, it just couldn't work out a direction! Victory to ANZA by a whisker.
Many thanks to the British Club for a great day and their continuing hospitality back at the BC. We look forward to the next encounter, the way cricket should be played!