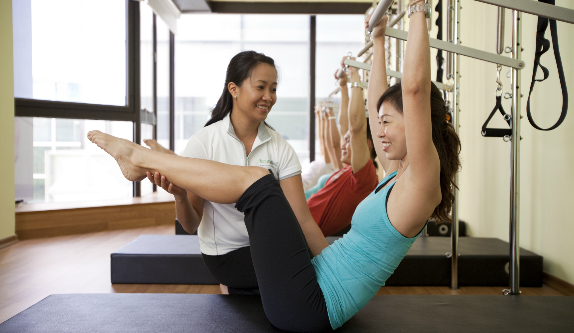 Pilates has become increasingly popular in recent years as a low-impact strength and conditioning exercise. Renowned for it's focus on core control, Pilates also offers an abundance of other benefits which complement today's lifestyle.
Pilates for whole body toning
Pilates exercises systematically work throughout the entire body so that muscles become stronger and more toned, from your head right down to your feet. The deep abdominal muscles are also activated and strengthened with the Pilates breathing technique. By working these muscles, the pelvis and spine are trained to support the trunk during movement, which will help to prevent injury.
Pilates corrects posture and eliminates 'new' pain
Pilates movements address deviations in posture, which are caused by every day tasks such as sitting at your desk, playing sports or twisting and bending to pick up shopping. By stretching and strengthening tense or weak muscles, Pilates can help to correct posture and create awareness for good postural habits. Pilates exercises bring your body back to a stronger and leaner state, and fosters good movement habits such as activating the stomach muscles whilst bending and lifting, which will eliminate back pain and reduce the risk of injury.
Pilates promotes flexibility
By encouraging the spine to move in different directions, within the safe range of motion, Pilates exercises help to develop both strength and flexibility. Pilates stretches create space in the joints, hence increasing flexibility, length and mobility of the hips, hamstrings, back, front and sides of the body. This increased flexibility is important as it helps to reduce tension so you can carry out daily tasks pain-free.
For more information on Pilates and how you can incorporate it into your lifestyle, please visit www.focuspilates.com.sg.
About Focus Pilates
Focus Pilates is the largest integrated Pilates and physiotherapy studio in Singapore and South East Asia. Established in 2004, they have since been providing world-class Pilates classes as well as physiotherapy designed for fitness and rehabilitation. Focus Pilates has two studios conveniently located in Orchard Road and Raffles Place, both of which are fully equipped with the latest Pilates equipment and dedicated physiotherapy treatment areas.