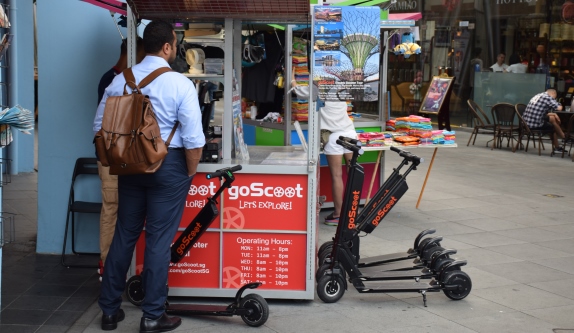 1. Rock Climbing Pong
Where: Let 'em Playletemplay.com.sg
The best way to exercise is to make a game out of it – which is exactly what this family-friendly hub has done. The Augmented Reality Climbing wall, suitable for any age, projects a game that requires your hands to hit the ball.
2. Container Park
Where: Punggol Container Park, 10 Tebing Lane, 828849
Seven shipping container-styled shops have popped up along the east side of Punggol, serving up all sorts of food – from fried Korean chicken and craft beers to fresh oysters and fish 'n chips. There's al fresco seating, and it's not too far from Coney Island for a little walk.
3. Rent an eScooter
Where: goScoot Electric Scooter Rentalgoscoot.sg
Always wanted to try one of these out but wouldn't dare buy one yet? With one in Clarke Quay and outside the Esplanade MRT, you'll be able to zip around as a family. For $30 each you'll have two hours.
4. BBQ on a Floating Donut
Where: Floating Donut Companyflodoco.com
While it does sound strange, these circular boats have an in-built barbeque in the middle. You'll have a giant umbrella for coverage, and a captain to drive you and eight friends donut out to sea.
5. Giant Jenga
Where: HopHeads, 178 Clemenceau Ave, 239926hopheadsbar.com
A modern bar hidden in the basement of Haw Par Glass Tower, this bar has a big list of craft beers and a slew of games to play with – from table tennis, to a giant Jenga setup where you'll be praying not to pull the final piece.