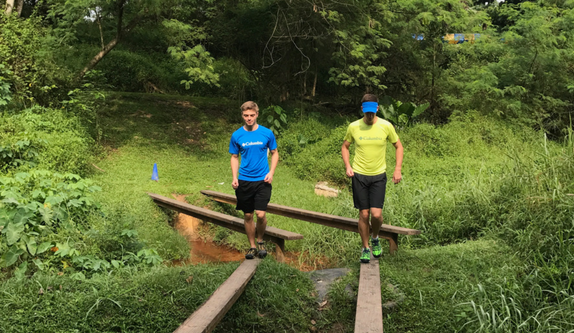 Announced just last month, Columbia Jungle Run made waves in the local trail running community as a fresh challenge for pros, fun event for novices, and unique opportunity for active families.
Organised by Centaurs Group and sponsored by Columbia sportswear, this brand-new event on the Singapore calendar is a refreshing take on the trail run. Held at the privately-operated Centaurs Sports Park, Turf City, Bukit Timah on Sunday 1 October, competitors will traverse the twists of untamed jungle tracks for around 5 kilometres.
Natural and manmade obstacles incorporate river runs, bank climbs, wall jumps, balance beams, scramble nets, barrier hurdles, tyre jumps and more to guarantee a thrilling, fun terrain for kids and their parents, seasoned runners or those looking to experience something different.
"Families who run together, have fun together", says Jungle Run Race Director and CEO of Centaurs Group, Tim Lambert. "Centaurs has been developing juniors through sport and recreation since 2002, encouraging the family dynamic to flourish. When parents and children work together they inspire, support and encourage. That's why we're offering four categories in the Jungle Run: two for individual runners, and two for those who want to run as a parent-child pair. Centaurs is all about family and community and these parent/child combos embrace this ethos."
The Jungle Run will reveal an elusive pocket of Singapore. The Pit and the Centaurs Jungle Trail – renowned for dynamic kids parties and camps, as well as the Mountain Bike Jungle Cross Race series – are only open for special events and bookings.
"From the Grandstand, you see established sports and recreation facilities on the old Turf Club racetrack. What many don't know is that the central ravine is thriving with indigenous flora and fauna. It's a truly stunning part of Singapore", says Centaurs Group's Charli Bromley.
Columbia Jungle Run will be a family and community affair as the finish line meets a festival celebrating local business, the Bukit Timah Community Village.
For a family trail-running event like no other, join the very first Columbia Jungle Run on the morning of Sunday, 1 October 2017. Prizes for top 3 finishers in each category and every runner receives a race pack with a Columbia Jungle Run running t-shirt and finisher's medal.
Register here: www.centaursgroup.com/columbia-jungle-run/. Registration closes: 17 September and is limited to 750 runners.