The ANZA Cycling team have been flat-out busy with races, community events and more says Megan Kinder.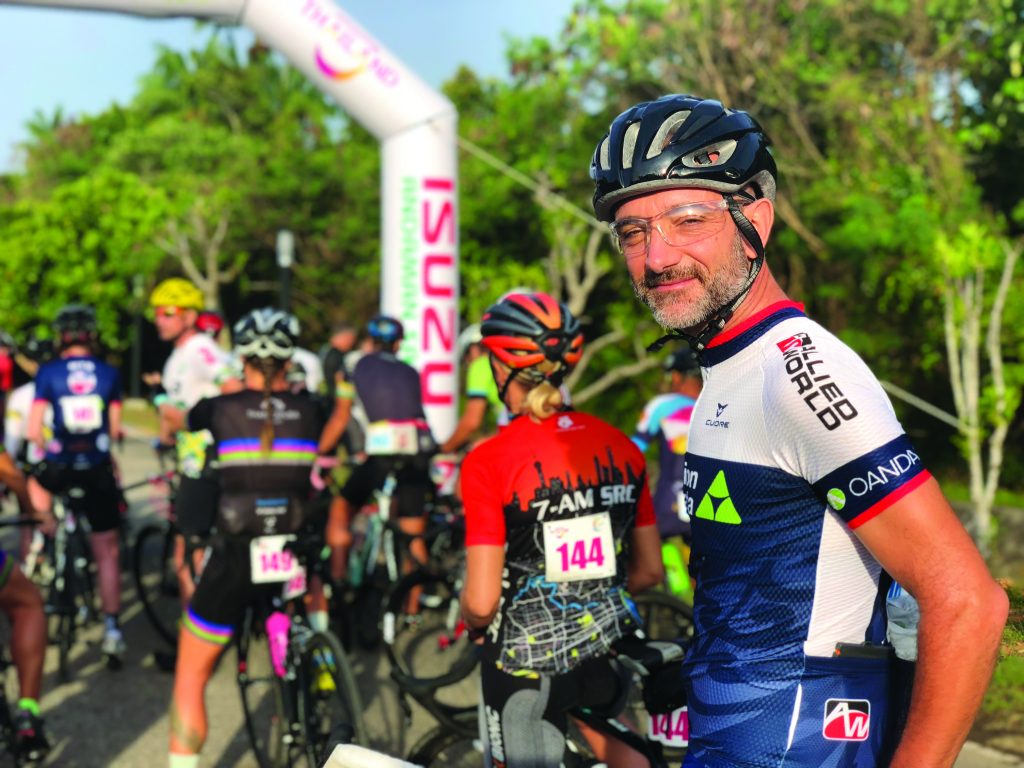 March was a monster month for ANZA Cycling!
Welcome to the Newbies!
It kicked off with our largest ever turnout for the monthly Induction Ride – with 16 newcomers joining. Not bad an effort when you consider we meet at 5:30am! Many thanks to our trusty Ride Captains who came down to be a part of this ride, which is used as an introduction to the way our groups roll and slated as a compulsory ride for anyone interested in joining the club.
With so many signing up this month, the group was split into two pelotons to ride the brief distance, enabling everyone to get a hang of the group calls and rotation, before arriving at Food Canopy, where the newcomers were then free to join the regular Saturday rides from 7am. Anyone interested in joining the monthly Induction Ride (which takes place on the first Saturday of each month) should contact membership@anzacycling.com for further details.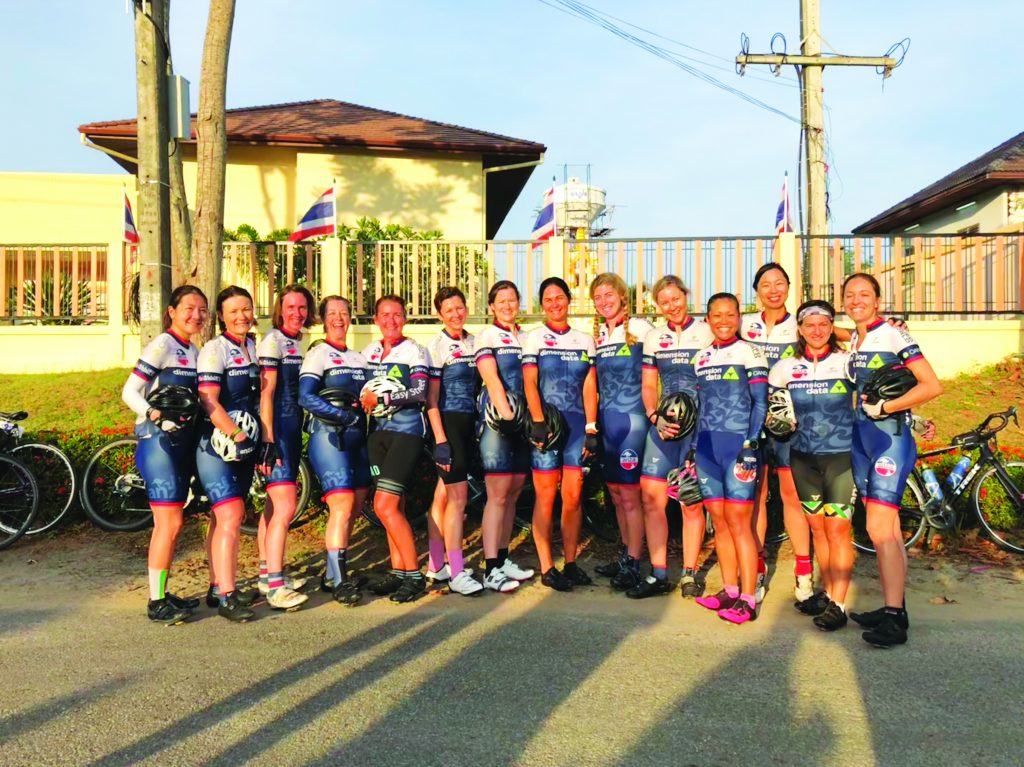 Race to the Finish
Two of the biggest regional cycling tours were also held during March. The first of the two three-day stage races was Tour of Phuket, based in the north of Phuket, and Phang Nga on the Thai mainland. The club saw an unprecedented 55 members head over for this event. Whilst the serious competitors were in for a gruelling three days' of racing, many of the contingent chose to take on the less competitive but still tough two-day-er, the Gran Fondo.
The racers prologue-d the stage event with an Individual Time Trial where competitors raced all-out over a short (5.3km) course to try and set as fast a time as possible. This was followed up by Stage 1, featuring 140km through the tropical (very hot!) paradise of Thailand, with a couple of nasty KOMs (climbs) thrown in and then concluded with Stage 2 of 96km, featuring a loop course of some extra nasty hills.
Congratulations on some amazing performances and top results, including: Elite – Pierre-Alain Scherwey (5th); Masters – Jonas Trindler (4th); Supermasters – Gordon Durnan (5th) Phil Morris (8th), Lionel Gomes (9th); Veterans – Steven Wong (2nd); Sports Open – Roger Allingham (1st), Ben Johnson (2nd), Ben Crouch (3rd); Women's – Yin XiaoWu (6th) and Liesbeth Kanis (7th). Well done to all those who completed the Gran Fondo as well, which saw many members recording their longest ever rides in fairly harsh conditions! Many thanks to Mike Koreneff who helped coordinate a celebratory dinner for the team, whilst nursing a broken thumb due to an unfortunate departure from his bike on Stage 1.
The second of the regional races staged in March was the Tour de Bintan, another three-day event featuring a 17km ITT prologue, a 'Queen Stage' of 144km and final Stage of 111km – also with a Gran Fondo option of one or two days. Congratulations to Vicki Goodwin, who flew in from the cold of Switzerland to lock in an amazing third place in her age category, and also to Heidi Groensedt (4th), Kim Bradley (4th), Steven Wong (2nd), Peter Williamson (2nd) and Phil Finnimore (1st). Pierre-Alain Scherwey put in an incredible effort once again, racing as part of the Allied World Kemp Technology racing team, coming in second overall in the ITT and then finishing 10th in the GC. Well done to all who participated and to everyone who earned a slot at the UCI Gran Fondo World Championships! Massive thanks to Kaz Tabakate and OANDA for putting on a great team dinner in Bintan.
If two stage races in one month weren't enough, we also managed to add in a Cycosports URA Share-the-Road Criterium event, as part of the Car Free Sunday initiative. This round featured three races; Junior, Men's Sport and Women's Sport – with a particular push for beginner Criterium riders to give it a go. The race consisted of a given number of laps around a 1.7km circuit in the closed roads of the CBD and Chinatown and made for a fast and exciting event. ANZA Cycling had a great contingent of racers once again in both the men's and women's categories, with many attempting their first ever race of this type. Congratulations to Mike Thornton who secured third position in the men's sport event. Many thanks to Lizzie Hodges for all her hard work in helping organise the women's race and pace-setting for the first half of the race and to all the other ANZA members who helped out with marshalling!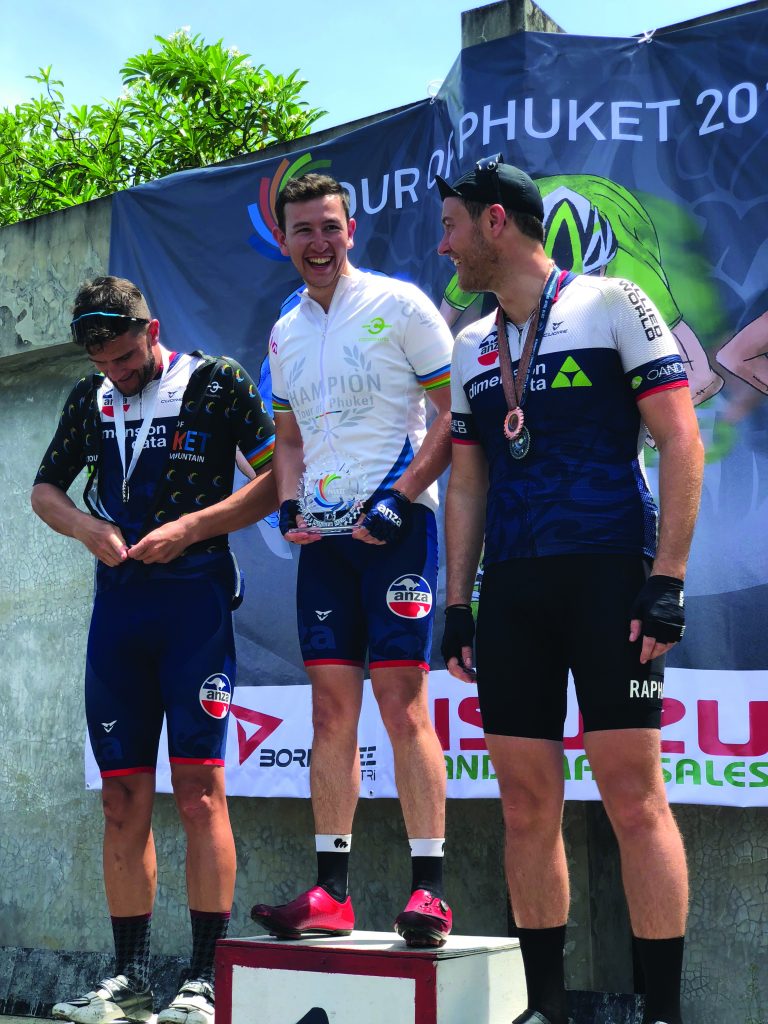 Doing Our Bit
Following the Criterium, the team headed over to the Padang, where we swapped our helmets for trishaws. Organised in conjunction with the ANZA Action-supported charity, Cycling without Age, club members volunteered to pedal community members around a few laps of the Padang. The rides went down a treat, with both our club 'pilots' and the passengers having a hoot – despite a couple of runaway rickshaw incidents! Thanks to everyone who came down to help; we're already looking forward to the next one!
And in other charity news… With our new kit launch, the club has granted jersey space to our nominated charity – the very worthwhile Aidha Organsiation. The club will be promoting Aidha and boosting awareness of the important work they do to break the poverty cycle for helpers. To this end, we will also be getting behind OCBC Cycle Singapore 2018 on May 5 and coordinating our members and cyclists from other local teams to join the event as charity riders.
Interested in coming out for a ride? ANZA Cycling runs a Newcomers' Ride on the first Saturday of each month. cycling@anza.org.sg