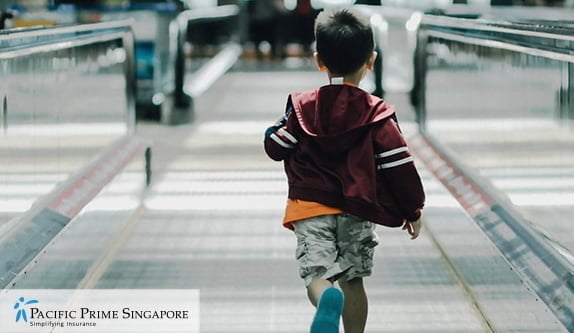 Singapore boasts arguably one of the best public healthcare systems in the world. Having said that, parents in the city-state are also faced with the question of whether to buy a private medical insurance policy for their kids. To help, Pacific Prime Singapore lists the four major health risks facing children in the city.
Child illness
The number one threat to children's health is simple: disease. Their underdeveloped immune system, plus their frequent interaction with the environment and other children, make them vulnerable to developing various health conditions. The most common illnesses among children include:
The common cold
Acute bronchitis
Chickenpox
Asthma
Eczema
While some of the above are rather easy to treat, others are serious conditions that require long-term medical attention.
Genetic disease
Sometimes, it's what hides within that's dangerous. Our own genes might well be the culprit to the development of an ailment. Here are the most common genetic disorders in Singapore:
Down syndrome
Muscular dystrophy
Congenital heart disease
Autistic spectrum disorder
Worse still, many of these genetic disorders have no outright cure, which means that children may have to live with the illness for their whole lives, and the potential medical costs can quickly rack up. Furthermore, certain genetic conditions may also increase the child's risk of developing other health problems.
Injury-prone activities
It's very natural for kids to engage in different kinds of physical activities, which heighten their chances of injury. You may want to consider securing health insurance for your little ones to cover any medical expenses that may arise. The most common injuries seen among children in Singapore include:
Falls
Injuries caused by sharp objects
Cycling accidents
Burns and scalds
Cuts
Environmental risks
Singapore is considered very safe, but as with any other country in the world, unforeseen and invisible risks can still lurk around us and lead to serious health conditions, such as:
Mould
Insect bites
Gas
Air pollution
Water pollution
Among these threats, air pollution is particularly an issue as pollutants may be blown into Singapore from other countries. For this reason, children are advised to stay indoors to minimise their exposure to harmful particulates.
Got more questions?
Established in 2000, Pacific Prime Singapore has grown from its humble beginnings to become a leading insurance brokerage with nine regional offices. Contact us today to get a free quote, plan comparison, and answers to all your questions!