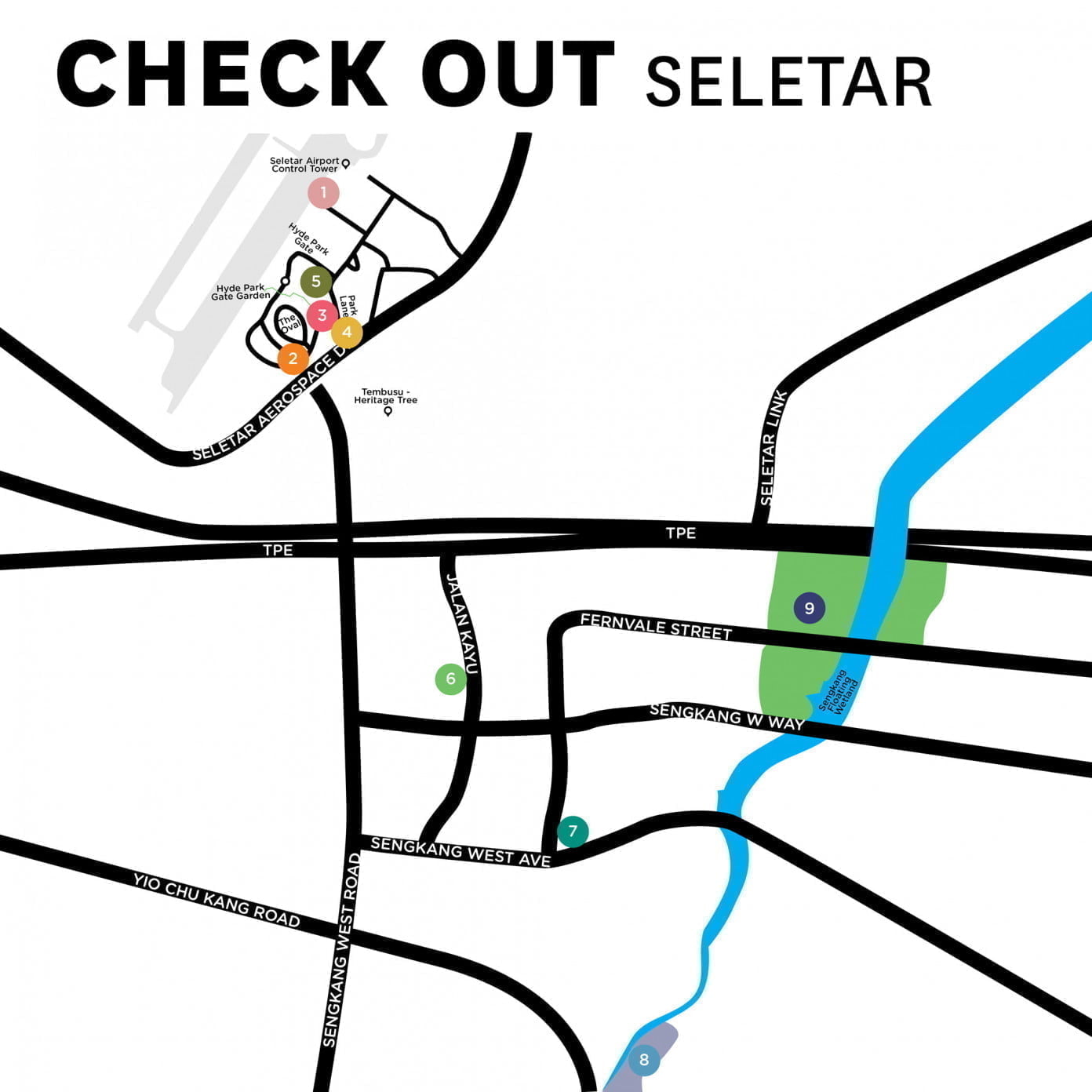 1.Soek Seng 1954
80 Seletar Aerospace View, MAJ Aviation Building
A favourite pit-stop for cyclists, this quirky bicycle-themed café is located right beside Seletar Airport, so you can plane spot while you eat. The menu features an eclectic mix of cuisines, with dishes ranging from dumplings to katsu don and beef kebab. Between bites, check out the vintage bikes and classic cars.
2.Youngs
3 Hyde Park Gate, Seletar Aerospace Park, Singapore 799531
youngs.com.sg
Expect a modern European menu and laidback vibes at this breezy eatery, set in a lovely black and white building. Come for brunch, lunch or small bites, or drop by for the weekend grill. Favourites include pancakes and big breakfasts, steaks, salads, pizzas and mussel pots. They have a kids' menu to keep little diners happy.
3.Summerhouse
3 Park Lane, Seletar Aerospace Park, 798387
thesummerhouse.sg
Summery English garden feels abound at Summerhouse. Choose to dine in a refined botanical-themed dining room or private 'garden domes' set in their tropical grounds. Communal brunch and a la carte menus celebrate sustainable farm-to-table dining, with ingredients sourced from their garden and farming collective.
4.Wildseed
3 Park Lane, Seletar Aerospace Park, 798387
thesummerhouse.sg/wildseed-cafe-bar
Next door to Summerhouse is the more casual Wildseed café, which serves up hearty brunches and good coffee. Don't miss their classic Kaya Toast, which comes on sourdough, with kaya jam and a sous vide egg, or their excellent creamy scrambled eggs. After dark, Wildseed transforms into a bar and they house an in-house florist, Poppy Flora Studio.
5.Wheelers Estate
2 Park Lane, Seletar Aerospace Park, Singapore 798386
wheelersestate.com
Wheeler's Estate offers both cool veranda or alfresco picnic-style dining. Come with a bigger group and tuck into crowd pleasers like barbecue chicken, steaks, pizza and Aussie classics like chicken parma and beer battered fish and chips. Kids can run amok on the grassy lawn, and live bands make regular appearances.
6.Thasevi Food Famous Jalan Kayu Prata
239 Jln Kayu, 799463
Jalan Kayu has long been a hotspot for excellent prata joints and there are plenty here that serve up versions of the classic Indian snack. Thasevi is one of the more famous prata shops, while others swear by Sin Ming Roti Prata at 01-51, 24 Sin Ming Rd. Either way, it's hard to go wrong with crispy fried bread and tangy curry sauce.
7.Seletar Mall
33 Sengkang West Avenue
Singapore 797653
theseletarmall.com
What's a weekend in Singapore without wiling away a few air-conditioned hours in a mall? The Seletar Mall offers all the usual suspects in terms of shopping and dining, with a Din Tai Fung, Song Fa Bak Kut Teh and Haidilao Hot Pot. There's also a 24-hour supermarket, chemist and cinema.
8.Kampong Lorong Buangkok
Located near Gerald Drive (off Yio Chu Kang Road)
Established in 1956, Kampong Lorong Buangkok is the last surviving kampong on mainland Singapore. Situated precariously in the middle of new developments, it may not be around for long. The kampong currently houses around 30 local families, along with resident cats, chickens and dogs. Be transported back to a time when life was simpler in Singapore.
9.Sengkang Riverside Park
Anchorvale Street abutting Sungei Punggol
nparks.gov.sg/gardens-parks-and-nature
Being a little out of the way, Seletar is blessed with many gorgeous and peaceful green spaces. Sengkang Riverside Park features constructed wetlands where you can get up close to mangroves and observe the aquatic plants and wildlife. Wear walking shoes and take a hike, or ride a bike around the tranquil waterways. Look out for the exotic fruit trees planted around the park!