Three years of Brexit and after years of debate and campaigning England remains at an impasse. The experts from WorldFirst discuss Brexit and its far-reaching implications for the Sterling and the global economy.
Three years of Brexit – A decision scheduled to take no more than two years from the trigger of article 50. Don't forget, this doesn't consider the two years of debating and campaigning that led to the vote on June 23, 2016. The ordeal and uncertainty may reach the next decade before this chapter closes.
Why the uncertainty?
Brexit has reshaped the process of how we view financial markets and more importantly, how financial markets operate. Markets are supposed to be data dependent. It's what drives currencies. Currency markets react to the data that is provided to them – labour conditions, inflation, growth, sector growth, national debt etc. Also known as cyclical FX. A currency profits when economic data is favourable, when investor sentiment is optimistic and central bank pursues a relatively less accommodative monetary policy. Throw a major political event such as Brexit into the cycle; you jumble the cyclical element of what we often know and understand. Politics has emerged as the main driving force of financial markets in today's world. A double whammy with US-China trade wars. It seems that markets today have forgotten the data, which was once the driving blocks and key indicators of the market.
The politics
UK politics has attracted much global attention. The Conservative Party had somewhat disowned ex-PM Theresa May from a very early stage and the uphill battle became evident over time. Not only did May have to contest her daily battles with Labour, but she had begun to battle with her own party. Cracks really started to form. The Democratic Unionist Party had held the PM over a barrel, holding the crucial votes needed to secure a majority. The deal itself was not an easy task to execute. It took three meaningful votes for the bill to have a chance of passing the houses of parliament, never mind making it to Brussels. Ms May's cards were marked from the beginning and her tenure came to a swift end in 2019.
Enter Mr Boris Johnson. Johnson was seen to carry a certain power within the houses of Parliament; mainly from aristocratic benchers he had gained elegance from during his tenure as Mayor of London. Johnson's approach of ruling with an 'Iron fist' did not receive the warm welcome he had anticipated. He received a backlash of criticism from his opposition and his own party. The European Union has since agreed on an extension of Brexit for up to three months on 28 October. A General Election on 12 December in a bid to end Britain's "political paralysis" will follow.
Sterling against the World
Pre-Brexit, many regarded the Pound with a premium. In the years post financial crisis, Sterling regained most of its losses against the US Dollar, reaching over 1.71 in July 2014. To put this into context, that's a 25% difference in five years. Since June 2016, on the eve of UK's decision to leave the EU, the Sterling has depreciated against the Singapore dollar by almost 11% at the time of this writing. At its low, it was down over 16% to date.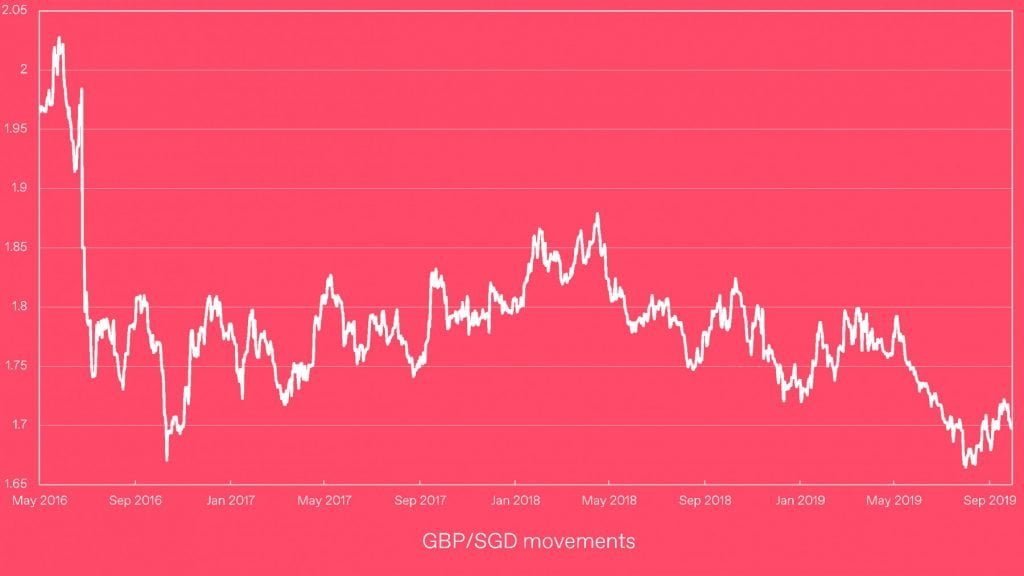 What could the future look like?
When assessing the outlook of Sterling, it is important to recall where it came from. Pre 2016, GBP/SGD traded as high as 2.21, with rates hardly as low as 1.93. If we compare that to today's rate of 1.75, that's a loss of more than 9.6% in value, depending on your vantage point. How bad is this? Well if we compare that to the recent low of 1.65, which then showed a loss of 14.4%, the 9.6% loss seems like a cakewalk. But can we truly say the worst is over?
One thing is for sure, we can never be too sure of what lies ahead. No one, not even the best Sterling traders can predict what the erratic currency will react to next. Markets move with data and sentiment, driven by news now dominated by Brexit/Boris headlines. In a way, this helps post-rationalizing market watchers to make sense of the price trend. In coming weeks as UK's future begins to unravel, investors may start to feel more comfortable, even optimistic, which may result in the strengthening of the Pound.
Will Sterling ever recoup its losses to pre-Brexit levels? It's impossible to tell, but current discussions is showing progress, reinstating confidence in the Sterling traders that the future in one of the oldest currencies and economies has plenty left in the bag.
About WorldFirst: WorldFirst offers market-leading exchange rates, with transparent pricing and no fees on cross currency transfers.
Win! From now until 12 December 2019, make a transfer of S$2,000 or more on your WorldFirst account and you'll stand a chance to win S$5,000 worth of travel vouchers in a lucky draw! Terms & conditions apply.