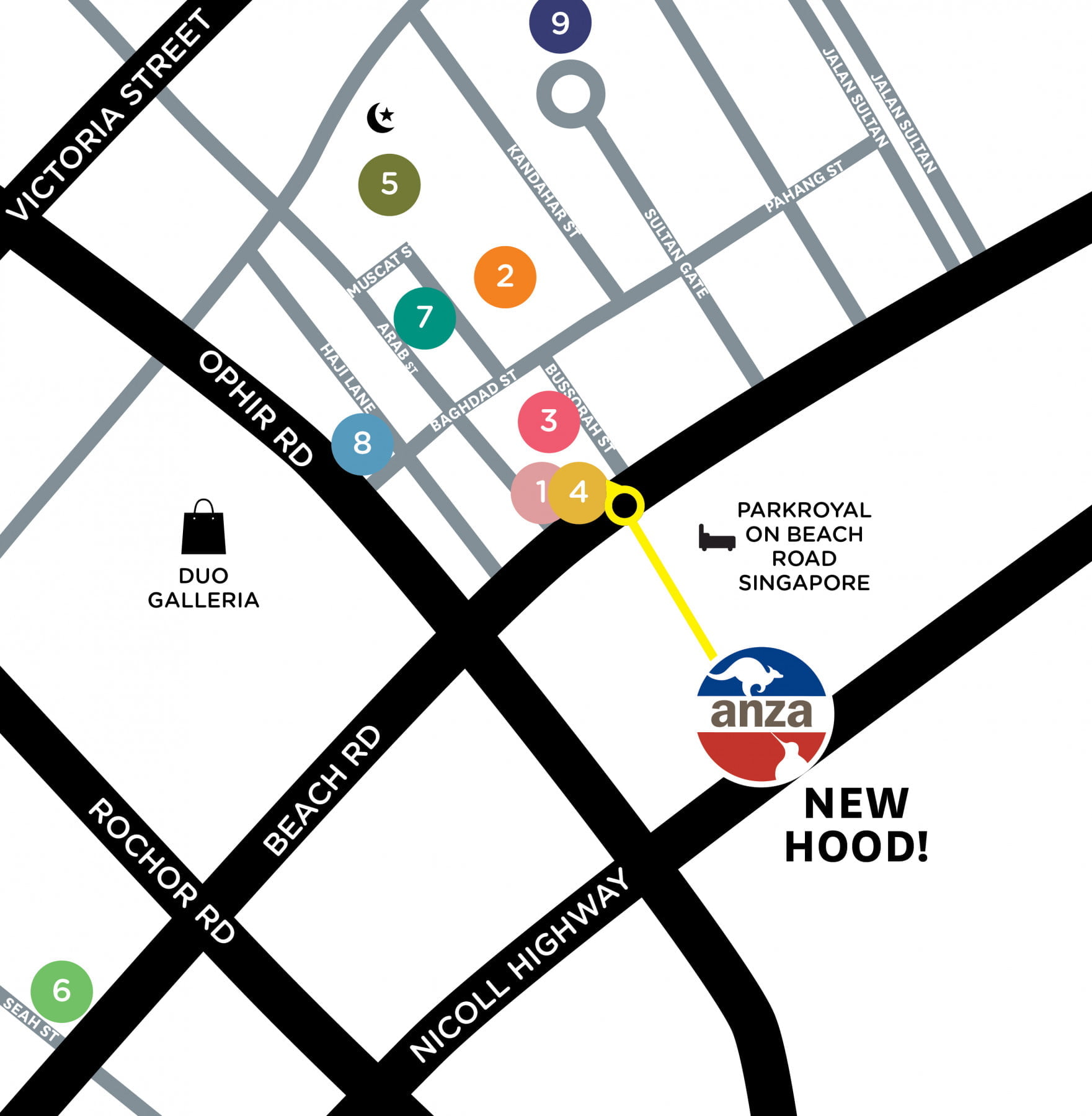 1. Fika Swedish Cafe & Bistro
257 Beach Road, 199539
fikacafe.com
"Fika" is an institution in Sweden; it means having a coffee and a small bite (a cinnamon roll or a biscuit for example) with colleagues, friends, a date, or family. This sweet, airy café honours that tradition, also offering the unusual combination of Halal Swedish food in Singapore. Tuck into Swedish beef meatballs, served with baby potatoes, cream sauce, lingonberry jam, and pickled cucumbers, a gravlax sandwich on freshly baked bread, or a warm kale quinoa salad.
2. Konditori
33 Bussorah Street 199451
konditori.sg
Fika's little sister is Konditori – a European style patisserie that churns out fresh artisan breads and pastries. Patrons rave about the red velvet and black forest croissants, lemon meringue tarts, brioche, brownies, and Swedish semla buns. They also make showstopping customised cakes for weddings or parties.
3. Flying Monkey
67 Bussorah St, 199480
flyingmonkey.sg
Go bananas for Flying Monkey's excellent modern Indian food and craft cocktails. Served tapas-style, the delicious plates are inspired by street food (Chaat and Vada Pav) and offer twists on Indian classics like the Black Truffle Naan, Dill Fish Tikka and elegant kebabs served on mini roti. The cocktails are also laced with Indian spices – try the Lassi Wassi – yogurt, mango and turmeric blended with a shot of rum.
4. Supermama
265 Beach Rd, 199544
supermama.sg
Design store Supermama was founded by Singaporean couple Mei Ling and Edwin, named after the leap of faith made by Mei Ling in supporting her husband's dream of quitting his job and owning a store! The pair collect and create meaningful, beautiful objects, working closely with artists and designers. The perfect spot to pick up a thoughtful gift or something for yourself.
5. Sultan Mosque
3 Muscat Street, 198833
sultanmosque.sg
Built in 1824 by the first sultan of Singapore, Sultan Hussein Shah, this magnificent mosque is a Singapore landmark and the largest unofficial centre of worship for local Muslims. Visitors are welcome to visit, wander around the large prayer hall and learn more about the religion and its history. Walk-in visits are available Saturday to Thursday between 10am-12pm and 2pm-4pm, and Fridays between 2.30-4pm. Visits can also be arranged in advance for larger groups. Dress in long sleeves and pants, or borrow a robe on arrival.
6. Papi's Tacos
39 Seah St, 188395
papis-tacos.com
Expect legit tacos, burritos and quesadillas at this tiny, no frills taqueria – Executive Chef Mauricio Espinoza hails from Mexico and was trained in NYC. Take a seat at the cosy 16-seat bar, order a tangy frozen margarita and try an array of traditional bites – from chips and guac, to palm sized soft tacos stuffed with various fillings, including marinated steak, grilled white dory, shrimp, mushrooms and pork. No bookings – arrive early, or you'll find yourself in a queue.
7. Gelam Gallery
Muscat Street beside Masjid Sultan
Singapore's first outdoor art gallery features around 30 artworks by local and international artists, spread across the back alleys of Muscat Street. Framed pieces hang alongside wall murals and commissioned graffiti. The art ranges from colourful contemporary works to cultural statements that reflect Singapore's diversity and history. Entry is free – bring your camera!
8. Blu Jaz Café
12 Bali Lane, 189848
blujazcafe.net
The neon lit Blu Jaz Café is a Singapore institution, spilling onto the pavement at the corner of Bali Lane with a buzzy crowd. Head down for regular live music sets and open mic sessions – the café hosts a list of famous jazz names and rising stars.
9. Malay Heritage Centre
85 Sultan Gate, 198501
malayheritage.org.sg/en
Located at the historic Istana Kampong Gelam, this museum traces the rich history of the Malay community. There are six sub-galleries, permanent and rotating exhibits, and contributions made by Malay pioneers. There's also a dedicated kids' space and storytelling sessions.
** You can find ANZA's new office at 261A Beach Road, Singapore, 199541