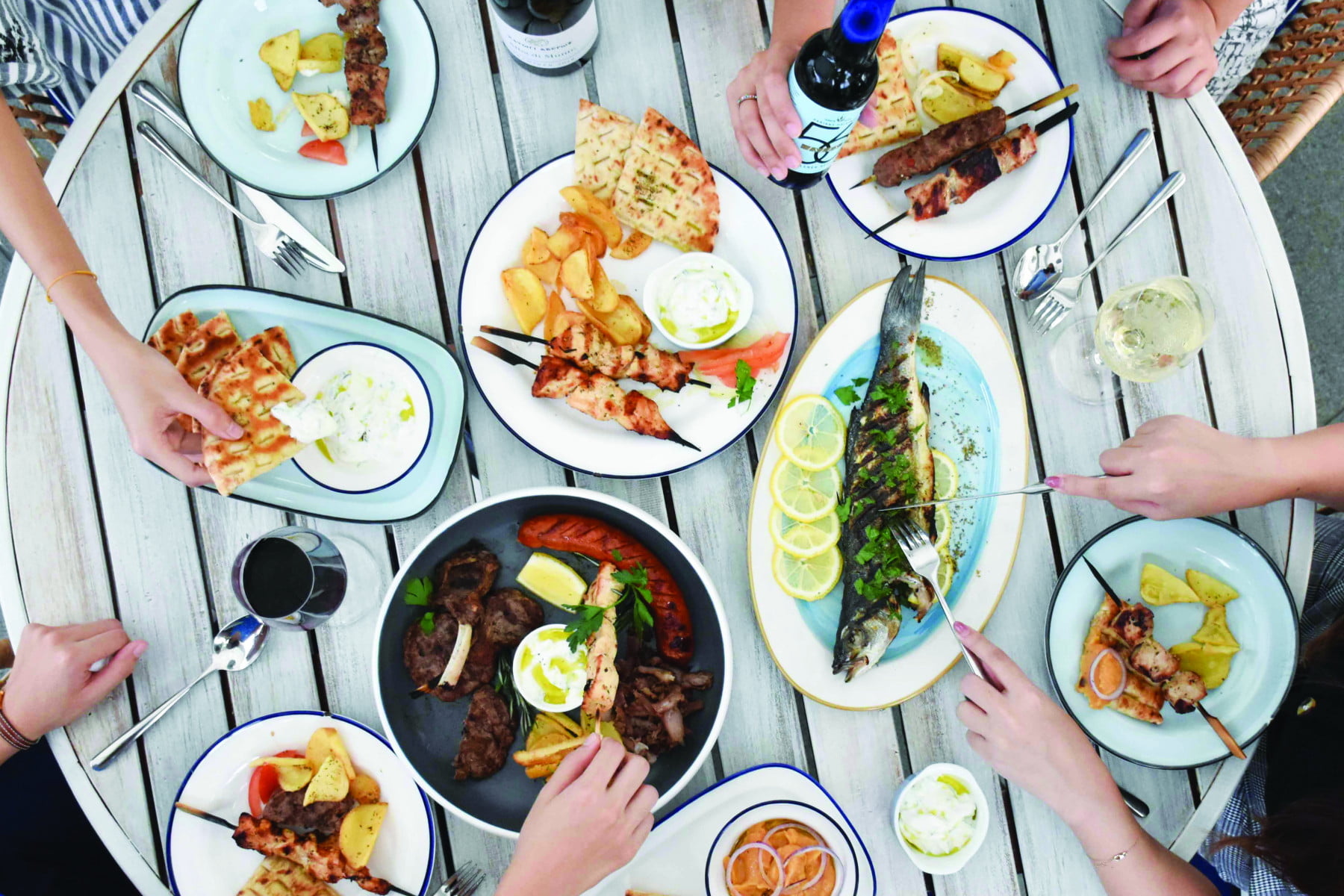 Zorba, The Greek Taverna
3A River Valley Road, #01-02, The Riverhouse,
Clarke Quay, 179020.
zorba.sg
Zorba The Greek Taverna has unveiled an all-new delivery concept – Go Greek by Zorba. Order Greek classics and enjoy them at home from 6-10pm daily. Island-wide delivery and pick up available. zorba.sg/delivery-takeaway
OUR REVIEW:
With a relaxing alfresco setting and authentic cuisine, Zorba, The Greek Taverna is a little piece of the Aegean on our Singapore shores.
Wine glasses in hand we watched the river boats turn on the water as the appetisers started to arrive; dips platter ($28), Spanakopita ($16), and the cornerstone of many a Greek dining experience, Moussaka ($22). Having made Moussaka many times and eaten it in restaurants in both Greece and Cyprus, I can confirm that Chef Giorgio's version is delicious.
Starters were followed by the Chef's Salad ($20). A fresh and zesty plate, but a little heavy on the onion for my taste. With palates refreshed, it was time for The Greek's Mixed Grill Platter ($88), a mountain of meat, with bifteki, gyros, souvlaki, lamb chops and Greek sausage (Loukaniko) set upon a bed of delicious potato chips, tomato, onion and lemon. The generous portion would feed a small army. Meat lovers rejoice!
Greek classic, Lamb Kleftiko ($36) was soft and fell from the bone and would have been perfect if served a little warmer. Seafood dishes included the Garides Saganaki ($28), jumbo prawns cooked in olive oil, ouzo, tomato and feta, Tsipoura ($32), grilled sea bream drizzled with lemon, garlic, and olive oil, and slow grilled octopus ($30).
For dessert, I really enjoyed the baklava ($12), combined with a traditional Greek digestive, Mastic liqueur on the rocks, it was a very pleasant end to the meal.
Verdict: The produce is fresh, the food authentically Greek and the location is prime waterfront at Clarke Quay with plenty of noise and buzz. When the CB ends, it's a great option for a waterside dining experience.