What brought you to Singapore?
The opportunity to explore Asia and experience another culture, while also pursuing job opportunities. My husband, daughter and cat joined me on this adventure. Our wonderful helper Liezel helps hold it all together.
Where is home in Australia?
It was Melbourne but I'm not sure I could tolerate the weather now! Plus our daughter would not be pleased about not being able to swim most days.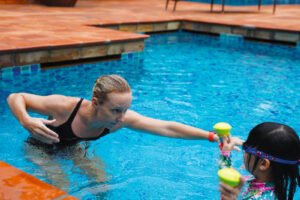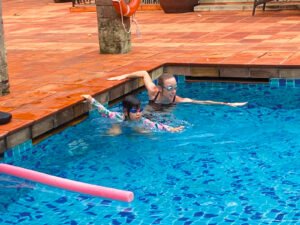 What drew you to ANZA?
We joined soon after we arrived as a way to meet new people. I'm involved in ANZA Trailing Talent and have thoroughly enjoyed the Thriving in Singapore presentations. I love the enewsletters and I'm looking forward to my first Ladies Night. It's such an inviting and warm community. I've met some wonderful people through ANZA. I would call them family, so I consider myself very lucky.
What was it like being selected for the Commonwealth Games in 2002?
My story is not one of glory unfortunately. I fell ill about a month out from the Games and didn't end up travelling with the team to Manchester. It was a hard lesson to learn as an 18-year-old, but it's shaped the person I am. I never take anything for granted, and try to not regret too much. 
I feel really privileged that as a swimmer, I learned under some great coaches. I also had a wonderful club throughout my career. My memories of races on a Saturday at Newman Churchlands, Perth are still some of my fondest.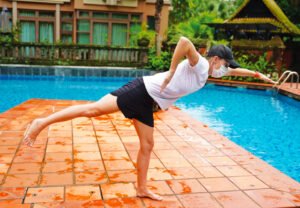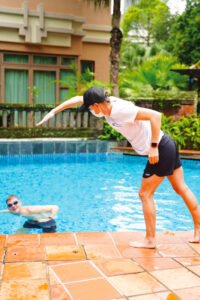 Tell us a bit about Swim Squad Singapore?
Swim Squad Singapore was surprisingly borne out of Covid-19. A few neighbours found out about my swimming background and asked if I'd be interested in helping out. It started as a voluntary 'this will go nowhere and is a bit of fun'  exercise. But it soon had potential as more and more enquiries came through. I achieved my accreditation through the American Swim Coaches Association and now Swim Squad is here. We cater to all levels and ages and our approach is sometimes a little different, but justified and proven. We've had a lot of success in 'gamifying' the learning for the younger audience. I have to admit, the more mature don't mind a bit of fun, too!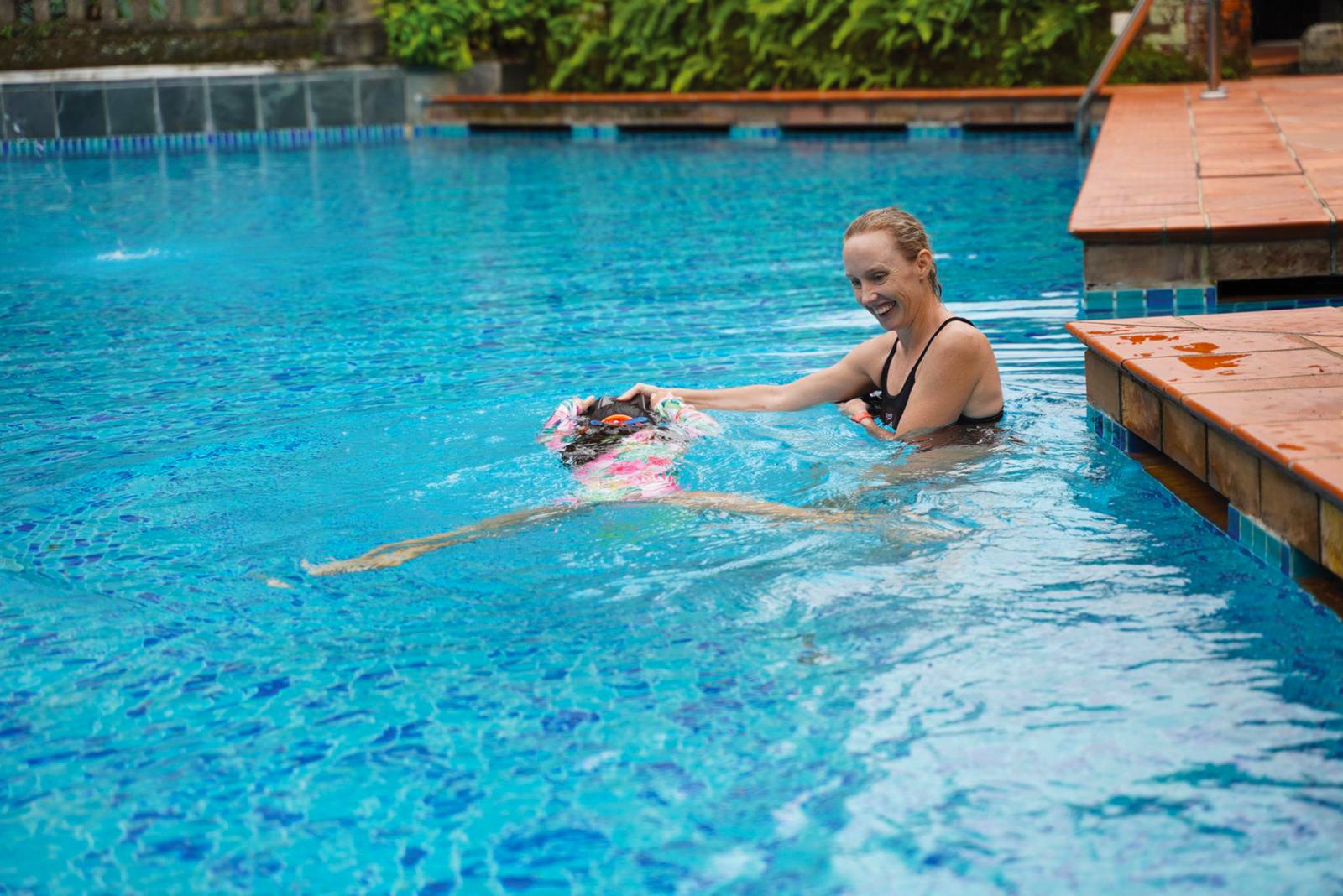 What do you offer?
Depending on restrictions, we offer one-on-one sessions, one-on-twos and groups of four. We can also tailor lessons and plans based on requirements, as long as safety is maintained and there is no benefit lost to the swimmer.
What are your hopes for the program?
I'd like to get a more permanent set up – or at the very least an adequate squad and master's program based on the club models in Australia. My fondest memories of swimming are of my early club days, which fostered the love of the sport through fun. I like to connect my swimmers if their abilities are similar and then they have a training buddy!
What tips would you give adults to improve their stroke?
Confidence is key. We have a strong emphasis on 'feeling' the water. When a swimmer learns to control the propulsion or direction, they realise water is their friend, not their enemy. Once this light bulb moment happens (and it is awesome to witness) then it opens doors to the next wave of learning.
What are the common mistakes you see in swimming?
Breathing and air exchange is by far the most common mistake. If a swimmer doesn't exhale properly in the water, this results in increased carbon monoxide in the lungs. Then the brain says, 'no, no, no'. 
How often should people swim?
Every day! It's great for cardio, it's low impact, heaps of fun and the Singapore climate is suited to it as a sport of choice! If every day is not an option, at least twice a week, and make it fun – it shouldn't be a chore!
What are your tips for giving your child a great start in swimming?
Get them in the water as often as possible and again, make it fun! My two-year-old is good at swimming but her cannonballs need improving.
What are your essentials for a good swimming kit?
Keep it simple – good goggles (with a UV rating to protect the eyes), kickboard, pull buoy and maybe hand paddles for the more advanced swimmers.
What are the benefits of a regular swimming routine, and do you still swim yourself?
Swimming has always been a fun space for me. Learning, training and now teaching my daughter and clients. It can be fun, it should be fun. The exercise benefits stand for themselves, but hating every minute counteracts the gain. A varied, engaging routine is not only a good stress reliever, but you get the workout benefits on top! For me, swimming is my quiet space, and after a hard day I love to have a good swim and enjoy the silence. I also enjoy doing the sets I task my swimmers with. When they complain I challenge them to double or nothing if I can't do it. Works a treat.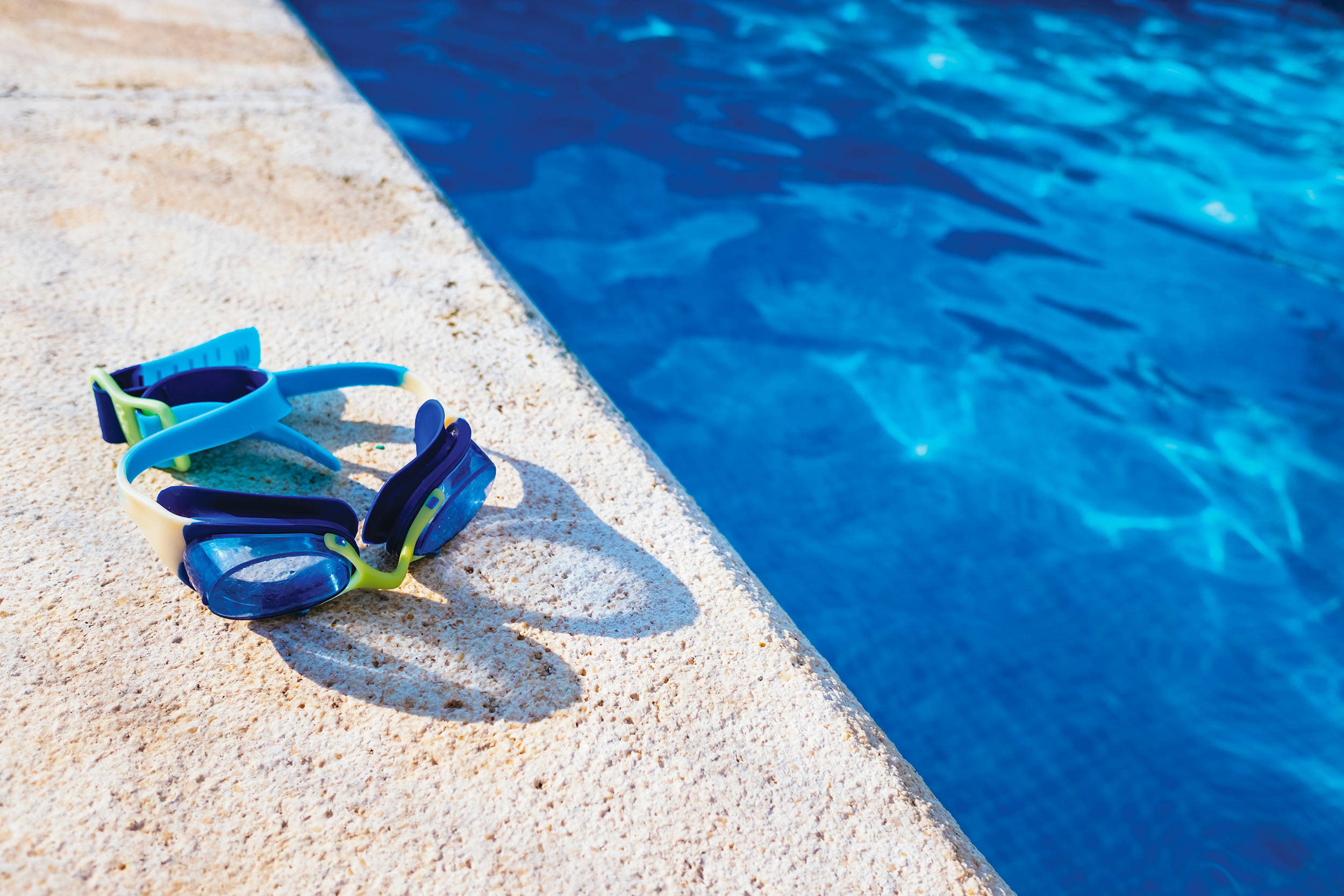 4 tips to the perfect technique
A good strong (and efficient) kick is really important
Effective 'catch' and 'pull' on the strokes
Balance and control – Rock and Roll is not good in swimming!
Relaxed breathing!