The Butcher's Wife
19 Yong Siak St, Singapore 168650
Tel: 62219307
www.thebutcherswifesg.com/
Embark on a gastronomical journey from Asia to Brazil. The Butcher's Wife under the reins of Brazilian-born/Paris-trained chef Mariana Campos is a shining light in the Singapore restaurant landscape. Inviting aromas hit the senses as soon as you step foot inside the vibrantly decorated venue. The setup is unpretentious, but this is serious fusion cuisine where the food is prepared using high-calibre techniques and with boundless passion.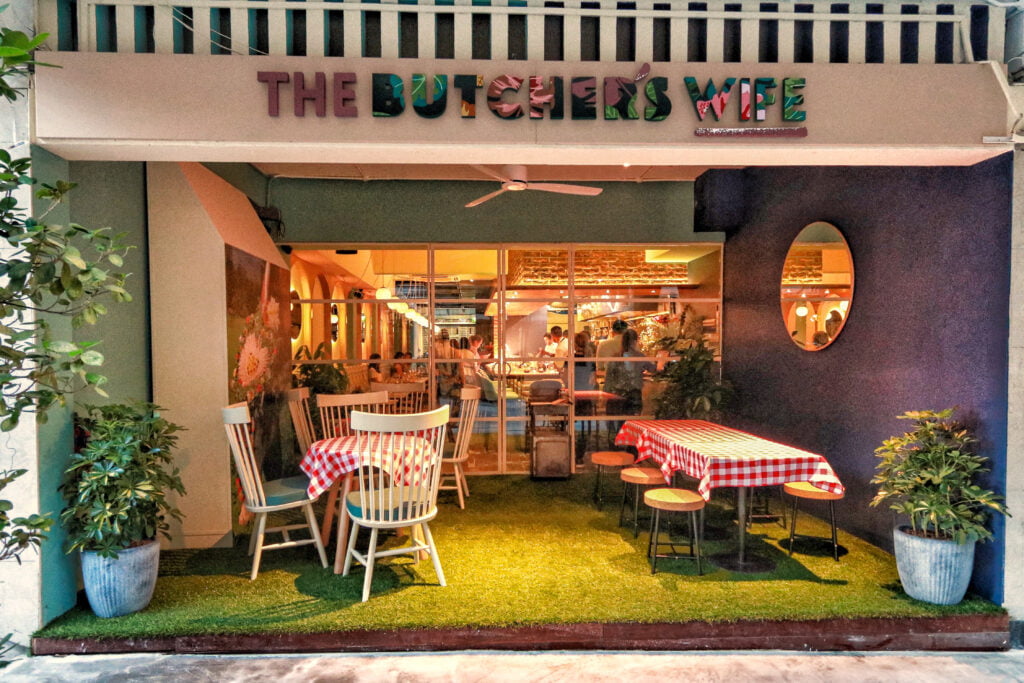 We were there to taste-test the new all-day menu. Our journey began with the Spiced Pineapple Calamansi from the Kampong cocktail list: dark rum, calamansi, pineapple, and fermented red chilli honey. It was very refreshing with a little chilli bite to get the tastebuds ready for a feast.
We started with an array of tasty sharing dishes: a basket of Pao de Queijo (gluten-free cheese bread and perhaps the most popular Brazilian snack) ($12) accompanied by a yummy tomato and chilli sambal, Sago and Coconut Prawns ($25) deliciously crispy on the outside and perfectly cooked in the inside served with an acai berry (dairy-free) mayo, and Bacalhau Mantecato ($16), a  delicate dish of whipped dry cod fish served over crispy fermented chickpea toast – not to be missed!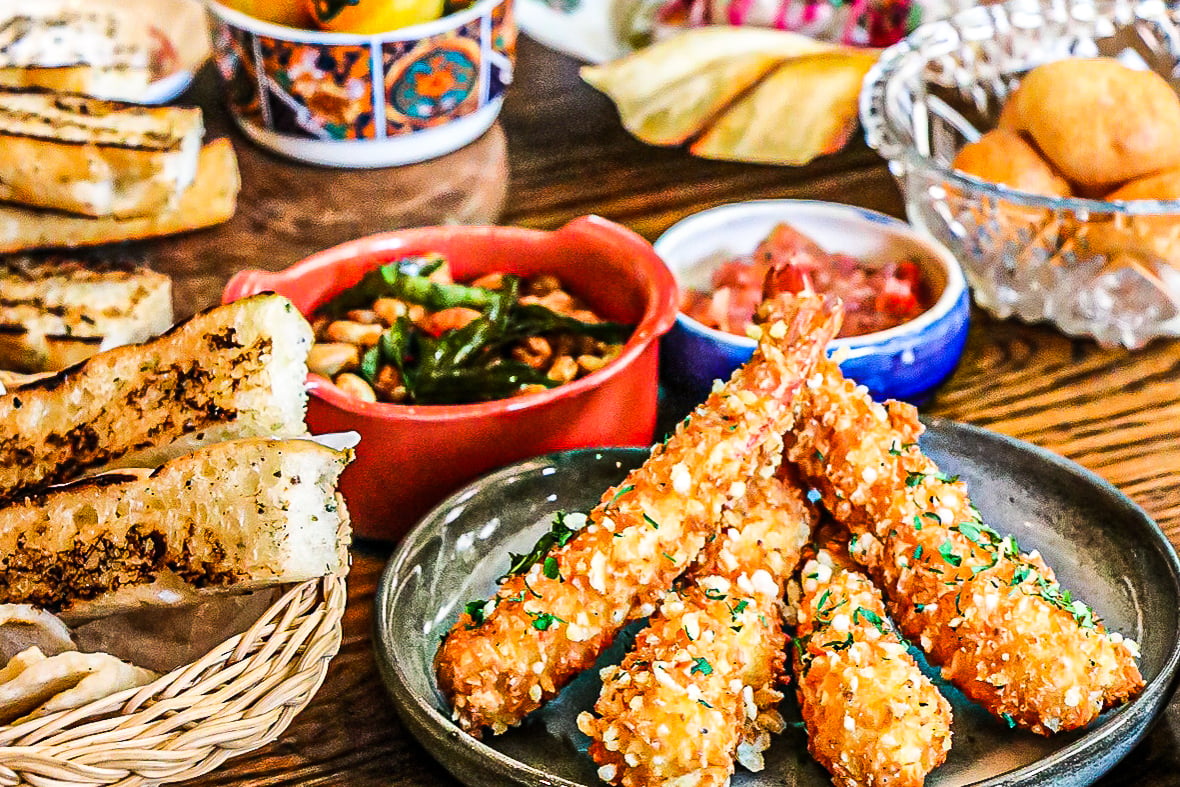 With this round of dishes, we enjoyed a tasting glass from the natural wine selection, a crispy Loire valley 2018 chardonnay, Lise et Bertrand Jousset, Les Audouines; a perfectly balance Loire valley chardonnay with well-balanced fruits and a French oak back, an outstanding wine! ($103/bottle)
The next round of dishes featured the "Land Tuna" salad ($23), a light-hearted vegan plate with punchy flavours of Myanmar brown rice, edamame, sweet pea, Sunomono cucumber and a wasabi sauce. The second dish was the outstanding Moqueca ($37), a traditional northern Brazilian stew prepared with an assortment of various seafood and packed with delicious flavours and a side of Farofa made from toasted banana oats.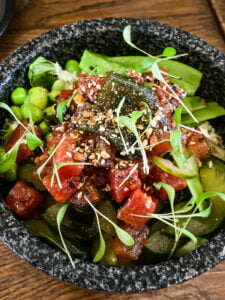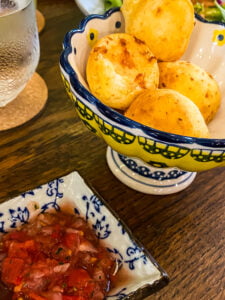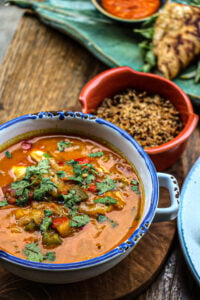 Our second natural wine is a Honeymoon 2020 by Pares Balta. A wine made from the Parellada grape native to the Catalan region of Penedes. It has an intense nose but delicate ripe fruit flavors, a wonderful choice ($79/bottle).
The chef brought us a plate of Marinated Chicken Thigh Dosa ($26), locally sourced chicken with a fermented cashew cream, topped with pickled chayote and wrapped in the popular crispy South Indian crepe made from fermented lentils and rice. On the side a fermented chilli sauce that resembled our loved Singapore version of chicken rice chili sauce – a great dish.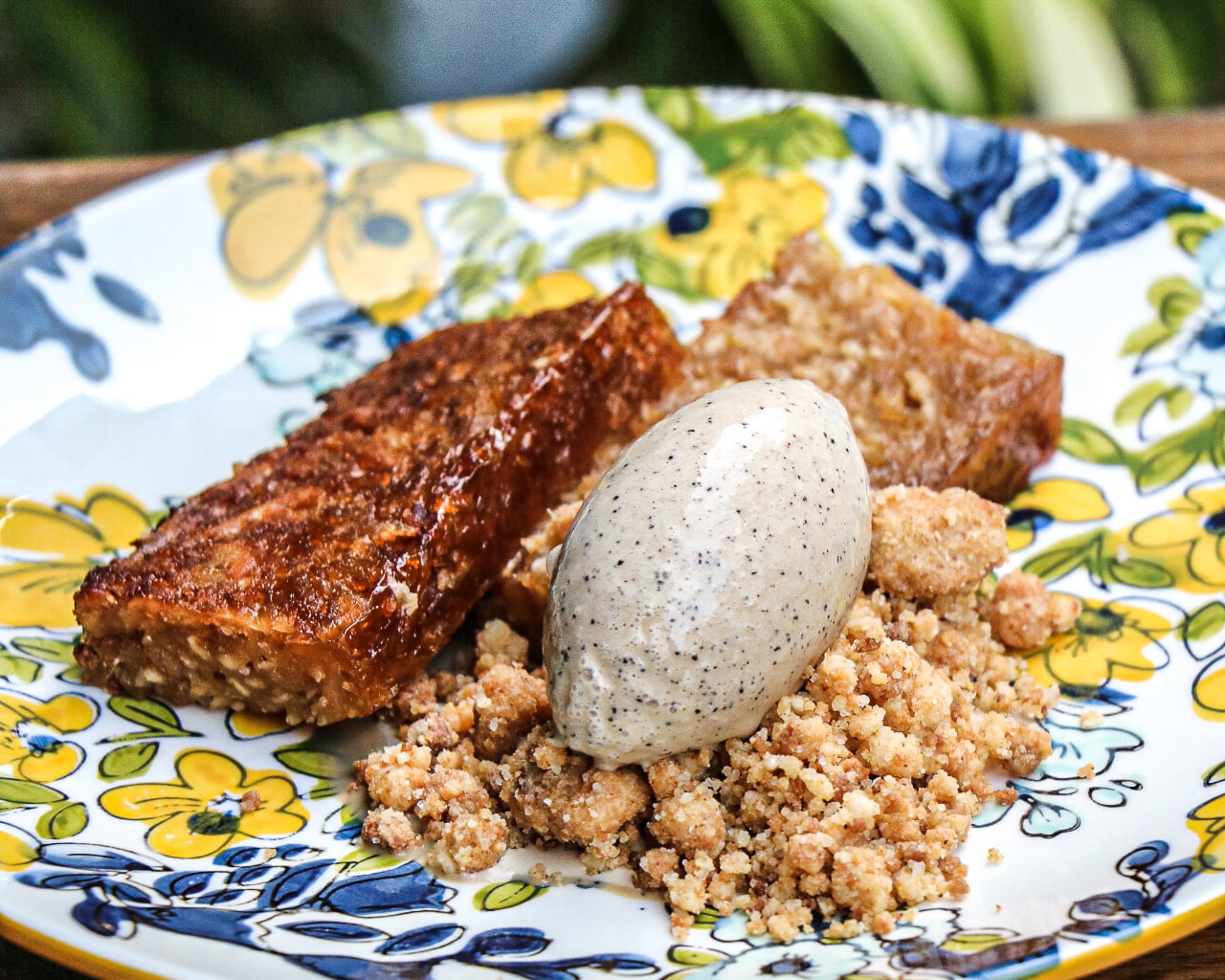 We finished our meal on a sweet note with Tapioca and Coconut Fudge ($15) served with in-house coffee ice cream churned using Common Man Coffee Roasters beans.  Following were ice cream/sorbet "Magnums": miso with buckwheat and chocolate ice cream ($12) and a mango puree sorbet covered in coconut milk ($9).
We only scratched the surface of this all-day menu, and we just wished we had room to eat more. We were also impressed by the wide range of their natural wine list, curated by Drunken Farmer.
Verdict: A gastronomical jewel with a cook-from-scratch philosophy where the food preparation focuses on locally sourced ingredients, fused with a passion for fermentation to create a gut-friendly and 100% gluten-free culinary adventure.