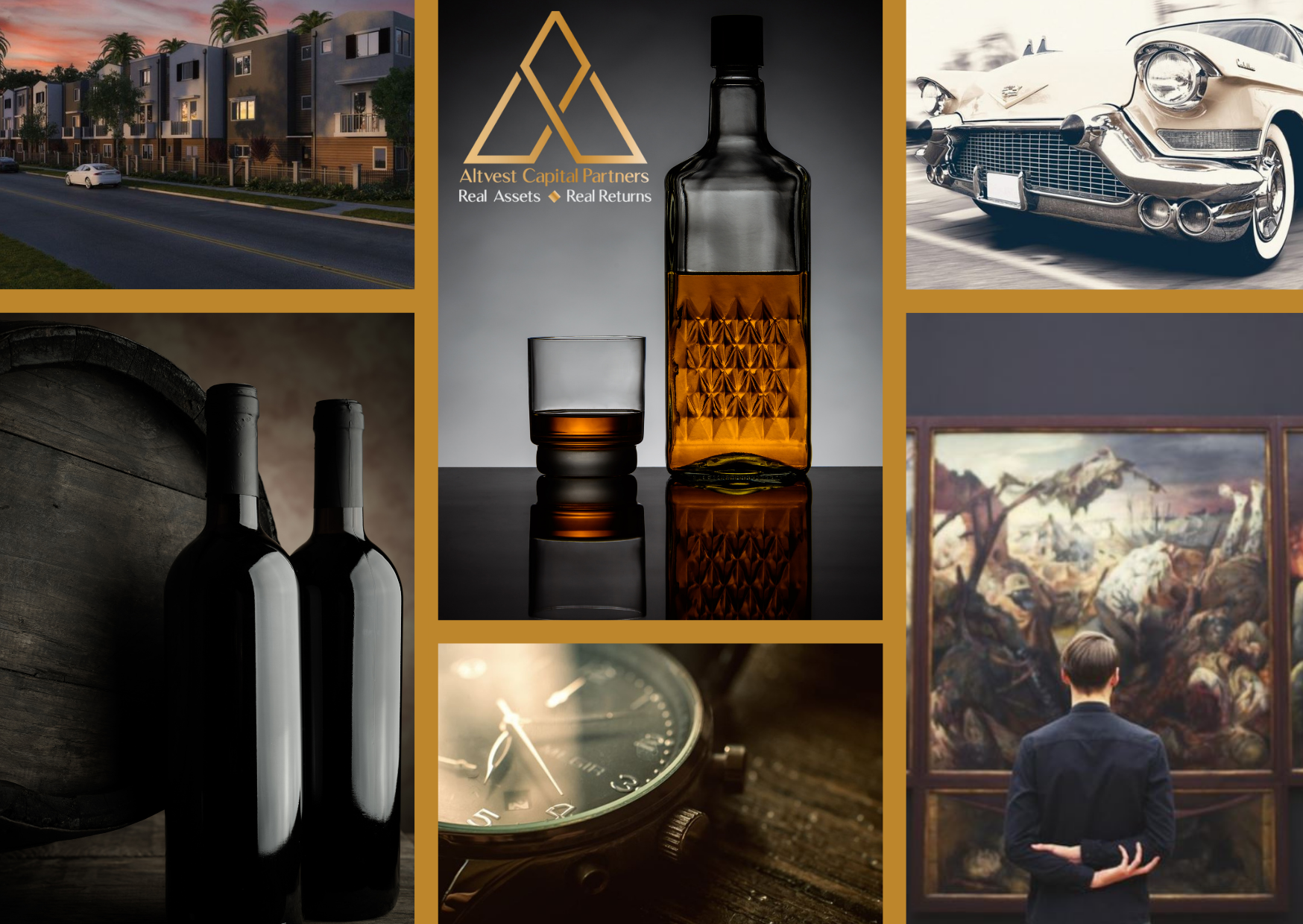 The Opportunity
Much is said about the importance of portfolio diversification, typically extolling the virtues non-correlation can bring investors. However, in practice, the level of portfolio diversification attained by even the savvier investor is low, with even less evidence of any meaningful non-correlation.
Having advised private clients on their investments for over 20 years the importance of true portfolio diversification and non-correlation was all too apparent. Unlike financial or paper assets, real assets benefit from having inherent intrinsic value, often with no tax liability.  However, a constant frustration was the difficulty in effectively accessing quality real assets.
It became increasingly clear that there was an opportunity to set up a business that focused on providing impartial advice and execution for individual and professional investors alike, a sort of "one stop shop" dedicated to real asset portfolio construction.
Altvest Capital Partners was formed in August 2019 to provide this solution. The established relationships we had nurtured over the preceding years with our specialist partners could now offer investors unparalleled access to the often illusive and yet lucrative world of real assets.
The base of operations is here in Singapore with a smaller presence in the UK, as many of our core partners are located across the globe. This means we can operate efficiently across multiple time zones.
Performance and Characteristics
Tangible assets such as art, fine wine, whisky casks, classic cars and timepieces ensure portfolio diversification and have proven to be non-correlated to financial markets. Several consistently outperform financial assets, particularly over the past decade.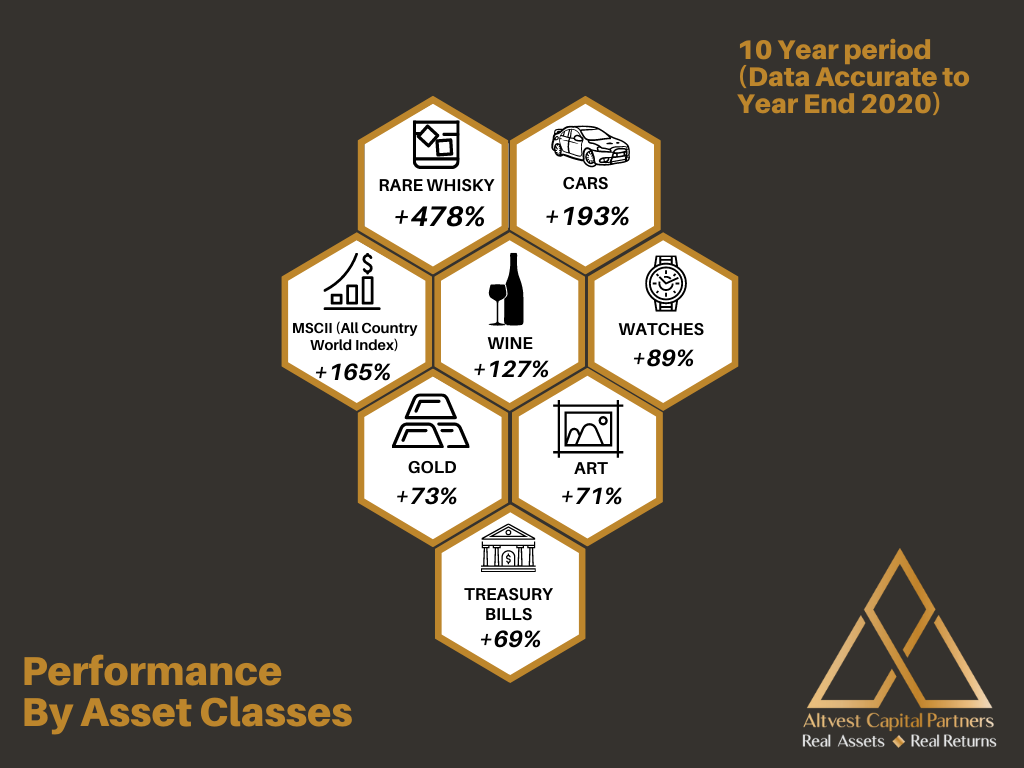 As stated previously, real assets benefit from having inherent intrinsic value. However, unlike financial assets there is no explicit market price as assets are not listed on an exchange per se. One of the single biggest risks with real assets is the price you pay for them, which is why trust is such an important factor when choosing who to work with.
Core Areas of Expertise
Art
Art provides a sensory experience that few assets can parallel, evoking discussion and a feeling of satisfaction as well as the proven potential for significant growth in underlying value. Because art is such a huge and subjective area, we primarily focus our attention on up-and-coming artists such as Panik, Youssef Boubekeur, Symble, William Fortescue and Lisa Thomson. Such assets can yield significant returns, often in relatively short time spans.
Scotch Whisky Casks
Similar to fine wine, holding whisky as an investment, rather than enjoying it, may be unthinkable for some. However, the historical and predictive long-term appreciation in the value of whisky casks presents a compelling proposition. Unlike wine, whisky only ages in the cask prior to being bottled and as such, arguably its innate value is far more related to its age rather than any other single factor.
No two casks are the same; the age, maturation rate, material and methods used within the private whisky cask industry can vary considerably. We ensure our clients get access to only the highest quality, investment grade Scotch whisky casks. We carefully curate our partners, ensuring state-of-the-art storage, insurance and management.
Timeless Timepieces
In a time where financial markets and even real estate have become increasingly lackluster, rare watches are a worthy investment opportunity. With both timeless classics and limited-edition models appreciating exponentially, it's no surprise that these collectables are becoming a highly sought-after investment opportunity.
Watch investing is not akin to watch collecting. Dealers tend to reserve the most wanted pieces for their insiders and heavyweight collectors, rarely making them available to the general public. We offer our clients access to these pristine timepieces, representing fantastic investment opportunities and consistently delivering strong growth.
Classic Cars
Like many other alternative asset classes, supply and demand are huge factors to consider with classic automobiles. Experience shows that one of the key motivators for buyers is a fondness towards cars that were popular during their youth or early adulthood. As time passes, the supply of pristine condition models diminishes, driving prices up.
With the rise in prices that premium cars command, coupled with the emotional attachment many investors have with specific brands or eras, it is no surprise that appreciation in the value of classic cars has not only kept up but even surpassed other asset classes.
Fine Wine
Wine investors capitalise on the age-old balance of supply and demand. Vintage bottles that are highly sought after are constantly being bought which results in a decline in supply. With the decreased supply, this pushes up the demand further. What was once an unfamiliar is now a highly developed but lucrative market that can yield solid profits.
Property
Although primarily seen as an excellent store of value, we've all heard the saying "nothing's safer than bricks and mortar", property can generate significant and sustainable income and capital growth. Investors no longer need to rely on sizable capital outlays of long-term mortgages to participate in the expanding global property arena.
Savvy investors have learnt to not just limit their attention to local residential properties, but instead, have sought out international growth opportunities both within residential and commercial property projects/vehicles. These opportunities routinely offer significant growth, reduced investment timeline and increased tax efficiency.​
Our Unique Proposition
Altvest Capital Partners offer private clients bespoke investment solutions that enhance return and promote diversification in conjunction with traditional investment portfolios. We specialise in identifying and managing assets that not only allow clients to enjoy the tangible benefits but also enable easier access to their unparalleled growth opportunities and tax efficiency.
​We have 35 years collective experience within the Financial Advisory and Asset Management industry. This experience and knowledge enable us to guide investors and collectors alike with a holistic understanding of the investment universe. Our reputation for candid and transparent advice is the core reason our business continues to grow, primarily by referral.
At Altvest, we are committed to providing our clients strategic solutions that provide real lifelong value potentially for generations to come.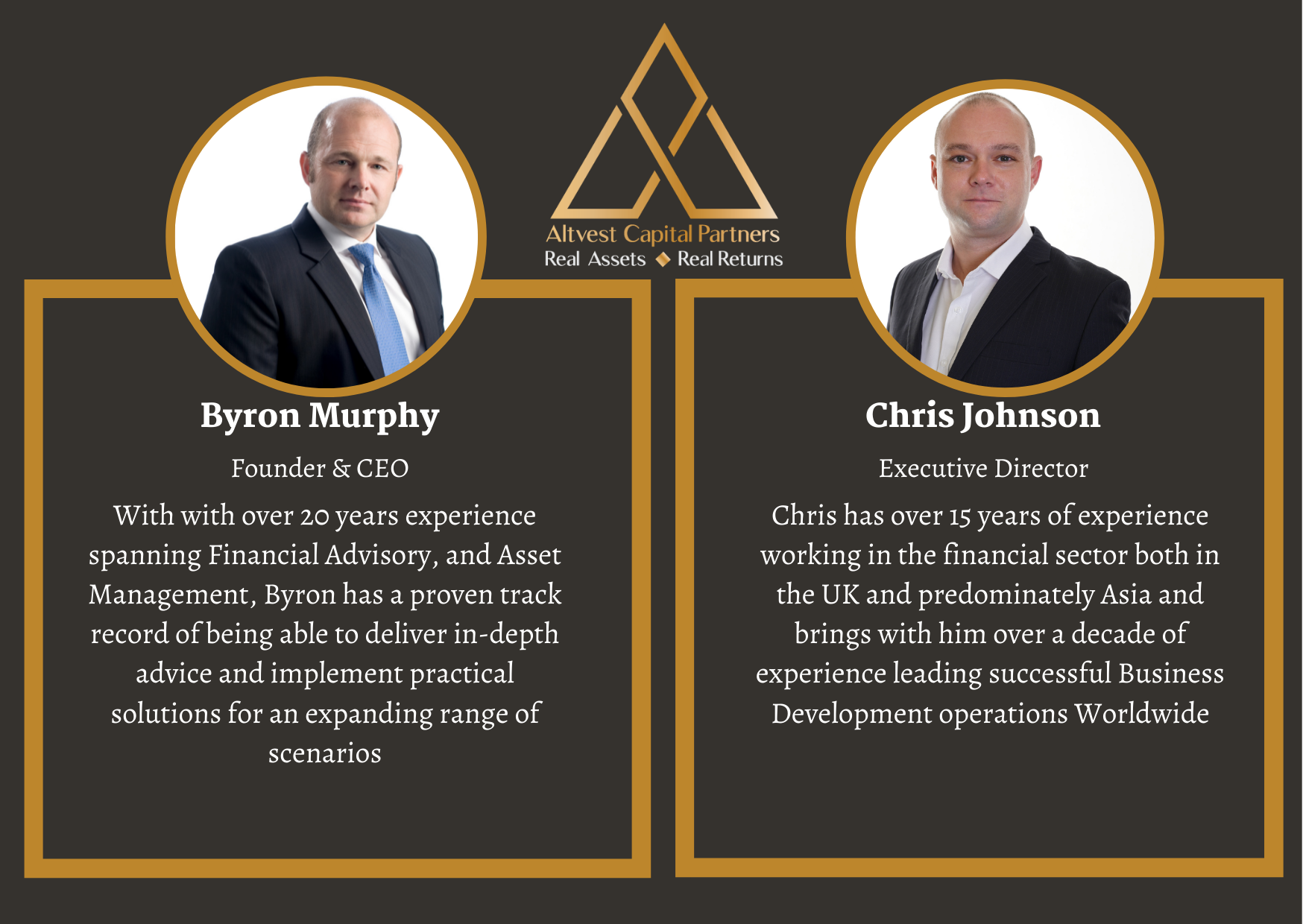 The Key People
 Byron Murphy (Founder & CEO) has worked in Asia for approaching 25 years, primarily in Singapore where he has been a Permanent Resident for over 15 years.
Chris Johnson (Executive Director) is now based in the UK, after 10 years living in Asia.
Darren Riley (Head of Business Development) is also a Permanent Resident of Singapore.