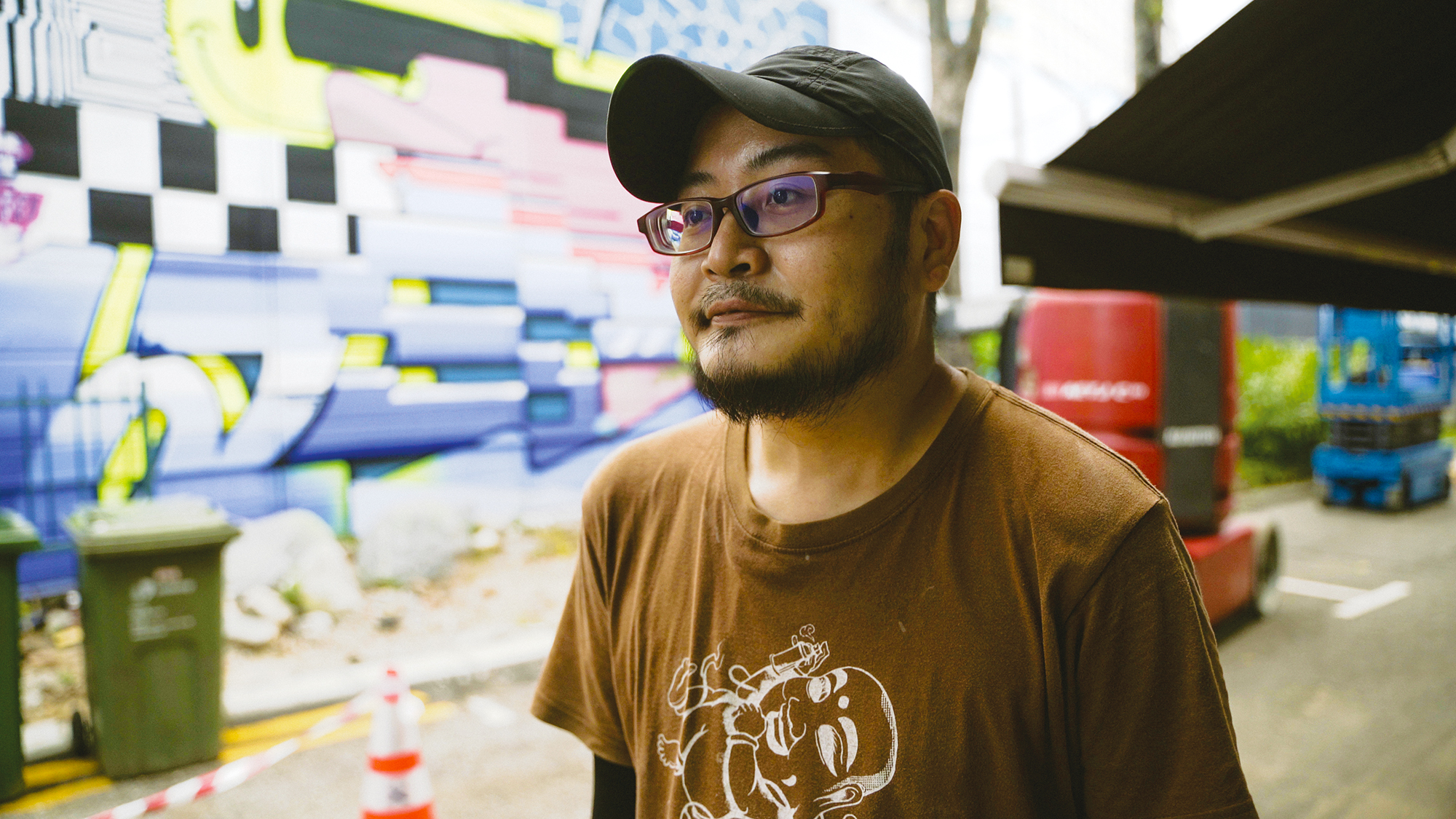 One of Singapore pioneer street artists, Anthony Chong, aka ANTZ, lent his distinctive take on classical Asian myths and culture to the colourful artwork, "Constant Elevation", currently displayed on a 230-metre stretch along Bali Lane and Ophir Road at Kampong Gelam, the site of Southeast Asia's first official graffiti Hall of Fame. A 'Hall of Fame' is a popular street art term that refers to a place with several walls that artists can paint freely. We talked to the 39-year-old artist about co-founding street art collective RSCLS with fellow artist ZERO, and his unique designs, which have drawn a large following and notable clientele, including Rimowa, G.O.D. and Facebook. 
How did you get involved in street art in Singapore?
I've been painting for over a decade. Back in design school, I majored in 2D animation. It didn't take long to realise that I wasn't reaching out to the kind of public audience that I wanted with my art. Plus, a single animation project can take months, or even years to complete. As a designer, we research and are in touch with many different types of art forms – street art and graffiti caught my eye when I was looking to take my art to a different medium. I met street artist ZERO at a conference and picked up graffiti painting from him. He threw me a couple of spray cans in the street and the rest is history.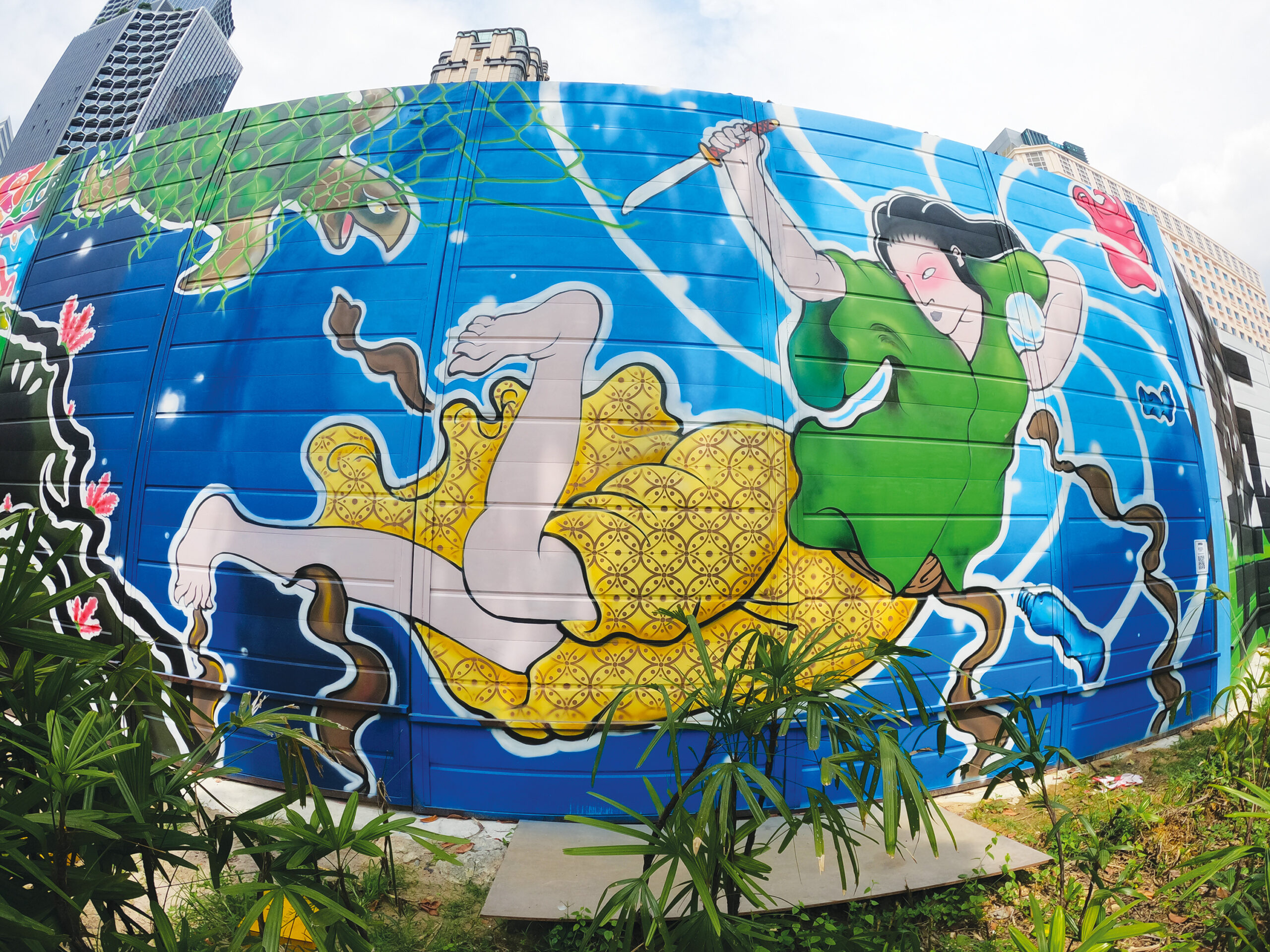 Where can we see your art?
I recently painted two pieces for the Hall of Fame at Kampong Gelam. My style is influenced by classical Asian myths and vernacular stories, such as the Chinese zodiac. "Yi Shu" (art in Mandarin) on Bali Lane features the monkey – composed of several smaller monkeys – playing amidst the shrubs for a piece that's family friendly and Instagrammable. I worked with two other pioneer graffiti artists, Didier 'Jaba' Mathieu and Hegira on "Constant Elevation" on Ophir Road – a piece reimagining a Kampong Gelam of the future. My art can also be found at Aliwal Arts Centre – currently there's a sidewall of murals that many of us have collaborated on. It's also posted regularly on my Instagram (@ANTZ_RSCLS) and Facebook (@antzrscls) pages.
What is the Hall of Fame and why Kampong Gelam?
A graffiti Hall of Fame is a place where the walls can be painted on legally and having one in Singapore is great. My crew (RSCLS) and I have done a fair bit of public education on street art and graffiti. A Hall of Fame is a prime example that explains the skills involved – yes, it's handpainted, not printed! And it's a statement that local artists are talented enough to produce graffiti of the global standard. Kampong Gelam was where most of us street artists grew up, learnt, and became comfortable with the craft. Kampong Gelam has everything we need; it's my spot – our spot.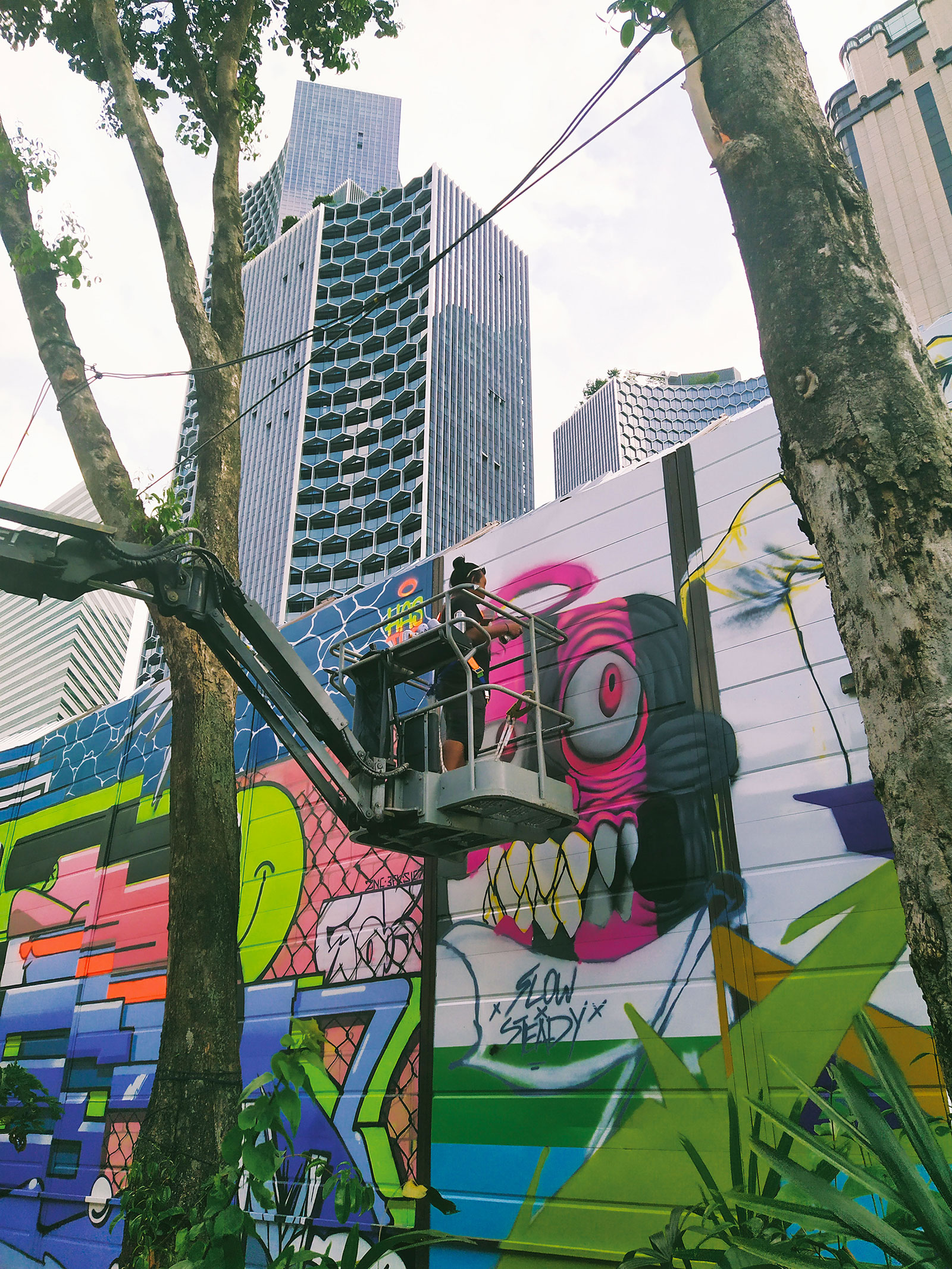 How has Kampong Gelam changed the public perception of street art here?
Melbourne has Hosier Lane and Singapore has Kampong Gelam. I think the street art in the neighbourhood has helped the public understand the difference between vandalism and graffiti art. It's also impacted the perception that the international audience has of Singapore. Over the few years, I've also seen more young artists experimenting with the art form – rising stars include SONG, Slopyone and Boon Baked!
How have surrounding businesses supported them, making it a hub for art?
The Kampong Gelam business that really started the hype was Blu Jaz. The owner, Aileen, engaged Jaba to paint on the facade of the establishment; he roped us in and we started working together on more commissions in the 'hood. Once the rest of the surrounding businesses saw the increase in footfall that the street art brought in, they became more open and accepting of us and our art. It became a lot easier to approach them in asking for permission to paint the walls.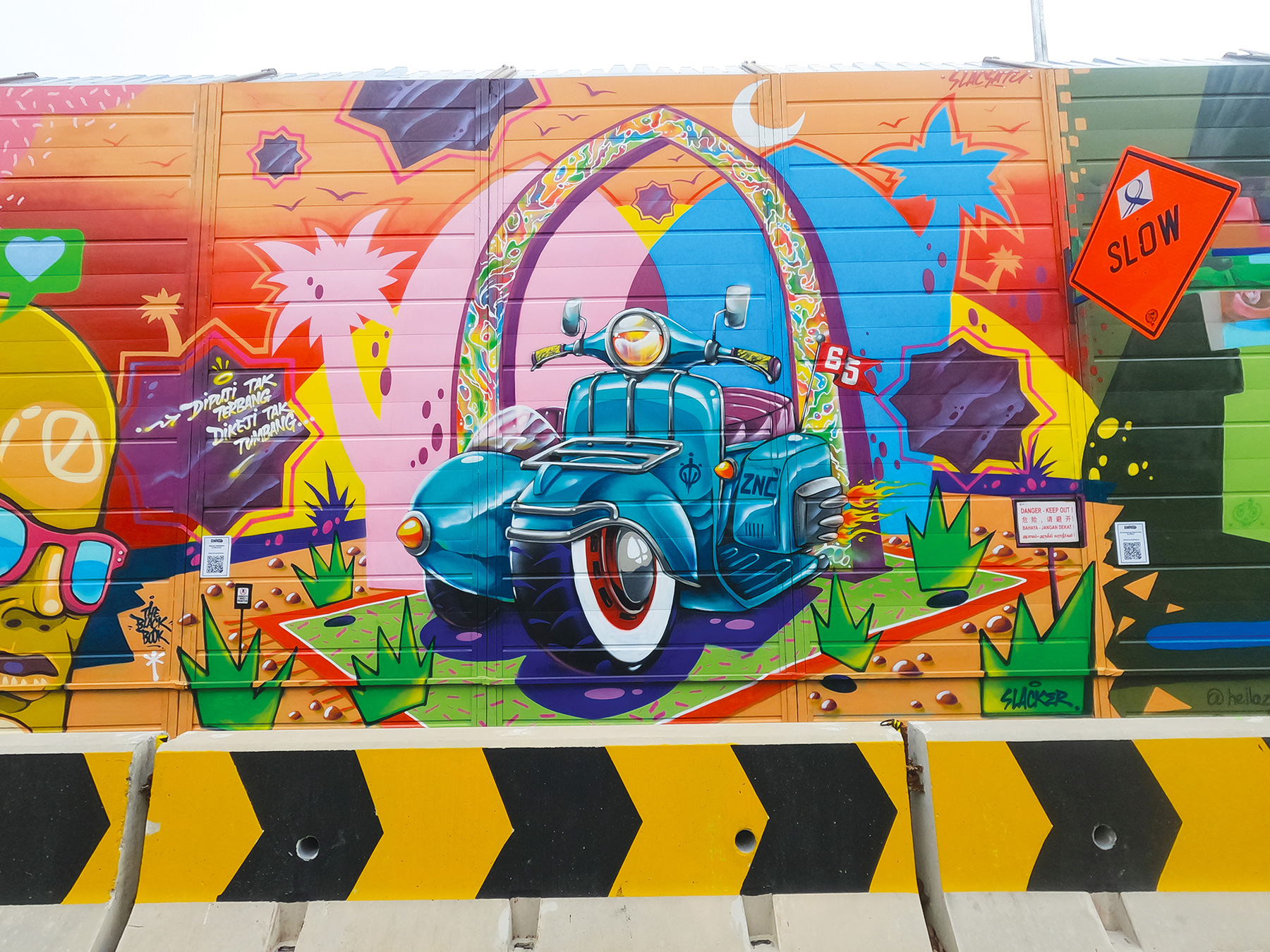 What are some defining street art moments?
Back when Haji Lane was being developed and undergoing a gentrification process, a few street wear retail shops hosted many hip hop parties. The business owners started engaging street artists to paint live commissions. It was a kind of performance and that was a defining moment for me.
Favourite street art in the area?
At the risk of sounding cliche – since it's one of the most photographed murals in Singapore – my favourite is 'El Lio' (The Clash) by Jaba on the side wall of Piedra Negra restaurant.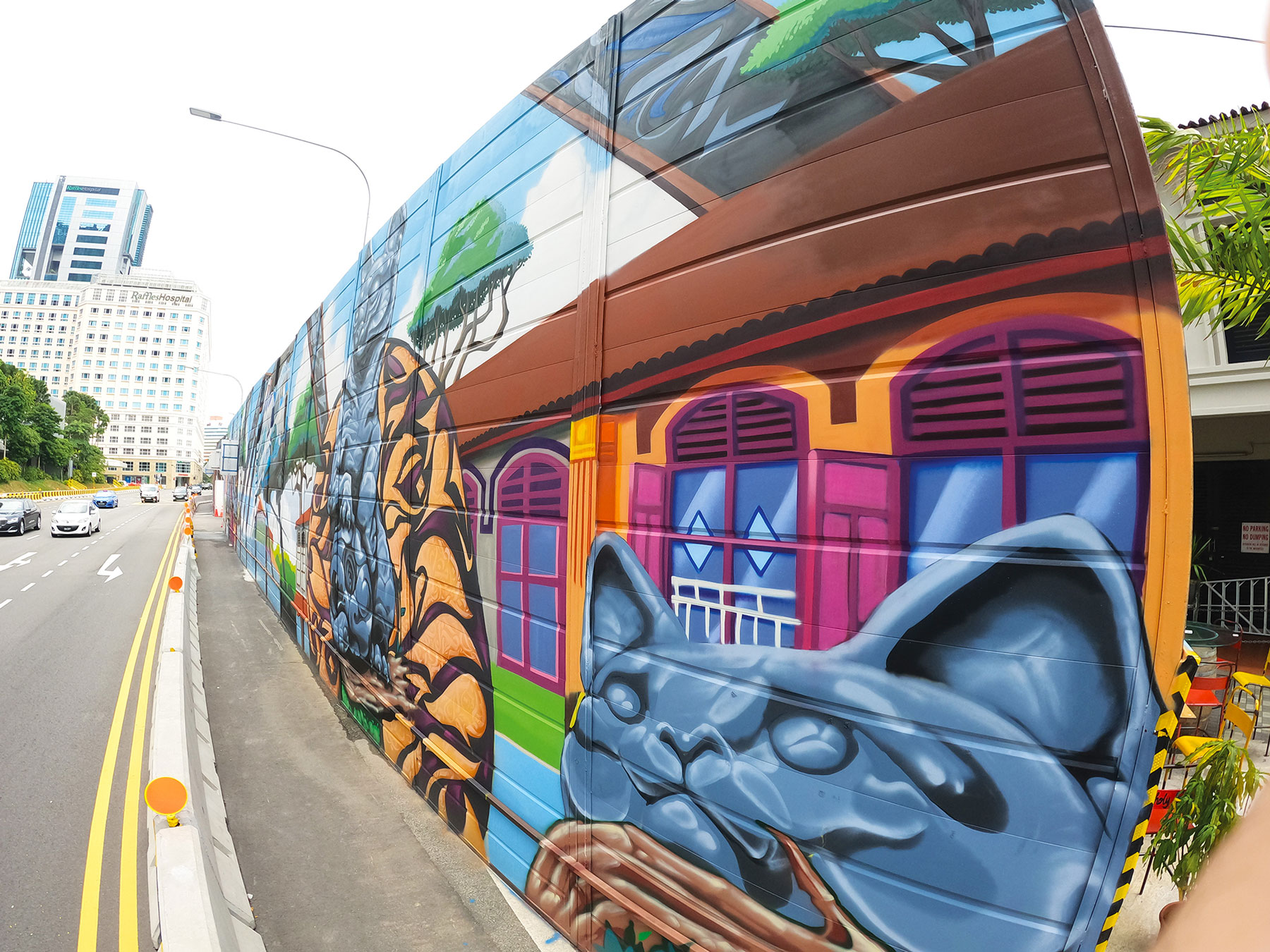 What is Constant Elevation?
A collaborative mural between myself, Jaba and Hegira, Constant Elevation is a fictional, futuristic piece that gives a glimpse of what might lie ahead for Kampong Gelam. This piece combines Jaba's signature flying cities, with Hegira's signature Arabic calli-graffiti, and my stone cats.
Personally, the inspiration came from the cats and their admirers that are a constant fixture in the neighbourhood. Interpreting this love for cats in my style, I painted stone cats that draw from stone lions (a traditional Chinese architectural ornament) and fortune cats that will hopefully bring wealth and good luck to Kampong Gelam.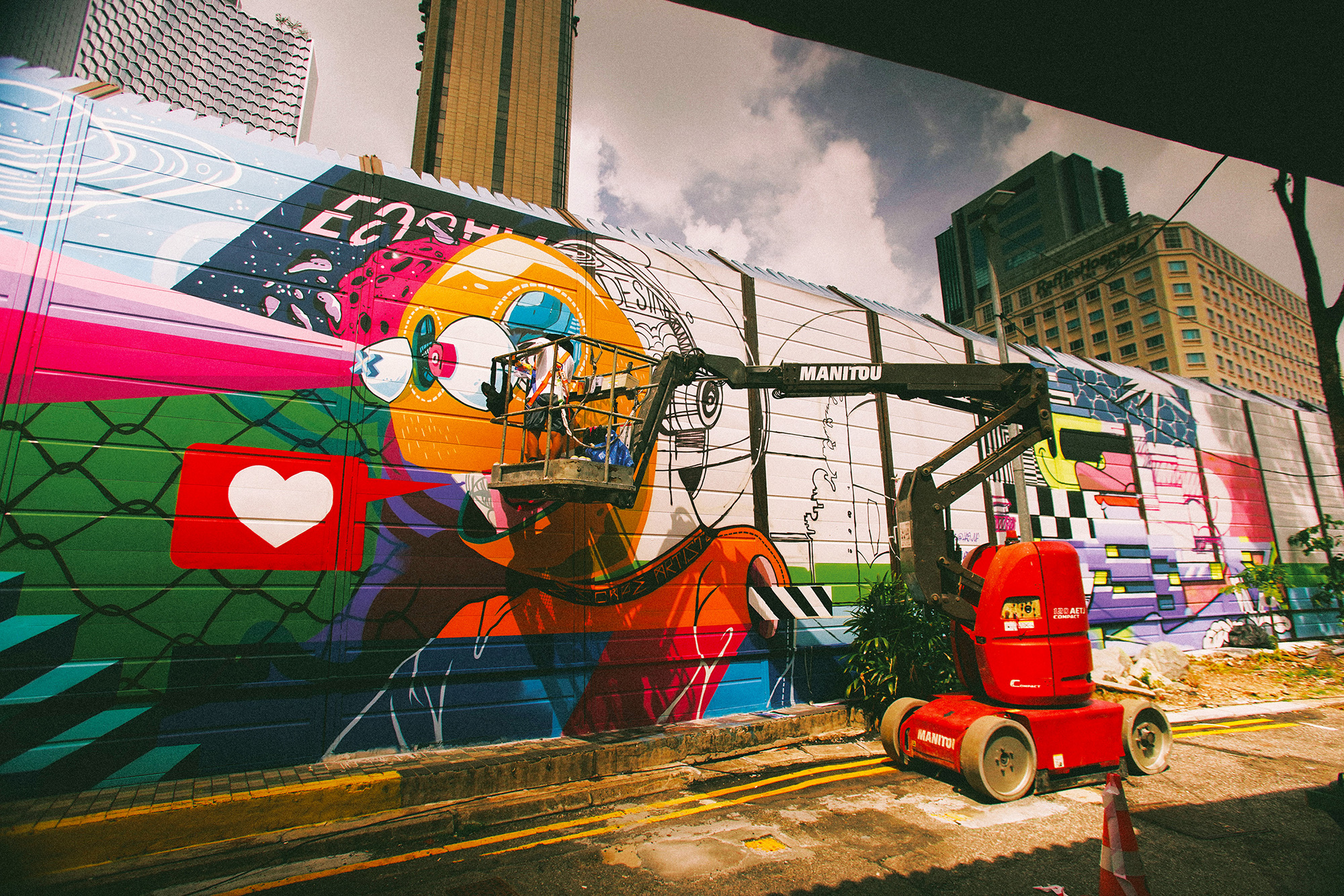 How can inspiring artists get involved in street art?
First, know the history of street art in Singapore. Then, look for proper guidance. The Blackbook Studio at Sultan Gate and Aliwal Arts Centre (RSCLS' home base) – both in Kampong Gelam – are good places to start. Crews at both places would be happy to guide and point aspiring artists in the right direction.
How can visitors fully experience HOF?
The art is best experienced in person. To get a full sense of the scale, strokes and diversity of styles, I recommend taking a walk or cycling around the area. You might even see some artists painting at times because the idea is that the Hall of Fame is always evolving. Once Covid restrictions are eased off, the artists have planned other activities in the pipeline, such as spray painting or stencilling workshops. Right now, to learn about each artist's motivation, you can visit the HOF webpage (hof.visitkamponggelam.com.sg) and keep it open as you explore the artwork. Start from Ophir Road, closer to Beach Road – that's where 'Constant Elevation' is located. Maybe cross the road to get a full view. Then walk towards North Bridge Road and cross over to Bali Lane for the full loop of works.