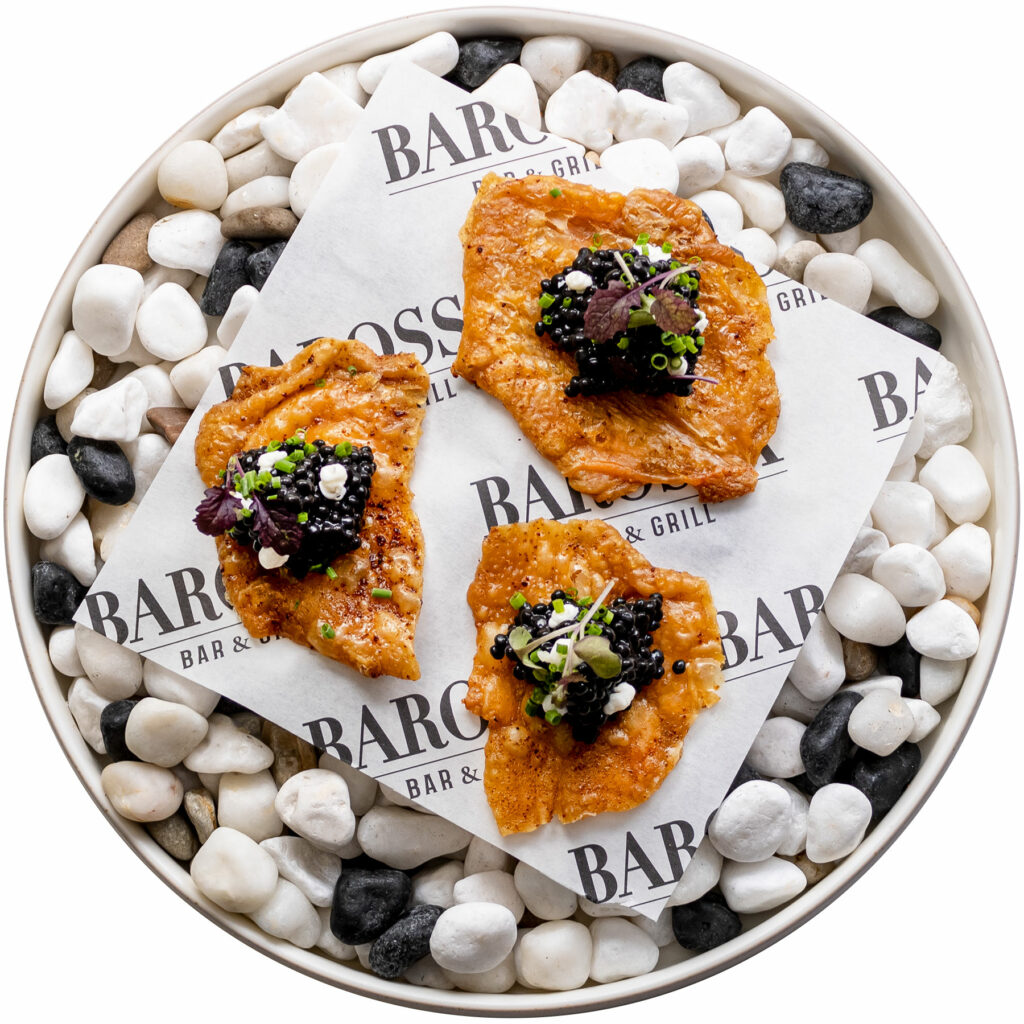 Overlooking the calm waters of Sentosa Island, the revamped Barossa Steak & Grill enters the Singapore's steak house landscape showcasing some superb Australian beef cuts, a Josper oven-grill, and its own Dry Ager® specialty fridge.
Beyond the great steaks, this Aussie inspired restaurant features terrific lamb, poultry, pastas, pizzas, and seafood dishes. Each dish is meticulously prepared with the freshest and highest-quality ingredients, thanks to Barossa's philosophy of sourcing locally and engaging with responsible beef producers in Australia.
Barossa's beef selection hails from four down under brands with strong socially responsible credentials. The Bass Strait – antibiotic/hormone-free fed on rye grass and clover, Wanderer – free-range and fed on barley, Josdale – antibiotic/hormone-free grass-fed Angus, and Carrara – award winning wagyu traced from birth to ensure biosecurity and animal welfare.
We begin with four seafood-themed starters; Japan Sakoshi Bay Oysters ($60), a dozen oysters served in a half shell with seaweed granita, lemon wedges and Mignonette sauce – fleshy, silky, and creamy; no wonder they are nicknamed "milk of the sea".
This is followed by Tasmanian Salmon Rillete Cornet ($13), three delicious cones per plate filled with salmon rillette and topped with salmon roe, sour cream, and chives – the plate was clean almost as soon as they arrived. Next, a Chicken Chicharron with Avruga Caviar ($16). Perfectly crispy chicken skin topped with pickled onion, sour cream, and chives. A great fusion of textures and flavours made this dish a table favourite!
Our last starter was the Hokkaido Scallop Tartare with Squid Ink Cracker ($16), pieces of scallop drizzled with truffle wafu, uni cream, ebiko, and chives – a dish seriously loaded with delicate flavours for the tartare enthusiast.
After the wonderful starters, we were ready for the main dishes.  First, the Locally Farmed Barramundi Fish "En Papillote" ($28). This dish arrives in a little pocket where the fish has been slowly baking with aromatic vegetables and potato; served with a sauce Vierge. It takes approximately 20 minutes to prepare, but it is worth the wait.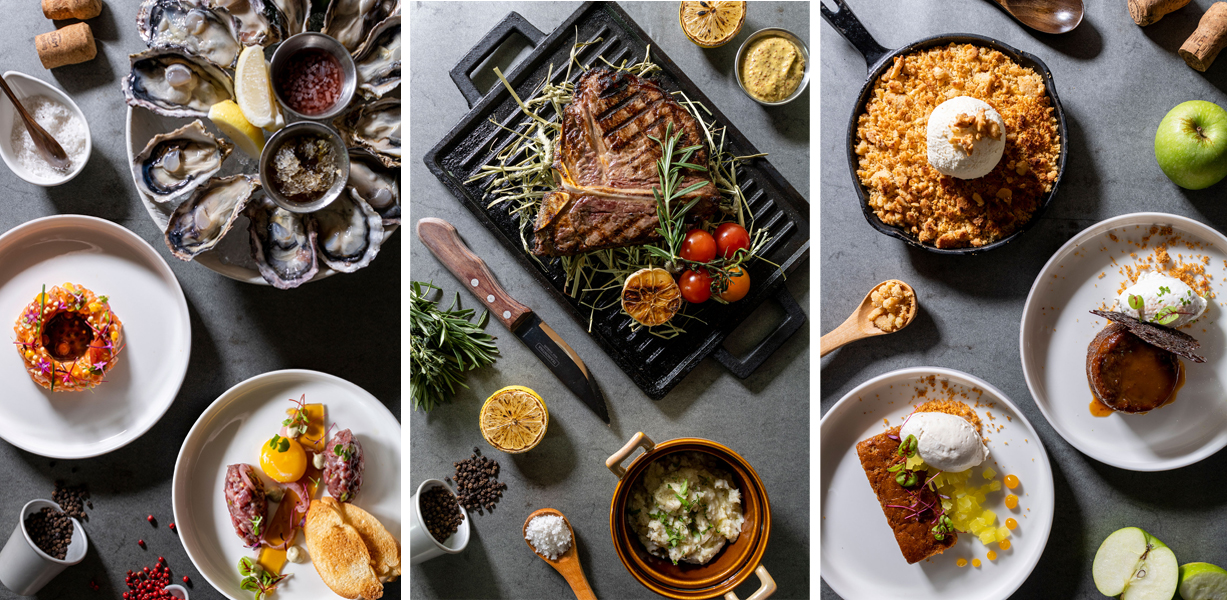 Next was the New Zealand Lamb Rack with Moroccan Spice ($48), perfectly cooked juicy lamb served with grilled chunky U.S. asparagus and a cumin brown sauce.
Of course, we had to try one of the specialty steaks. We went with the Australia Premium 50-Day Dry Aged Porterhouse – 600g ($138) – the star of the show, a flavourful, juicy, and tender cut with the perfect texture and a golden-brown crust. Of course, no grilled steak is complete without side dishes, we tried the fresh Grilled Broccolini and Garlic Sauce ($14), the sinfully creamy Macaroni and Cheese with Smoked Bacon ($14), and delicious truffle fries with parmesan cheese ($12). To the steak, we added a trio of sauces ($5/each): whisky double mustard sauce, tarragon bearnaise sauce and a cumin brown sauce.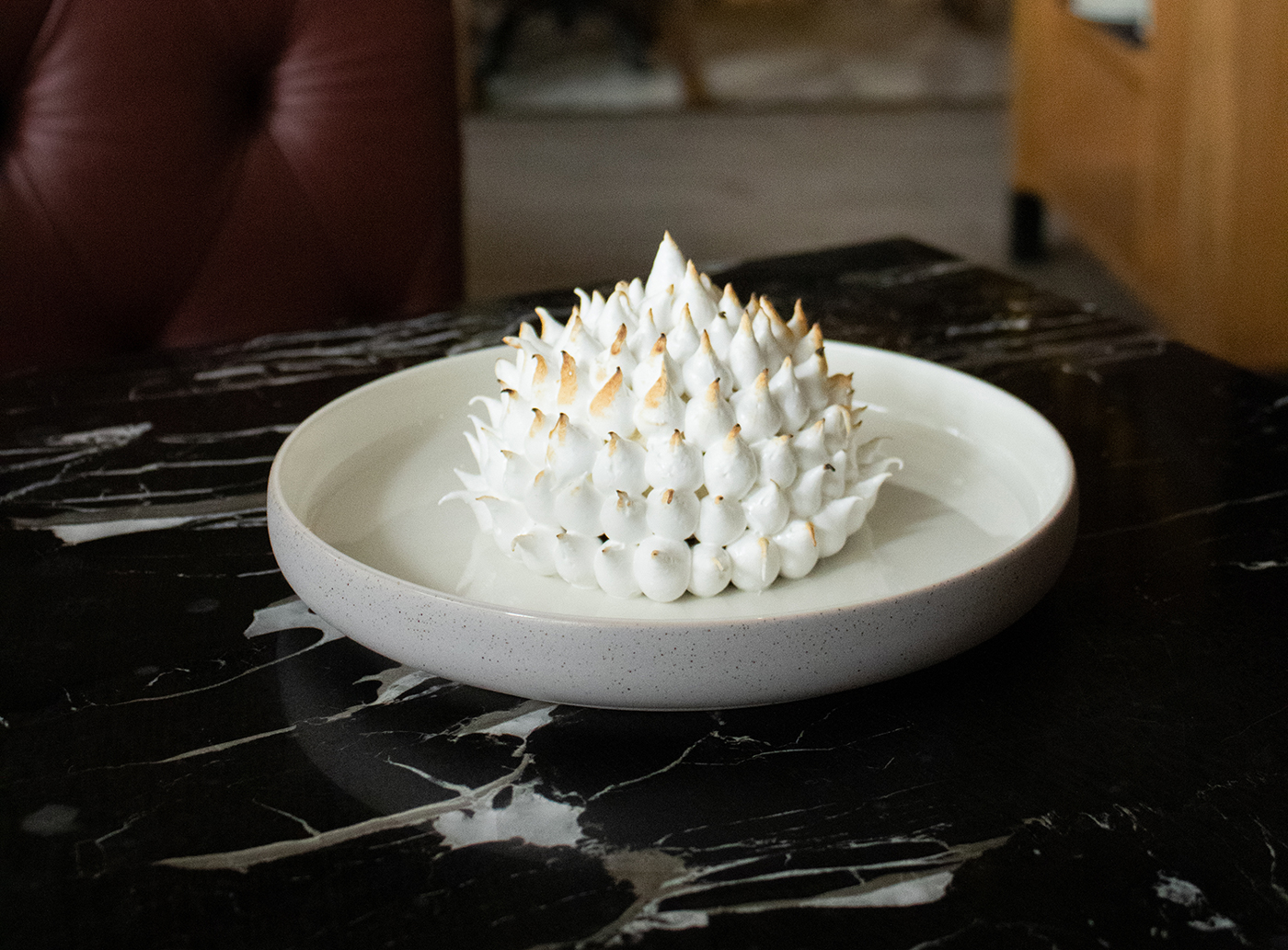 To finish this amazing meal, a couple of desserts; Bombe Alaska Citron ($21); a beautiful dessert of cheesecake, yuzu sorbet, Meyer lemon curd mousse, and limoncello; and one of the chef's signature desserts, the Honey Fig Mochi Cake ($19), consisting of Ume white chocolate, passionfruit gel, yuzu jelly, and honey fig mochi cake.
VERDICT: Barossa Steak and Grill new iteration delivers a beautiful location perfect for relaxed and casual gatherings either dinning al fresco or in a "outback-chic" styled interior. Steak lovers will find Barossa a new wonderful option along the HarbourFront Walk, but rest assured, there is always something equally delicious for the non-meat eaters.  The staff's warm hospitality, together with amazing food makes Barossa Steak & Grill a deserving destination.