How Covid-19 has impacted International Relocation
If you've moved internationally before, you will know that moving overseas is no walk in the park, and it gets even more challenging with the COVID-19 pandemic. With COVID-19 still causing disruption in a variety of ways, life has become quite different from what it used to be.
On the brighter side, however, some countries are slowly winning the fight against the virus and are re-opening their borders. However, even as the borders reopen, we must adjust our expectations when it comes to international moving.
In this article, we will cover the changes that have had the biggest impact on international moving services.
The Cost of Moving
The cost of moving overseas has skyrocketed, mainly because of the unprecedented rise in Ocean Freight rates. The biggest change in year-on-year prices is from East Asia to Europe, as well as to North America/Canada. Although not as drastic, freight prices to Australia and New Zealand have also seen a sharp rise.
Here is a comparison of what it costs to move now (Correct as of 1st September 2021) vs the pre-pandemic cost.
| | | |
| --- | --- | --- |
| Move Size / Description | Pre-pandemic Cost | Current Cost |
| 20ft Container: Singapore to Melbourne | S$7,000 | S$10,000 |
| 20ft Container: Singapore to Auckland | S$8,000 | S$11,500 |
| 40ft Container: Singapore to Calgary | S$26,000 | S$48,000 |
| 40ft Container: Singapore to New York | S$21,000 | S$53,000 |
| 4 Cubic Metres (30 Cartons) to Sydney | S$2,400 | S$4,000 |
Shipping delays
There are a variety of factors that have led up to massive shipping delays across the world.
The accumulation of cargo waiting to be exported in a certain country can cause bottlenecks in the flow of trade when it is eventually shipped. Whilst doing their best to clear backlogs and maximise resources, Air and Ocean carriers are still limited by the resources that they have.
Delays in customs clearances because there are simply not enough customs officers to process the overwhelming number of imports.
Delays in vessels berthing at ports across the world are due to the lack of equipment and facilities to manage the sudden surge in requirements.
Some shipping lines have cancelled sailings because the incidental costs are too high. Some have decreased the frequency of shipping weekly to fortnightly or even monthly. The delays at origin and destination port will add to their ongoing costs as well as diminish their ability for a quick turnaround.
Even though moving overseas at this time is quite a major challenge, it's still possible as long as you prepare well and hire the right movers.
How CM Relocation can help
While we are unable to control container shipping rates or the delays in international shipping, our team works hard to keep you informed of what is happening so that you are better prepared. We provide transparency in our quotations to let you know which components are fixed costs, and which components are subject to change. We also work with different shipping lines for different routes to ensure you get the best service and value package. Apart from taking away whatever stress we can from the International Move, with our technology partner Moovaz, we are able to offer a one-stop solution for all your relocation needs by giving you access to your very own relocation platform.                                              
The Platform

Sign on with us today to enjoy the benefits of your very own relocation platform. This platform is an exclusive digital tool designed to help you manage your relocation journey seamlessly. Discover other essential relocation services you may need at origin and destination. Get quotes directly from multiple service providers and manage them all in one place.
Benefits of our Relocation Platform
All your relocation needs on a single platform

 

Our specially curated and trusted partners will provide you with 23 relocation services to choose from.
Effortless Comparisons & payments
Quotations and invoices can be easily viewed and compared between different service providers. 
Friendly human advisor

 

A relocation advisor, aka 'Relo Buddy', is there to advise you on your relocation needs from start to end. 
 Services available on our platform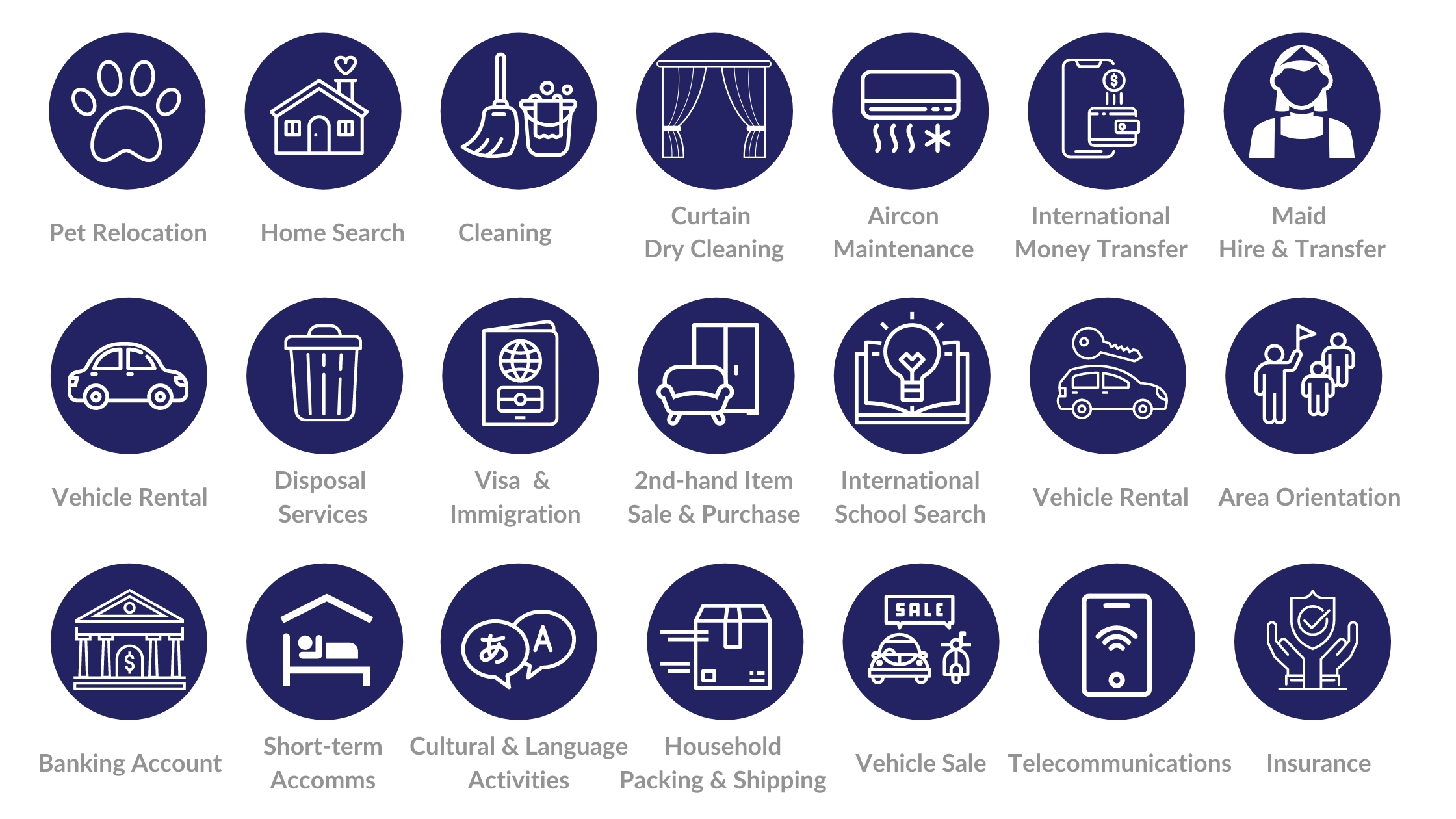 About CM Relocation
Apart from our dedication to customer service and the thirst to advance and evolve our service offerings, the CM team prides itself on being a family business put together to serve yours. Being a boutique-sized relocation firm means that we can be flexible when serving our customers.
The strategic partnership with Moovaz is not the only way that enables us to provide you a solution to all your relocation needs at affordable prices. We also help our customers defray costs on international moving by offering shared (groupage) shipping to popular destinations such as Australia, The United Kingdom as well as Europe.
Contact us today and let us help with your move
+65 6265 7664