We miss Bali. We miss shopping. If you feel the same, Cove Collection will fulfil your need for a tropical escape and a spot of retail therapy. Sentosa's only gifting boutique, Cove Collection is located on the ground floor of restaurant Bali in the Cove and is a gorgeous edition to Singapore life at its finest.
The new outlet has been expertly curated with 12 Singapore-based female-led shopping brands, to comprise something for just about everyone. You'll find beautiful dresses, clothing, accessories such as scarves, shawls and bags, Turkish towels and kaftans, gorgeous handmade jewellery, and a range of handmade skincare. 
Balinese-inspired homeware & gifts
For those hoping to update their homes, Cove Collection's selection of home accessories will not disappoint. There's stunning handmade salad bowls, hand-lacquered trays, cheese knives, beautiful ginger jars and platters, bone and mother of pearl inlay picture frames, trays, and an amazing variety of candles. 
For the little ones in your life head to the interactive children's toys – play kits, wooden baby toys, 4d interactive cards (zebra in your living room?!) and personalised baby onesies. This month, don't miss our December guest vendor – Kin Collective – who offer books written about special children around the world.
If you're looking for gift ideas in the run up to Christmas, there's unique mementos of Singapore, handmade Christmas decorations, mouth blown glass ornaments, and more. Oh, and not forgetting the delicious curated selection of Irish Foods, imported directly from the Emerald Isle.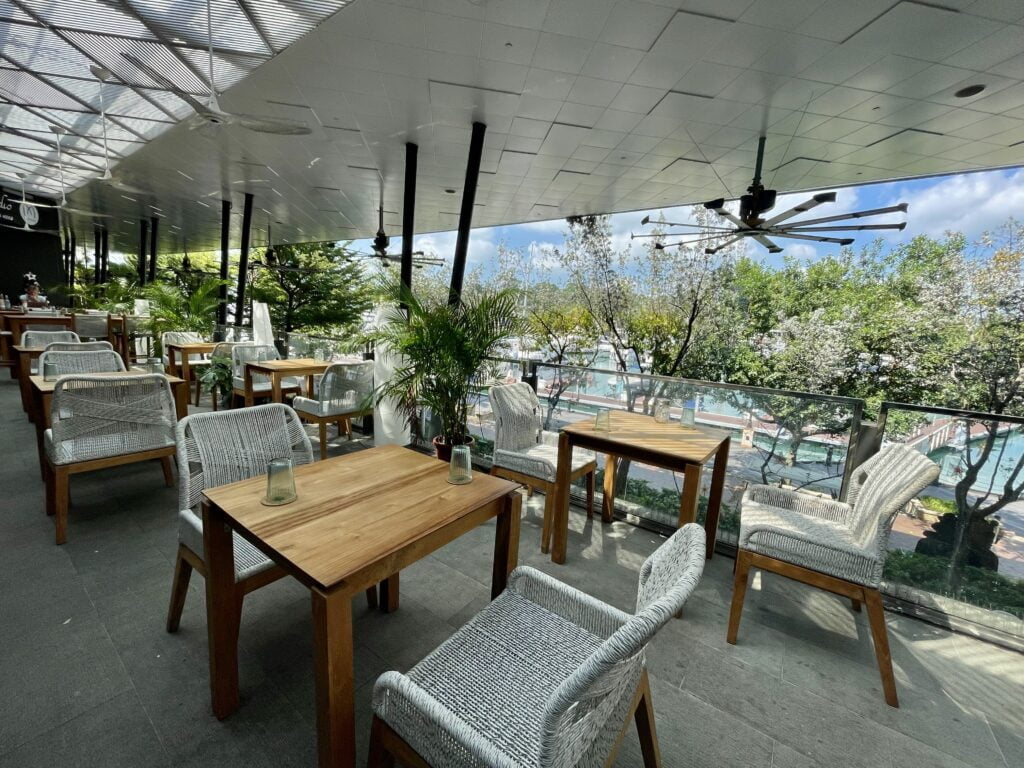 Coffee, cocktails & carbon footprints
Upstairs from Cove Collection is the new Indonesian-inspired restaurant, Bali on the Cove. With breathtaking views of the marina, sitting amongst the Balinese arts and crafts, you could almost be back in Canggu as you sip free flow rose over a wholesome brunch. 
The breakfast and lunch menu emphasises the freshest of ingredients and top-notch coffee from Common Man Coffee Roasters. Relax with a freshly squeezed juice, kombucha sourced directly from an eco enterprise in Ulluwatu, or a decadent cocktail, because it's always 5pm somewhere! Pair with pancakes with flower ceviche, the house smoked lobster rösti, or lamb rendang with authentic Sambal Matah. 
At night, Bali on the Cove transforms into a serene dinner venue away from the hustle of Singapore's marina but still retains a tropical vibe. Enjoy a smoked lobster Nasi Goreng paired with a curated selection of small house wines. 
Just when you think it can't get any better, Bali on the Cove's ethos is to source products responsibly and to care for the planet. For every keg of beer and spirit sold, a tree is planted in Indonesia to offset the carbon footprint. 
Don't miss the happenings at Bali on the Cove's first Christmas with a special gourmet 4-course tasting menu from now until the end of the year). The Sentosa Fair will also move into our retail space from Wednesday 8th to Friday 10th December. Visit here for details.