Living an authentic expat life in Singapore goes beyond venturing to Orchard Road and having a favourite hawker centre. In part two of our three-part series over Chinese New Year where we meet expats who are truly embracing the local culture, we talk to Deborah McKellar to talk about how the red dot inspires her art and business.
"I mix an Asian subject matter with a South African perspective"
Deborah McKellar is the founder of Talking Textiles, an art and design studio producing artworks and textiles for interior spaces. She's originally from South Africa and moved to Singapore 20 years ago.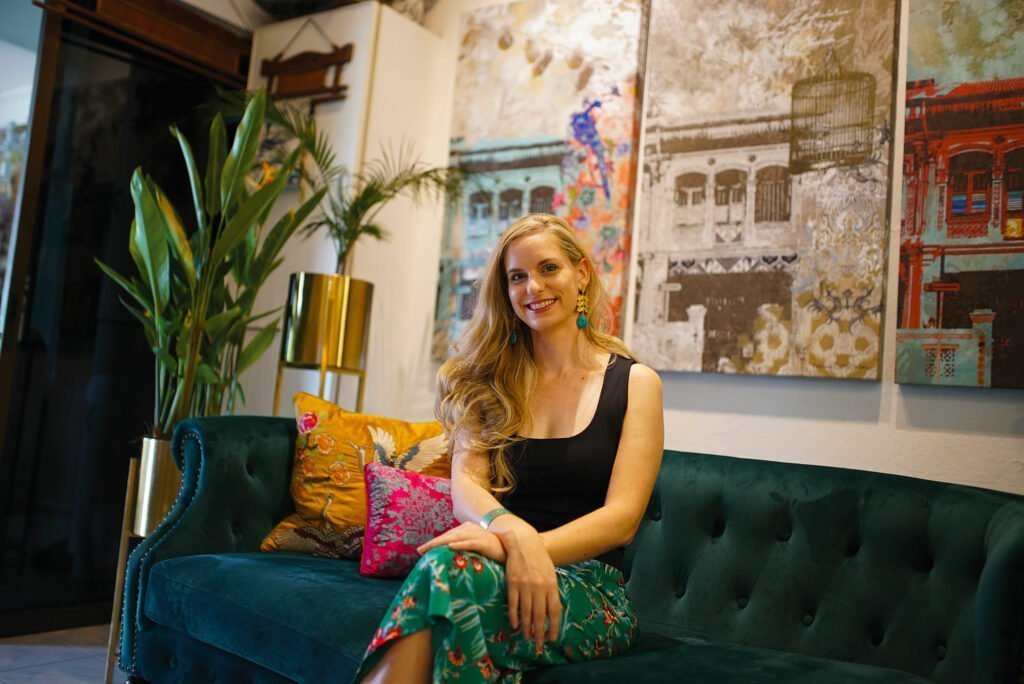 Please tell us the history of Talking Textiles …
I started the business fourteen years ago in Singapore after studying a Masters in Textile Design in Sydney. When I was in Australia, I noticed lots of independent design studios there but very few in Singapore. I felt there was a gap in the market and thought it would be fun to develop my own art and design studio.
How soon did your surroundings influence you?
Straight away. I was fascinated by my new environment, which I found really exotic and completely different to South Africa. I started embracing local life by including everyday Asian subject matter into my artworks right from the start, such as oil paintings of a typical Chinese rice bowl. Today, Singapore is at the core of Talking Textiles which shares stories of its unique culture and heritage, and looks at what's precious to the island.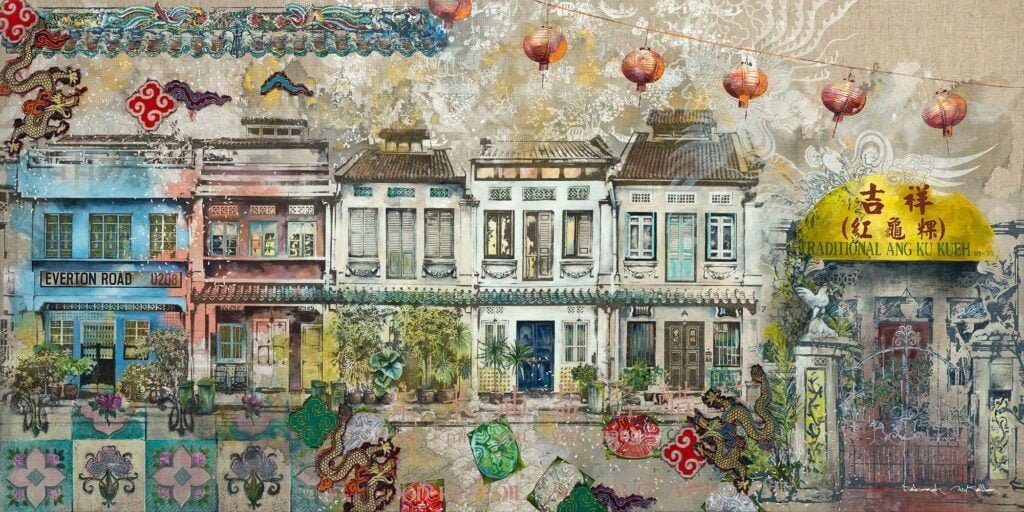 Which parts of the local culture are you particularly drawn to?
The most obvious would be the shophouses and black & white bungalows. However, I also play with the stories of Singapore seen through motifs and objects around us. Images such as grains of rice, Chinese paper cut outs, dragons and phoenixes, tropical foliage, and chicken rice recipes, have all impacted my work.
Tell us about one of your pieces …
Everton Road tells stories from the Blair Plain conservation area which has a rich Chinese heritage reflected in the architectural details. You can see green ceramic Chinese roof tiles and the beautiful details of the mosaic phoenix. Chinese lanterns dance on a string, adding a festive feel. The bright colours of the kueh (traditional sweets) are mimicked in the silk of the fabric cut-out dragons. As is characteristic to this area, I'm embracing local life  by adding cheerful Peranakan tiles border the artwork. 
From where else do you get ideas for your work?
Visuals from home decor magazines, Pinterest and Instagram. My South African roots also help me to interpret the Asian subject matter in an autonomous way. There's a certain rawness and use of textures, seen in my mixed-media, which has strong links to the visual style in South Africa. The general look in Singapore is more streamlined. It's this mix of an Asian subject matter with a South African perspective and interpretation that I like to think gives my art a unique aesthetic. 
To view Deborah's standard collection and silkscreen artworks contact talkingtextiles@gmail.com 
www.facebook.com/TalkingTextiles/
instagram.com/talkingtextiles/