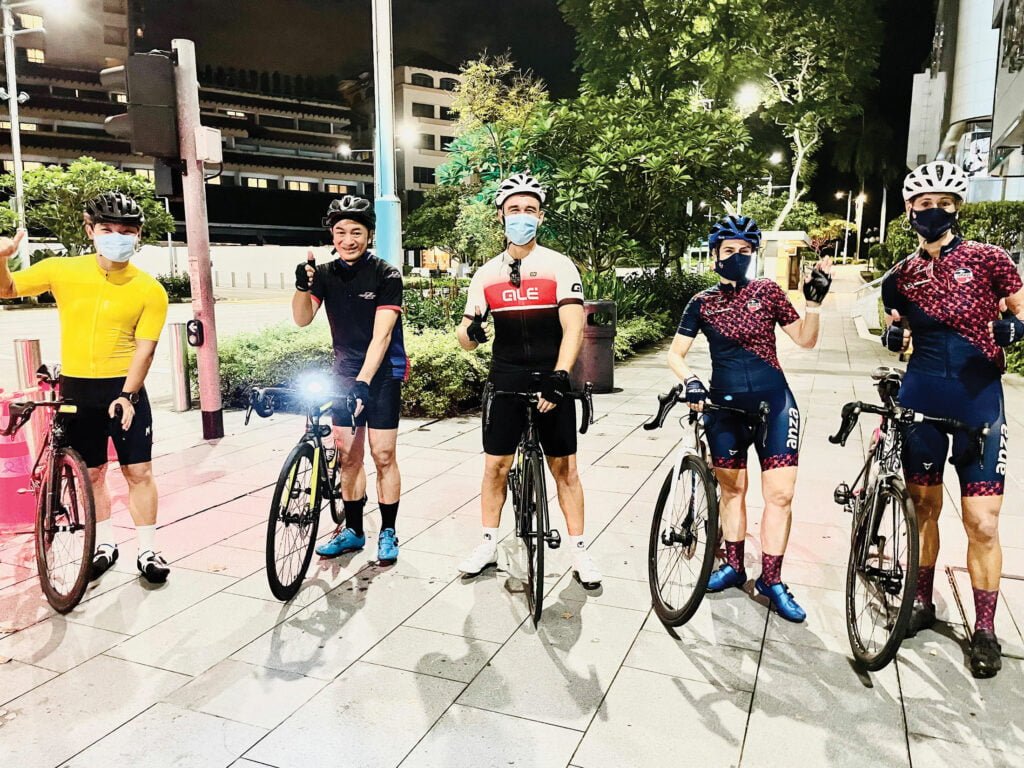 With the first Saturday of January landing on New Year's Day, the usual 'ANZA Cycling first weekend of the month' Induction Ride date was postponed to a week later so our Ride Captains could properly enjoy their New Year celebrations. With many Club Members also taking advantage of the travel opportunities, we were still a little light on Ride Captains and helpers but gathered enough to cater for four groups, which included 11 new and prospective members on the first induction of the year. Following the ride, inductees were treated to their first Club Brekky, which is where we get to debrief on the experience and discuss the Club's Code of Conduct (essentially summed up by the #dontbeadick hashtag). All reported that they'd had a great time and were looking forward to joining and getting involved.
We moved into the Year of the Tiger by heading out for the usual public holiday Round the Island (RTI) ride which, depending on the exact route chosen, can be between 120-165km. Most groups finished for the free (club sponsored) Club Brekky, which we enjoyed in groups of five. We live in hope that we can get together in larger numbers over the coming months.
Post CNY saw a blockbuster number of folks keen to join an Induction Ride, so as we move further into 2022, we ask experienced members to come forward if interested in being a Ride Captain!
Meanwhile, Road Director Jock Hughson alerted us to the World Tactical Racing Leagues (WTRL) Zwift Racing League, an exciting addition to virtual racing in which teams battle for bragging rights on a global level. Jock reported on the early performances of our ANZA teams: "After two weeks, the ANZA Racing Esports B Grade and C Grade teams have solid performances in the Atlantic division in races that are short (around 45mins) and high intensity. The teams are sitting 7 and 6 out of 16 teams in each division with six races remaining.
To check progress look for Atlantic division B2 and Atlantic Division C1 wtrl.racing/zrl-results/#league. Wishing all members of our ANZA racing teams the very best of luck for this new format. Further updates to come!
Meet some ANZA Cycling members
Who makes up the bunch? Here's the lowdown on four regular riders.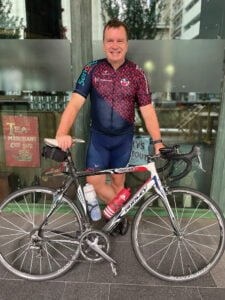 Mark White joined ANZA Cycling in 2019. This was when he returned to Singapore after a stint here in the mid-late 1990s, and regular visits for work in the intervening years. Although Mark calls Brisbane home, he and his wife Sue are planning their future in Coolangatta Beach.
Mark shares, "I hadn't ridden much in previous years, but kept seeing ANZA cyclists on the roads and thought I should get back in the saddle. I dug my old road bike out of storage, had it cleaned and serviced, and put it on a plane."
From his base at Robertson Quay, Mark tends to join midweek rides and will roll out for a West Coast or Mandai cycle a couple of times a week, with an RTI thrown in every now and again.
Mark gave us some background on his bike: "It's a Ridley Damocles, circa 2008 (Davitamon-Lotto team bikes, from back when Cadel Evans rode for them). My much-loved Trek Madone developed a crack, which might have been from an accident, in one of the chainstays. A friend who'd recently moved back from London 'acquired' the Damocles frameset, but after building it up decided it wasn't quite his fit, so packed it away. Over a beer in Brisbane he said, "Hey, I've got this old frame, know anyone that wants it?" and it was bought for a song. I had it built up using the Shimano components from the Trek, and it fits me like a glove. A good, solid ride for a solid rider!"
Mark adds; "Since riding again, a bunch of cycling friends back in Brisbane follow my Strava diligently. I rarely get kudos for speed or distance – just comments on how warm Singapore is!"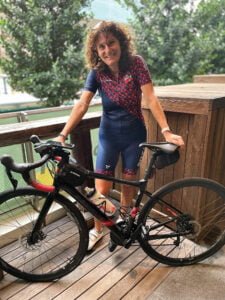 Susanne Keller moved to Singapore from Switzerland two years ago and lives just behind Orchard Road. She joined ANZA Cycling last year as a bid to to try something new, not having been into cycling at all in Europe. Now she heads out for rides between 30-70km.
"I'd never have believed that one day I would love cycling. Back home I'd take the car to work and it was only 10 minutes away!" she tells us. "Now I'm the proud owner of three bikes. One (Giant) here and two (BMC and Pinarello) in Europe and I absolutely love them. I even look forward to going back so I can cycle – not in my wildest dreams would I have imagined that!"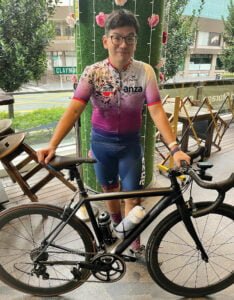 David Tan arrived in Singapore from Malaysia in 2001 and now calls the red dot home. He joined ANZA Cycling in 2018 upon the recommendation of club member Chas Pope, who he'd met through Serk Cycling in Beijing when he was stationed there from 2016 to 2017.
David shares, "I bought a folding bike in 2005 to commute to work. Over the years I found that the foldie was too slow for weekend rides. In 2015, I was searching for a road bike and found the Cannondale CAAD10 with Ultegra groupset. This bike has seen me through my first century ride as well as a one week tour in Mongolia."
He continues, "Whilst in Beijing, I changed the wheels to Serk Carbon wheels and was happy to donate the stock aluminium wheels to one of the Mongolian National Cyclists, who we were lucky to have as our guides for the tour in Mongolia."
David is usually out for a Wednesday West Coast ride and whatever is in vogue for the Saturday Club ride.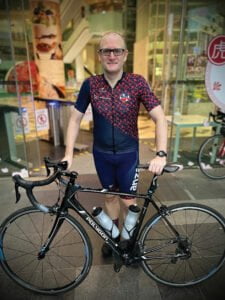 Scott Mitchell moved to Singapore 18 years ago from Scotland and is based in Tanah Merah. He's relatively new to ANZA Cycling, having only picked up the bicycle-bug during the first half of 2021 after recovering from knee surgery. Cycling is now taking over as 'the only sport he does' and he regularly joins the Wednesday and Saturday club rides.
"After being sledged by friends online for not having a proper bike (I had a hybrid) I took the plunge and got an entry level pre-loved road bike – a Polygon Helios C6. I love it but I'm constantly fighting the urge to upgrade already," Scott admits.
While he's now occupied with sourcing UK mortgages for UK property investors and owners, it's a far cry from his previous life when he owned Singapore's only comedy club. "Unfortunately, it's now permanently closed due to the pandemic. My biggest Singapore comedy moment was being the preview act for Russell Howard at The Kallang Theatre. I've also performed at The Edinburgh Fringe Festival, Nepal Comedy Festival and Perth Comedy Festival."
With that kind of background, it's clear that members looking for a laugh would be doing themselves a favour by getting on a group ride with Scott (for his banter before his bike riding skills!).
Upcoming Events
Ongoing
Virtual – WTRL (World Tactical Racing Leagues) Zwift Racing League
March
Metasprint Series Duathlon 5-6 March
Cycosports (Criterium, Duathlon , Fat/CX/Gravel/Bike Trial) – Dates TBC
April
Cycosports (Downhill, Pumptrack, Keirin) – Dates TBC
May
Superleague Triathlon 6-7 May
Cycosports (Criterium, Jungle Run , Fat/CX/Gravel/Bike Trial) – Dates TBC
Metasprint Series Triathlon 28-29 May TBC
To put yourself forward as a Ride captain, please contact committee@anzacycling.com