You eat your greens, drink more water than wine, and have even been known to break a sweat while working out. But on top of exercise and a nutritious diet, more of us than ever are mindful of our mental health and the need for self-care. According to a survey, almost 8 in 10 Australians claimed that wellness has never been more important to them. Meanwhile, recent research found that 92% of New Zealanders believe mental health is as important as physical health. In the first part of our three-part series, we meet Sarah Manning, a qigong and yoga instructor, moved from the UK to Singapore in 1988.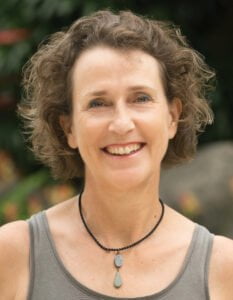 When did qigong come into your life?
Qigong is a traditional Chinese self-healing practice which promotes a strong core, the generation and storing of qi (life force), and a steady mind through movement, focus and breathing practices. I met my teacher, Singaporean Kung Fu Master, Grandmaster Anthony Wee, 10 years ago here in Singapore at a Cancer Care Qigong Workshop.
Why did it appeal to you? 
As a yoga teacher, we focus on the breath in a practice called Pranayama (energy/breath control/lengthening) so I found the concepts in qigong were surprisingly aligned. I chose to take up the practice because most of the students were cancer patients or survivors. If it could have benefits for them, I thought it had a power worthy of study. And frankly, it was such a nurturing space where I could retreat to quietly and gently.
How do you train to become a qigong instructor?
Qigong is a practice handed down from grandmaster to student – a bit like yoga was one hundred years ago. At Chi Dynamics where I trained, it is clearly structured. You would usually have to practice for two years to become an Assistant Instructor (authorised by one of the senior teachers), or three years to become a Full Instructor (authorised by three senior teachers). Practicing qigong looks easy, but it's not just the movement, it's the breath mastery that's the challenge.
Tell me how qigong contributes to your life …
Qi is the life force energy – it is the vitality – the puppy dog tail wag when you jump out of bed. It's the healing energy for damage or infection. It's the digestive energy and fire to efficiently digest your food. In qigong we generate it, we feel it, move it and store it. Some qigong practices maintain my core strength and are tough. Others are calming and soothing for the mind. We move the arms to dictate the rhythm of the breath, creating length and pauses appropriately. We have some practices for lymphatic drainage which are perfect in the morning. We also have a practice to build an energetic protective shield around us before confrontation.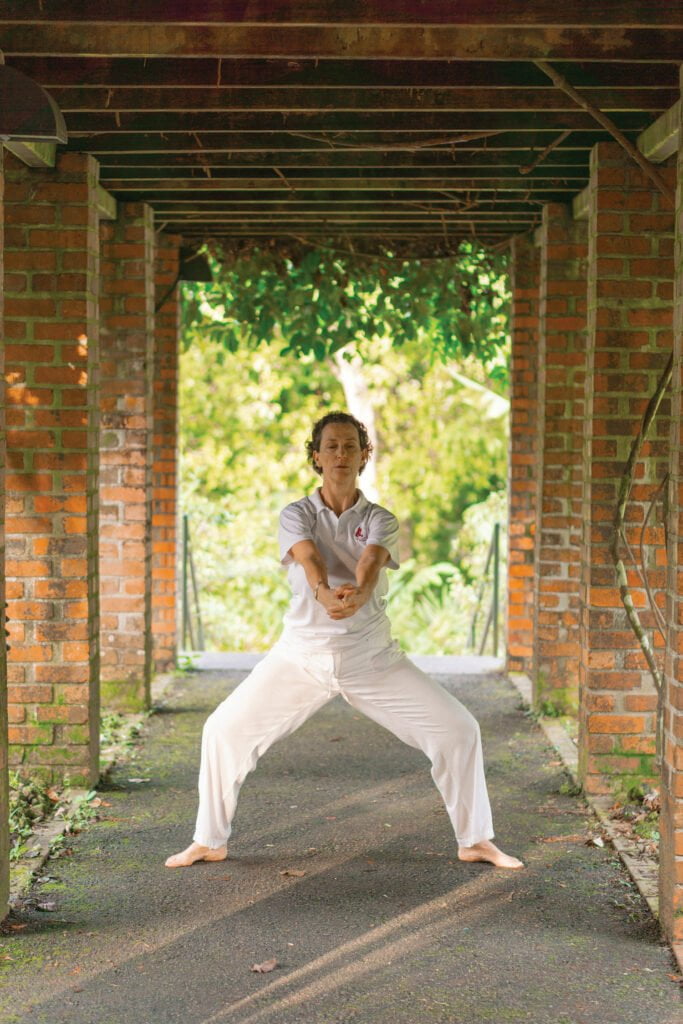 When did you start teaching?
When the pandemic hit – it seemed to be what was needed for myself and my yoga students. Connecting in the early morning at 7am and starting the day in a shared practice felt calming, steadying and grounding. Each class I teach is different but usually we start with core strengthening, shoulder loosening, lymphatic drainage, the building of qi, the quieting of the mind, the storing of qi, and a closing down.
What types of people can most benefit from qigong?
I've worked in women's health for the last 26 years and I believe the benefits are huge. The breath and its potential are only just becoming more widely known (check out the book Breath – The new science of a lost Art (2021) by scientific journalist James Nesto). I teach yoga to pregnant women and it's the breath that is always the key practice; they report that it holds them steady, focused and calm. Some private students with anxiety, insomnia and stress-related disorders see an improvement with a regular practice of qigong due to a reduction of adrenaline, cortisol and inflammation.
Where else do you find peace in Singapore?
I'm a walker and cyclist. During any spare time you'll find me out and moving, which is when my mind finds quiet. Living in the Clementi area, I have immediate access to the Green Corridor, Bukit Timah Hill, Dairy Farm pipeline and beyond. I head to Rifle Range Link, MacRitche and Lower Pierce. Sometimes I cycle one way to Changi and return the next day.
What's the secret to being good at qigong?
Regular practice. If you're expecting to build core, then you'll need to practice at least three times a week to see an improvement. If you want just to learn a calming practice, once a week is fine. We all have wonky bits and injuries from history – in body and mind – and all we can do is work with what we have and make positive baby steps towards greater health. The easiest way to achieve this? Being able to relax, focus and reveal an inner smile.
Discover Sarah's work at sarahmanningyoga.com
optimalreproductivehealth
www.facebook.com/sarah.manning.7549
smanning@symys.com