You're never fully dressed without a smile, but how to achieve one that is healthy and you feel happy and confident about? Looking after your teeth always comes first and foremost, but there are new major teeth trends for 2022 that can help you to achieve optimum teeth health and oral hygiene, and also enhance your grin. Read on as Dr Andrew Doig and Dr May Eide at Skye Dental in Singapore share their predictions and procedures.
1. Cleaning with Guided Biofilm Therapy (GBT)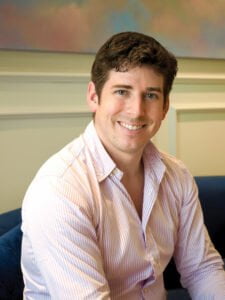 Suitable for: Adults and children
GBT may sound like the name of a Korean pop group that your teenager's into, but it's "a modern teeth cleaning technique using a protocol and technology by the Swiss Dental Academy and ElectroMedical Systems (EMS)," says Dr Andrew Doig. "It was developed more than five years ago but not commonly practised in Singapore. The dentist and clinic must be trained and certified as official providers." Patients have said it's more like a spa experience than a cleaning!
The overview: You know when you're in the dentist's chair and they announce that "it's time for a quick scale and polish"? GBT is 'The Game Changer' in this area and one of the major teeth trends for 2022. Basically, biofilm is a sticky, colourless coating that covers your teeth. New technology called Airflow and Piezon instruments clean biofilm away, taking the risk of dental decay and gum disease with it. According to Dr Doig, it's more effective for the removal of bacteria, hard tartar and stains than traditional methods; less painful and causes less sensitivity (it uses a dedicated water supply heated to 40 degrees); and it's safer because it uses less abrasive polishing pastes, rubber cups and no uncomfortable or scratchy instruments.
The process: It takes 30-60 minutes. This procedure works perfectly as part of your routine dental cleaning appointment (usually every six months), but it can be carried out more frequently, for example if a patient is prone to stains or has an orthodontic appliance that requires more attention.
The feeling: It's suitable and gentle enough for all. "I find it particularly good for children, as it helps identify brushing shortcomings and gives us an opportunity to improve them," says Dr Doig.
The 8 steps of GBT
2 Straightening with Invisalign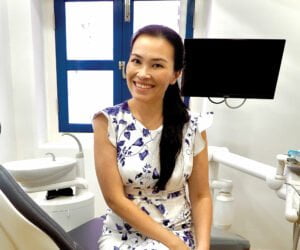 Suitable for: Adults and children
The process of straightening teeth has come far over the past decade. "Invisalign is a brand of clear aligners, which are plastic trays designed to move teeth," explains Dr May Eide, the Orthodontist and Invisalign Platinum Provider at Skye Dental. "They're made of a flexible medical grade plastic which is FDA approved and gently push a tooth or teeth into new positions and are one of the teeth trends for 2022."
The overview: Skye Dental take digital scans of your teeth which are sent to Invisalign to create digital models (so no yucky moulds that take forever to set!). Your dentist will plan the treatment on the digital models, and once finalised, your individual sets of aligners are made. At each orthodontic appointment, patients are issued several sets of aligners. Reviews are every 6-8 weeks for adults, but sometimes every 4-6 weeks for younger children. "We'll advise whether Invisalign is suitable for your child. Invisalign First is an option for young patients with baby and adult teeth. Invisalign Teen works for older children moving into an adult permanent dentition," says Dr Eide.
The process: The number of aligners required varies and can range from a treatment time of a few months to a few years. Each aligner is worn full-time for 20-22 hours each day and patients tend to change their aligners every 1-2 weeks. The first three days will feel slightly uncomfortable, so a soft diet is recommended. This cycle repeats until your follow-up where your dentist provides a new set of aligners.
The feeling: More comfortable than fixed braces, with just gentle force on the teeth. Also, Invisalign aligners only tend to affect speech in the initial 1-2 weeks after treatment. You'll find the tongue adapts very quickly.
Old v New?
How Invisalign compares to traditional fixed braces
Pros:
Not visible to look at
More comfortable, with no wires or sharp braces
Removable when toothbrushing
Removable when eating
More efficient for some orthodontic cases (e.g. anterior open bites)
Cons:
Can initially affect speech
Need to be removed while eating
Should not drink anything but water while wearing
Must be worn 20-22 hours a day to be effective
Can be misplaced as they are removable
3 Upgrading with Digital Smile Design (DSD)
Suitable for: Adults
This is not just a smile makeover. Digital Smile Design (DSD) brings out the best of your grin, not just focusing on the teeth and mouth, but also taking the facial features into account. Digital technology is used at every step of the process to ensure predictable, accurate results, and it also makes the whole procedure more comfortable for the patient.
The overview: Information about a patient's smile, teeth, and how they talk is collated using digital X-rays, digital photography, videography, and digital 3D scanning with a 3Shape infra-oral scanner. "We use this data to develop a digital design and modification of the smile. This way we can show the patient the results on the computer screen before any treatment starts," explains Dr Doig.
The process: Digital Smile Design is a collaboration between a team of dentists and technicians (locally and overseas). The first consultation collates the data; the second is when the design is presented and you can do a 'test drive' of your new smile by using a mock-up of the final design on your own teeth; and the third session is for the actual implementation and dentistry treatment. "At Skye Dental, achieving results is never a rushed job; communication with the patient is essential to set realistic goals and timelines," says Dr Doig.
The feeling: The collection of information is pain-free, but the actual treatment required to achieve the optimal smile depends on the complexity of the dentistry. Everything is discussed with the patient in advance.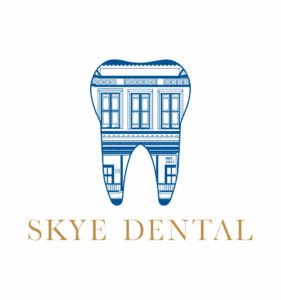 Skye Dental, 38 Club Street, 069418.
Log onto skyedental.sg for further details.
69805751
Instagram: skye_dental_sg
Facebook: Skye Dental