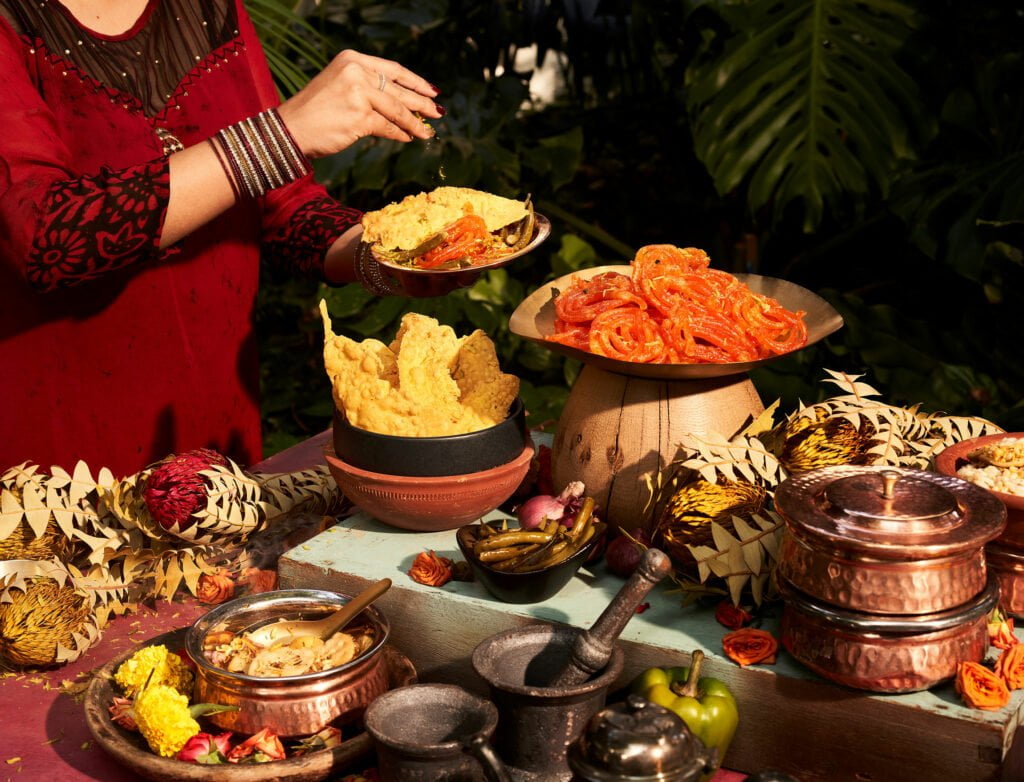 A visit to Raffles Hotel has always been a special occasion for everyone in Singapore, so when ANZA was invited to sample the limited-time Street Food Festival menu at Tiffin Room, we had to give it a try. The menu, which is available from 21 April to 5 May 2022, draws on Chef de Cuisine Kuldeep Negi's rich experience and his Indian roots and showcases iconic street food from various distinct regions. Chef Negi has also prepared vegetarian (S$78++) and non-vegetarian (S$88++) menu options with both being equally delicious.
We ordered the non-vegetarian menu in this formidable setting. The table is set with Phudina Peanut Chutney, Aam Chutney, Nimbu Achar, and Papadums, these treats alone told us that we were in for a special culinary journey. Chef Kuldeep starts the main menu with a welcoming pair of treats: the Bombay Bhel Puri, originally from the streets of Mumbai, and the city's version of puffed rice which is then mixed in sweet and spicy chutneys; and the Moong Dal Ladoo, flavoursome yellow lentil and radish dumplings that hail from New Delhi.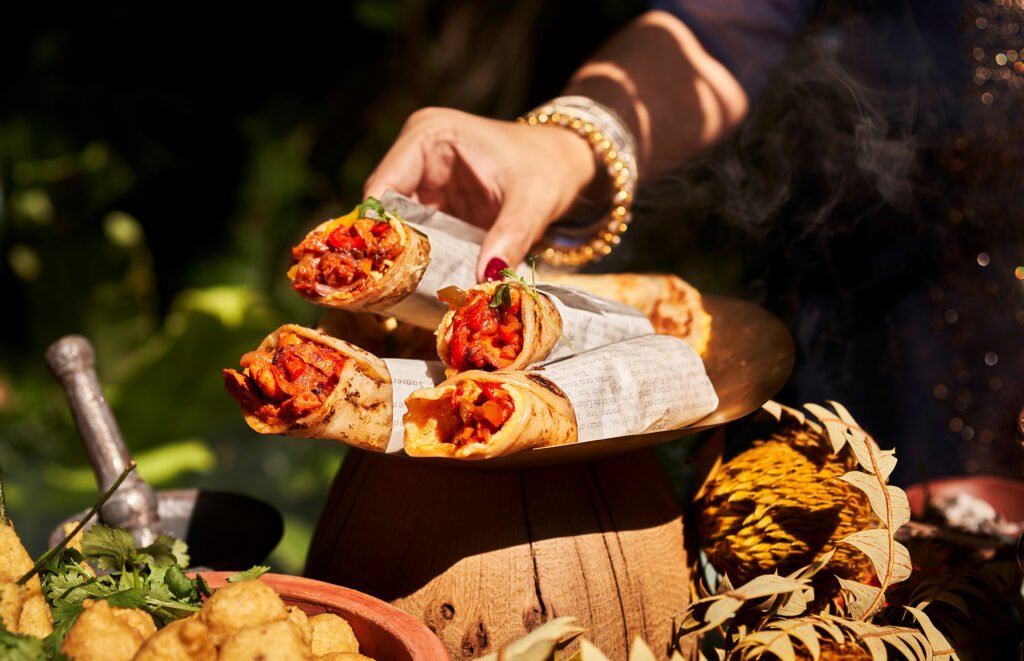 Balanced flavours
For the appetisers, we were presented with a medley of treats from various cities. From Punjab, we ate the Amritsari Fried Fish, a marinated deep-fried fish creation that was packed with punchy but perfectly balanced flavours, followed by the Bharwa Mirchi from Rajasthani, a stuffed chili with potato and spices. The third appetiser was originally from Kolkata, the Kathi Roll, a deliciously smoky boneless chicken leg prepared with bell peppers and wrapped in wheat flour bread. According to a couple members of our table that are "in-the-know" when it comes to street food, Kathi Rolls are a rare find in Singapore, so we were very excited to see them in the menu. Needless to say, we loved them.
The main courses took us to a higher level in our journey. We tried the Kheema Curry prepared with aromatic Lucknowi royal Mughlai minced lamb and a range of wonderful spices. Next up was the Nazaqati Botti Pulao, a succulent grilled lamb kebab biryani presented in the signature tiffin box. Onion Parantha was served on the side and complemented the kebab perfectly.
Heady spices
One member of the table ordered the vegetarian alternative and we all agreed that both menus were outstanding. Starting with a moreish starter of Vegetable Kebab, a grilled Lucknowi favourite comprising an assortment of vegetables topped with almonds and figs, it was a terrific combination of so many layers of various taste. For the main course, from Punjab, a delicious Chole Bhature, a much-loved chickpea curry with beautiful heady spices. This came served with fried bread, pickled onions and deep-fried masala chili.
Our mouths were tingling by the end of the menu with only dessert left to be had.  From the streets of Gujarati, we were served the Jabeli Fafda, this is a popular spiral shape snack made from gram flour and topped with some mustard seeds and a chili. It was the perfect way to end this fantastic culinary journey.
Verdict: This Street Food Festival menu packs a punch of flavours and various layers of textures. It's not often these delicious street food creations can be found, even in food-crazy Singapore. A visit to the Tiffin Room in the iconic Raffles hotel is the ideal venue to spend lunch or dinner traveling through the culinary roads of India.
The Street Food Festival menu will be available for lunch and dinner in both non-vegetarian (S$88++ per guest) and vegetarian (S$78++ per guest) options from 21 April to 5 May 2022. A limited selection of the regular Tiffin Room à la carte menu will be available during this promotional period. 
Tiffin Room