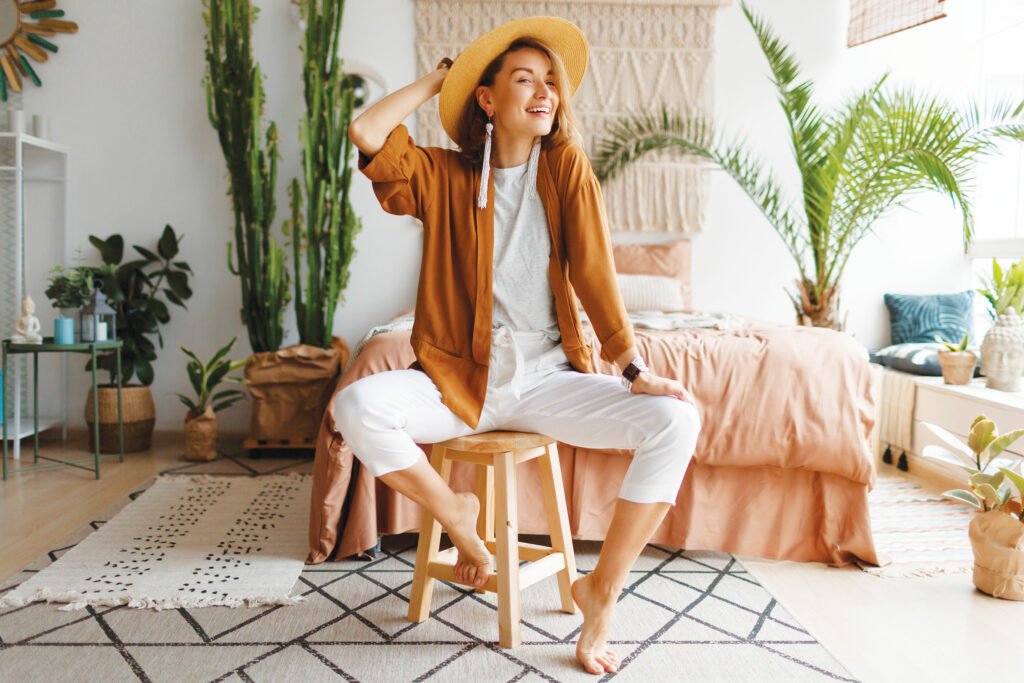 If the past few years have taught us anything, it's the importance of our home surroundings. More than ever, our homes have become our sanctuaries, but what many don't realise is the extent to which our environment can influence our wellbeing. "What surrounds us affects us on a level that goes way past how things look. Everything from colour and lighting to texture and air quality play a part in how we feel," says Laura Che Bachmann, Creative Director at Laura Bachmann Home (laurabachmann.com). "We're at our most peaceful and content when our homes are a true reflection of ourselves and what makes us feel good." Here's how to start creating a happier home with your health in mind.
Colour Your World

 
According to psychological research, emotional responses to colour depend on their saturation and brightness, while certain cultures also have an association to particular hues (for example, red can represent celebration, passion, fear or sacrifice depending on the culture). "Colour is such a powerful interior design tool when it comes to creating a happier home. It can make rooms feel more calm, cheerful, comfortable or dramatic. It can make a small room feel big, or a spacious one feel more intimate, without having to move anything around," says Laura.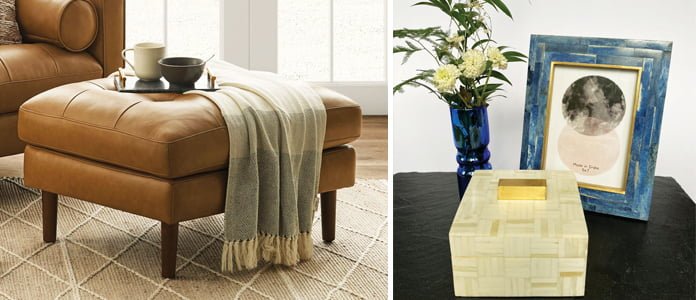 Colours act in three basic ways: active, passive and neutral. Bright colours like yellow and red lift energy levels, while blue, green and grey are linked to calmness, making rooms seem more relaxing and serene. Neutrals such as beige create a more cosy atmosphere, whereas white can be used to create the illusion of space
Think about the mood you'd like to create in each room. White, which promotes feelings of clarity and productivity, is perfect for a study room. Cool and calming colours are the best for bedrooms and areas where you want to wind down. Active shades should be placed where you want more stimulation, like in the kitchen or games room. However, be careful of really bold hues as they can ignite feelings of anger
In bright and hot Singapore, an accent wall in soft shades of grey, blue and green are a nice idea to cool your home (and mind!) down. Nippon paint (NPN1991P Grey glove), NPN2033P Dusty Grey (grey with green tones), or NPN 3069P Pinnacle Grey (light grey with blue tones) all work well without being too overpowering
Use furniture and objects to add splashes of colour. The easiest pieces to include in your home colour scheme include rugs, vases, coasters, cushions, chairs and ottomans. Castlery (castlery.com/sg) has some great items. Or a modern bone inlay photo frame (left) adds colour to a sideboard


 

 
"

73% of people who are happy with their home are also happy in general

"
*GoodHome Report
It Makes Scents

 
"Scent plays such an important role for a calm space and happier home," says Laura. "When we're feeling stressed or anxious, certain smells can trigger our physical and physiological reactions, bringing our mind to the present, even for just a few minutes." Indeed, taking in a scent associated with happier memories and emotions has been scientifically proven to have the power to alter a person's mood – go from sad to serene in a mere sniff.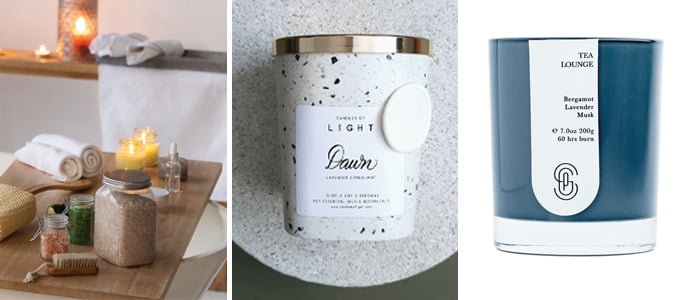 The entrance is one of the most important areas of your house as it sets the tone for what's to come. Says Laura, "If the smell of home welcomes you and soothes the mind the moment you walk in, it'll put you in a positive mood."

 

Jo Malone Lime, Basil & Mandarin is like a warm hug as you step into your space. Available from tangs.com

 

Adding scents to a bathroom can induce feelings of relaxation. Light a scented candle and choose a natural scented handwash. Smells like rosemary, lemon, jasmine and lavender have calming and clarifying effects. "I like those from Soul Good Project (soulgoodproject.com) which are created in Singapore," says Laura, who adds that candles in reusable terrazzo from Candles of Light (candlesoflight.com) are also ideal for bathrooms

 

The introduction of nature within a space is well documented for lifting your mood. Laura's go-to places for plants and flowers are Far East Flora market (fareastfloramarket.com) or Tiong Bahru market which both offer a wide range options at good prices
Essential oil diffusers add scent to a bedroom. Muji (muji.com) do a comprehensive range, or try a waterless essential oil nebuliser. It's Ollie (itsollie.com) customise essential oils to create a scent that's unique to you. Add a few drops to a muslin cloth and pop on your pillow or on an eye mask for better sleep

 

Hang fragrant leaves in a kitchen or pantry to permeate a room. "A bunch of pandan leaves can last for weeks after they've dried up," says Laura. For bathrooms, add fresh eucalyptus in the shower room which will smell divine as it soaks up the steam. Originally native to Australia, it comes with myriad medicinal benefits including calming properties
Talking Textures
Texture plays a significant role in influencing our feelings, perceptions and actions. Textures and materials at home can provide comfort for our emotions as well as create the basis for our interior style. "By introducing certain materials and textures into rooms, we can design a home environment combining the elements that make us happy," says Laura.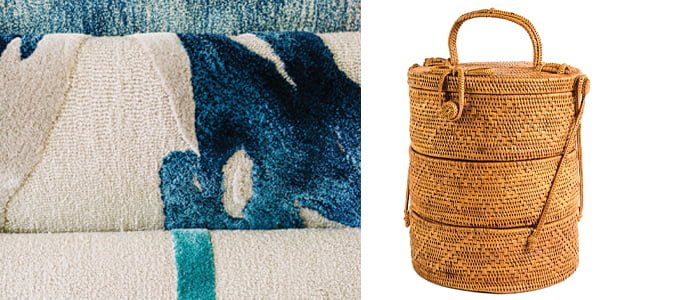 Soft fabrics contribute to a space that is warm and inviting. Choose a sofa with a neutral cotton or linen finish, and cushions made from natural materials which are more Singapore-friendly. If you have a leather sofa, add faux fur fluffy or some knitted throw cushions. Lighten up hard surfaces like tables with simple cotton or linen

 

table runners

Glossy surfaces work better in small and dark rooms as they reflect light to make space seem brighter. If you have ample natural light in your home, objects and surfaces with a light absorbing matt finish help to reduce

 

a harsh glare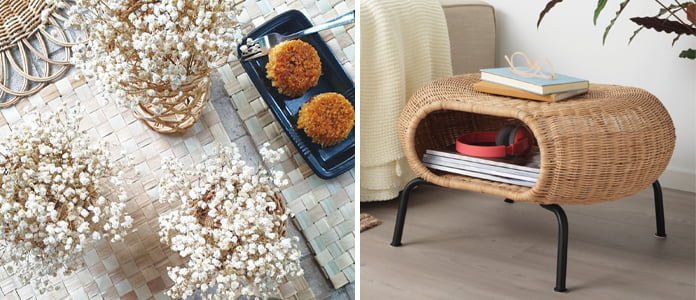 Rattan adds a touch of simplicity and a nod to more organic textures. Ikea's Gamlehult footstoll with storage is a fab buy (ikea.com), as are pieces from Mango Wood Crafts (mangowoodcrafts.com). Small ethical business Honey and Cinnamon Spice (@honeyencinnamonspice) stock a variety of quality rattan placemats and natural stone coasters

 

Shells, or a crystal or agate display will increase your connection to nature and make you feel more grounded. And don't underestimate the power of a rug made with sustainable material like bamboo

 

Add a rustic finish with a stone flower pot or ceramic vase. If you have a balcony, adding a jute outdoor rug next to your seating, paired with a large pot plant can transform your space into a retreat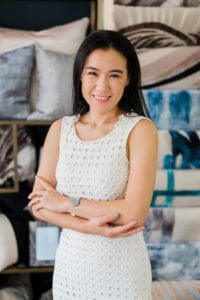 Laura's store is at #03-08, Holland Road Shopping Center, 211 Holland Avenue, 278967
See more of her work at laurabachmann.com / laurabachmannhome