You may be suffering from brain fog or low mood. You might be having trouble sleeping or suffering from low energy. You could have weird aches and pains and a sudden attack of adult pimples (why? WHY?!). The first place to look for a diagnosis? Your gut. 
The gut and its importance to our overall health is a subject of increasing fascination and research. Numerous studies within the medical industry have demonstrated links between gut health and the immune system, mood, mental health, autoimmune diseases, endocrine disorders, skin conditions, and cancer. In fact, 80% of your immune system is in the gut, and the majority of your body's serotonin is, too. 
"Your gut microbiome is the foundation of your health," explains co-founder and CEO of Singapore microbiome research company AMiLi, Dr Jeremy Lim. "Great gut health occurs when you have a balance between the good (helpful) and bad (potentially harmful) bacteria and yeast in your digestive system. By focusing on positive gut health, quality of life can be improved while combating common ailments."
An attempt to reduce cake intake is one step forward, but of course, one gut does not fit all. "We are all built differently and so have different needs," says Physician Chew Hong Gian, Consultant at Raffles Medical Group. "However, when guided by principles of Traditional Chinese Medicine (TCM), we can choose food that is appropriate to our body constitution and sustain healthy bodily balance for the long term."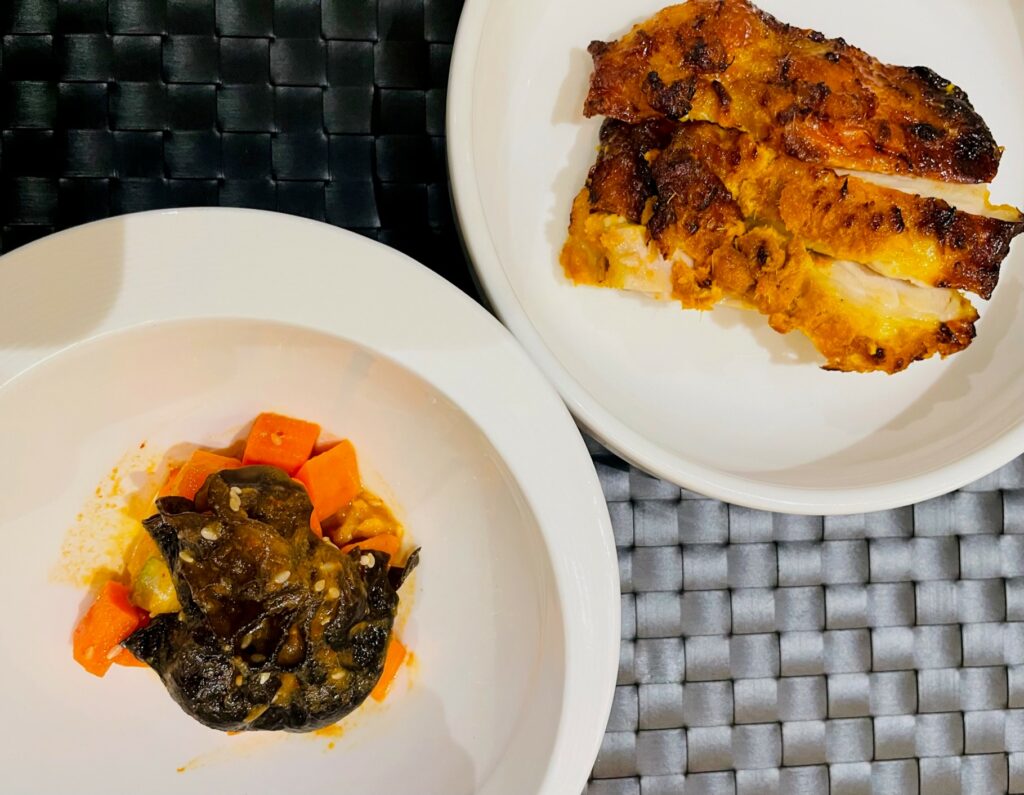 Yin & yang
Indeed, balance is the bedrock of TCM. Eating a balance of yin (cooling) and yang (heating) foods is essential for maintaining the flow of qi (energy) in your body, which leads to good health. "If you're experiencing watery stools, nausea and diarrhea, that's a sign of too much dampness (yin) in the stomach," says Physician Chew. "To dispel the cold and warm up your body, opt for warming foods such as ginger, onion, butter, chicken, prawns and chestnut."
He continues, "Signs of excessive heat (yang) are presented in issues such as constipation and may be accompanied by symptoms such as heartburn and comfort eating. Try to eat cooling foods such as green leafy vegetables, mushroom, soy bean, tofu,barley and buckwheat. Avoid spicy foods, alcohol and salty foods, which can irritate your gut and cause digestive fire."
We know what you're thinking: despite its proven ancient history, TCM can feel a bit woo-woo. But that's where the collaborative efforts of Dr Lim, Physician Chew and foodtech business Esseplore come in. Under the watchful eye of Esseplore's Executive Chef Yeo Kian Tiong (Chef KT) they've created UMAMI Chefs; twelve personalised dishes that bring a modern and multicultural take on TCM food as a bid to promote better gut health. 
Keen to reduce the stereotype of bitter, herbal and – sometimes to the Western eye – unidentifiable TCM food, their dedicated wellness meals combine TCM expertise, science, and culinary know-how to deliver the correct nutrition for a healthier, stronger gut.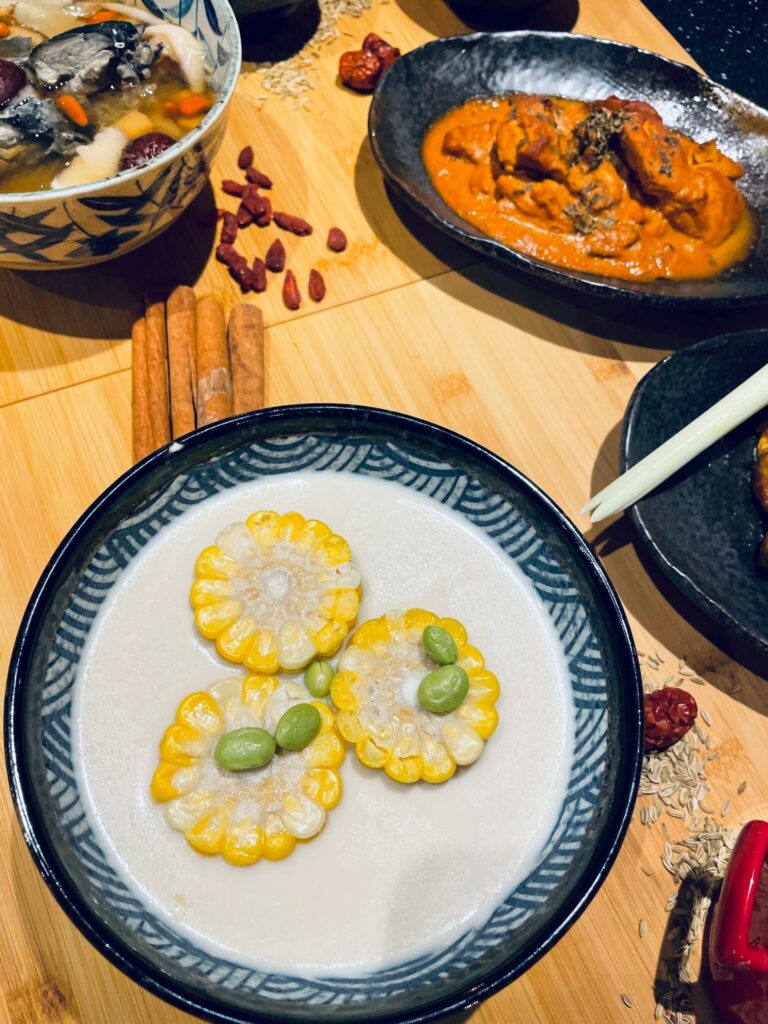 Gut health status
Only available through an online order, you have to first complete a unique one-minute online health questionnaire to receive a quick assessment of your gut health status. Based on your results, UMAMI Chefs will recommend the meals most suitable for you to be delivered – home-cooked, nutritionally balanced and preservative- and additive- free – right to your door. 
ANZA has been lucky enough to sample some of these TCM creations, and both our brains and bellies fully approve. Options range from Japanese Vegetable Curry and Oxtail Stew to Plant-Based Lasagna and Butter Chicken. (Nothing scary in sight and super appetising!).
To combat qi deficiency characterised by low energy levels, go for Soymilk Chicken Soup with Corn and Edamame and Monkey Head Mushroom Soup with Astragalus, Fig and Lotus Seeds which borrows the best of Chinese healing ingredients to tonify the qi of the lungs, spleen and stomach while calming the heart.
As a bid to banish bloating, the Turmeric-Lemongrass Grilled Chicken lends an Asian take to grilled poultry, served with Basmati rice with mixed quinoa and zucchini black fungus achar to dispel dampness and heatiness in the body. For circulation slower than a Sunday evening drive across the causeway to JB, the creamy Butter Chicken comprising tender chicken thighs, spice-marinated with fenugreek leaves is just the trick. Sides options include Achar and Rice with Black Soybean for a healthy, filling meal.
So, just when you thought the local food here could not get any better or more diverse, here we are. For a gut reset which is scientifically proven to help and provides something different to your standard daily takeaway, our satisfied taste buds and comfortable stomachs firmly put these plates of TCM goodness forward.
Delivery charges apply. $14 per location for orders below $80, free delivery for orders above $80.
Online:umami.esseplore.com
Instagram: @umamichefssg