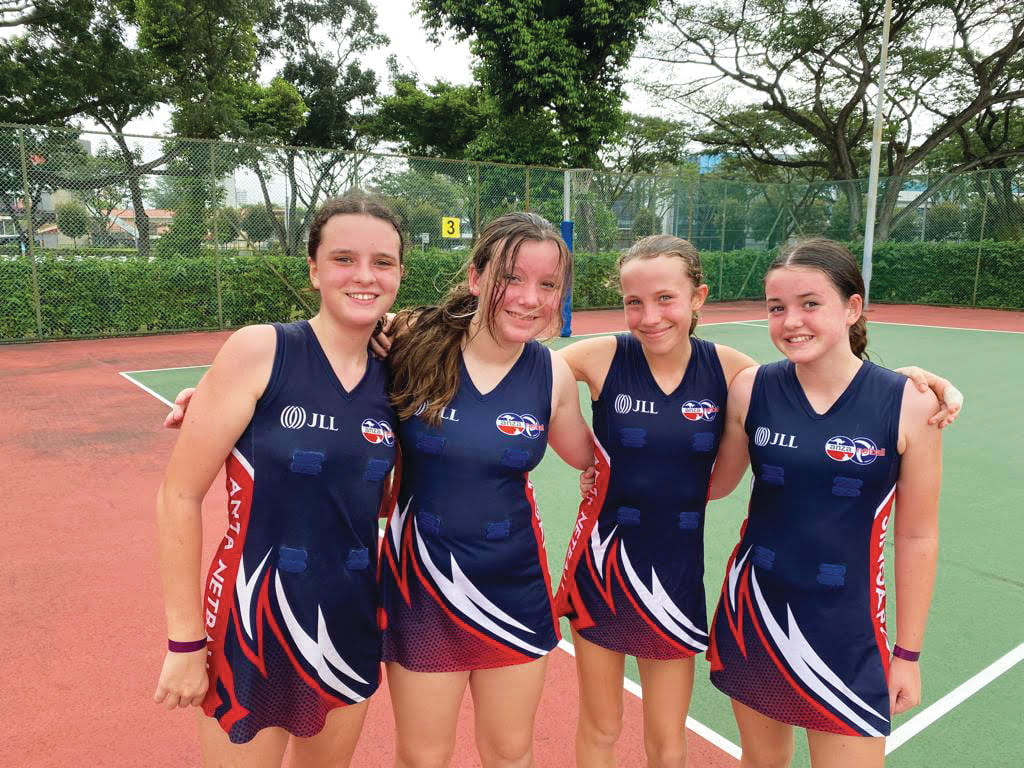 It's been a long time coming, but ANZA Netball finally got the chance to join a 4v4 league organised by Singapore Netball Academy (SGNA) in two divisions, Under 16 and Under 14. The SGNA League, which took place in early February, originally formed part of the ActiveSG pilot. Ten people were permitted per court, including umpires. However, towards the end of the league season, as sporting restrictions were eased in Singapore, more players were granted. The SGNA League was played as a round-robin tournament lasting seven weeks and was held each Sunday afternoon at Kallang Netball Centre.
The rules
The competition was played in a similar format to that of street netball, using just over half a netball court, but the positions were more clearly defined. Each team fielded a Centre, Goal Attack, Wing Attack, and Goal Shooter, with the Goal Shooter and the Goal Attack being the only ones allowed in the circle to both shoot and defend. After each turnover of possession, the players had to pass the ball back over halfway before going on the offensive. Each quarter played was 10 minutes in length, with limited breaks in between.
The play
Playing outdoors in Singapore always provides unexpected challenges, be it stormy torrential rain or blinding relentless heat, but the ANZA Netball girls didn't falter in their enthusiasm to get back in action. Fitness was tested among all the clubs as the players hadn't been physically challenged in such a format for a significant period and there were no substitutions allowed during the game. Win or lose, the exhausted players were all smiling at the end of the matches, happy to be rebuilding the team spirit and camaraderie that has eluded them over the past few years.
The teams
UNDER 16! ANZA entered three teams in the Under16 division: ANZA Storm, ANZA Power and ANZA Thunder. The opposition were primarily SGNA teams plus Tanjong Katong Secondary School (TKSS). All ANZA teams progressed through the rounds with some tight matches and close scores. Approaching the end of the season, all three ANZA teams were placed in the top half of the table, with ANZA Storm sitting at first with two matches left to play. "It's been great to play a competition again in the SGNA League, and since it's half court, everyone gets a shot. It's awesome to be with my teammates – the best part of netball!" said Millie from ANZA Storm.
UNDER 14! Two ANZA teams competed in the U14s: ANZA Flash and ANZA Lightning. The competition consisted of several SGNA Teams as well as the Lions Netball Academy and TKSS. The ANZA Flash and Lightning teams had only played one or two seasons of competition prior to Covid causing interruption, so they were particularly keen to get out again. Both teams had some wins during the tournament with ANZA Lightning sitting top of the table with a few weeks remaining. Said Rosie from ANZA Lightning, "It's so good to be playing competitive games. I missed it very much. Playing as a team again has been a lot of fun."
ANZA Netball was thrilled to field teams in the SGNA League, and it was fantastic to see everyone performing so well and with such enthusiasm and skill. Recent news that vaccinated players aged nine and above can now play as 'normal' was most welcomed and we're hopeful that further opportunities will arise for all age groups, particularly the younger players who've missed out on some key netball developmental opportunities.
Everyone at ANZA Netball looks forward to a brighter future and registration is now open for 3 Sept- 10 Dec to complete 2022 (13 weeks). Players should sign up in their year of birth as usual.  There will be a 2 week break for October half term (22nd and 29th Oct).
Our new intake will be 2016 (players born 1 Jan- 31 Dec 2016). Sign up here
See you there!