When it comes to creating a welcoming home, lighting is everything. Getting the right radiance can pep up an otherwise uninspiring space, brighten your mood, and hide a multitude of sins after you've had a heavy night out. Sourcing a great lampshade to acheive this is every interior designer's secret style weapon. Whether you go eccentric, modern, classic, or country, a shade can be the statement piece that elevates a room from meh to amazing.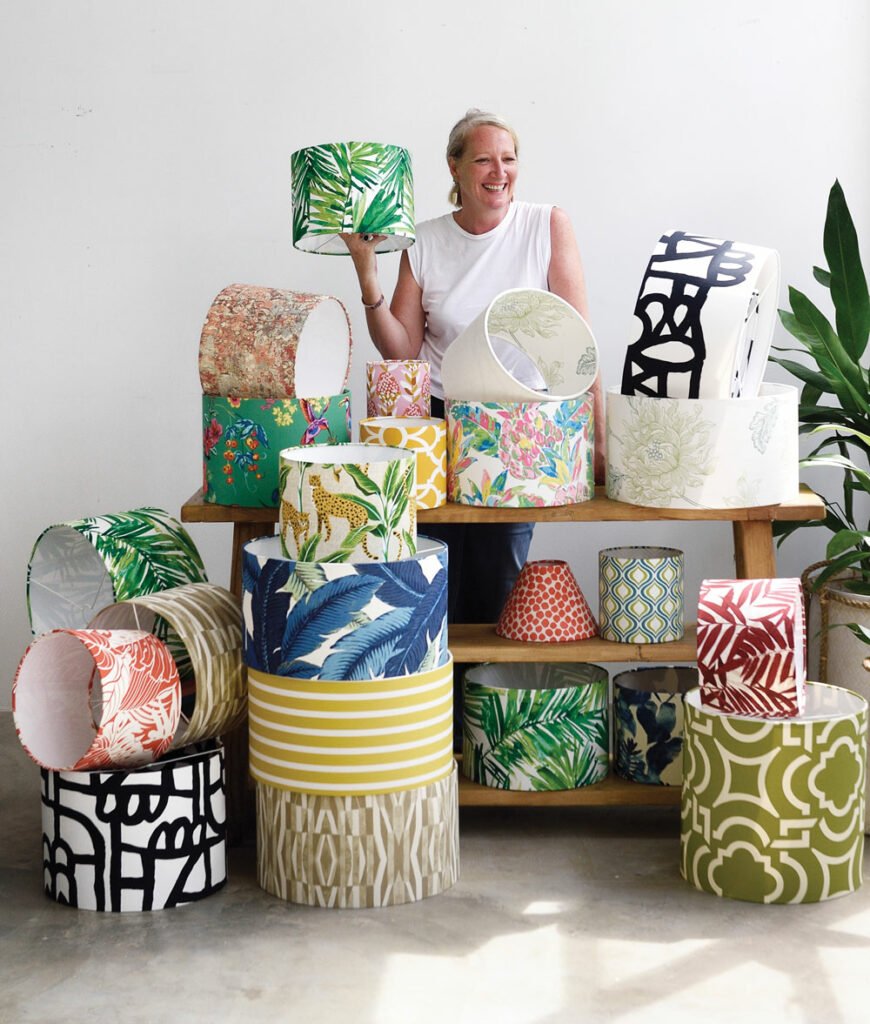 British expat Audrey Mitchell started making lampshades in Singapore as a hobby in early 2021. Helping out with workshops run by Jac Amos, owner of Lampelier (lampelier.com), was a welcome break from her day-to-day life juggling a full-time job with being a single mum of three. 
Her illuminating hobby quickly turned into her passion, and with the support and mentorship of Jac, The Shade Society (theshadesociety.com) was born. "As a student back in the UK, I worked in an art shop and made jewellery for family and friends. Fashion and interior design have always been an interest of mine, so making lampshades brought together many things I enjoy," she tells ANZA. 
When Jac relocated back to Australia, Audrey knew there'd be a gap in the market in Singapore for fabulous handmade lampshades. "It was a great opportunity to start my own business which has now been going for just over eight months," she says.
Bang the drum
The Shade Society is currently a one-woman show offering a ready-made (and ever-changing) collection of shades, lampshade refurbishments, and a bespoke lampshade-making service. Audrey works closely with her clients as part of a collaborative process to create the best style of shade for the space. She sources fabrics from local and international vendors, and all the cutting, measuring, trimming and final stroking of every piece is completed by her hands only. 
"Bespoke shades take longer as they're made to order. The protractor and compass have been out many times so I can work out some 'not off-the-shelf' creations!" she explains. "It's a challenging and meticulous process, but seeing the finished lampshade in its new home makes it all worthwhile."
Indeed, bespoke shades are all the rage in the world of interiors right now. Says Audrey, "Drum shades are very popular. They're a simple and effective shape for not only taking up space and showing off cool designs, but they also allow a lot more light to come through than a tapered shade, for example." 
In Singapore, bright and tropical prints always work well, but it's retro looks, soft fabric, and pleated shades that are currently in vogue – think Downton Abbey, Bridgerton, or even your grandma's house! 
HEAD HERE FOR MORE SHADY IDEAS
Onlewo
Onlewo produce quirky local architecturally-inspired fabrics. Their sophisticated table lamps make for gorgeous home centrepieces.

 

Onlewo.com, ​​5000L Marine Parade Rd, 449293
Palais
Offering ready-made lampshades, online company Palais stock a Singapore collection. They only source sustainable materials, work with professionals in India, and celebrate craftsmanship through their designs. Palais.com/collections/singapore
Nhteak
Alongside the nature-inspired, beachy-feel furniture of their Naturalis Historia collection,

 

this local company also host lampshade workshops.

Nhteak.com

, 48 Hillview Terrace #07-02, 669269

(by appointment only)
TRY THIS FOR SIZE
There's a golden equation of measurements to get you to your perfect lampshade match. First, measure the base and height of your lamp stand. The shade should be twice as wide as the lamp base, and one third of the total height of the lamp. For example, for a six-inch lamp base, the shade should be at least 12 inches wide.
Lamp it up:

Tips to suss your style
Consider the type of ambience you're hoping to create from the shade. For a light, bright, and airy feel, go for fabrics like linen or silk. For something more dramatic or moody, velvet, fringing, and metallic lampshade backings work to create allure
Analyse the space where you'll be positioning the lamp and be realistic. Can you really accommodate an extendable arc lamp in your bedroom? Or is the space only suitable for a more diminutive option? Stick to scale

 

Think about shape. While drum shades are fashionable, you can also choose to go cylinder, floor, coolie, empire, traditional bell, or more
Reflect on how much you want your shade to shout. Will it be the focal point or a subtle piece? For stand-out shades, don't shy away from bold and bright patterns and textures. For something more subtle, try a double-sided drum where you can go plain on the outside and patterned on the inside
Consider all of your options. Space permitting, you don't have to stick to one shade per room. And if you opt for several, you don't have to match them. Whether you want to go elegant or eclectic, you can still create a cohesive design through colour, shape and materials
Think safe! All bulbs give off heat. Make sure your lamp shade is the proper distance from the bulb. The harp (the metal arms that extend from the saddle of the lamp and hold the lamp shade) can adjust this distance.

 
To discover more about The Shade Society log onto: