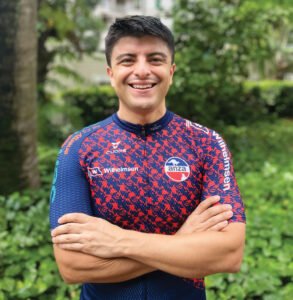 We're excited to welcome Marco Mejia to the role of President of ANZA Cycling. Originally from Quito, Ecuador, Marco has been part of the group for the past two years working closely with the committee on various initiatives to further strengthen the community. As Megan Kinder steps down to focus on the wider ANZA presidency, Marco is full of ideas and energy to move ANZA Cycling into the future. We caught up with him for more background info.
Tell us about yourself Marco …
Although I was born in Ecuador, I lived in the US for almost 10 years when I was younger. This lead me to practice various sports including ice and roller hockey, even being selected to join the National Team and compete in the Panamerican games. Skating is a great aerobic sport and as part of our training we also did quite a bit of cycling.
How long have you lived in Singapore?
For just over three years. I live in River Valley with my wife Eva (who also rides with ANZA) and my two girls; Emily, 6, and Natalie, 8. We are very close to Great World City so it's always a convenient option to pop out for a coffee or weekend lunch with the kids. About half a year after we arrived in Singapore, I was riding around by myself and saw a group of cyclists that passed by in full ANZA kit. When I got home I looked up ANZA and joined that same weekend!
I look forward to ensuring ANZA Cycling continues to be a safe, welcoming, and inclusive community
When did you discover a passion for cycling?
From the age of about nine, I used to ride my bike to school everyday. I wish I had Strava back then because I put in a lot of kms each week! I was more into mountain biking and trail riding before moving to Singapore where I got into road cycling with ANZA. It's been
an incredible journey that has taken me on some awesome rides in the US, UK and Ireland. My next stop is the Mallorca 312 in 2023 which I'm looking forward to.
Why did you run for ANZA Cycling President?
Ever since joining ANZA Cycling, it quickly became a very important part of my social and fitness life on the island. It's an incredible organisation with like-minded individuals. The community has not only enabled me to improve my overall fitness, but also provided a sense of purpose and motivation during the difficult time of the pandemic. When the opportunity presented itself, it felt natural to put myself forward as a candidate for Club President, a voluntary role in which I could give back by collaborating with the committee and helping steer it in a new post-Covid direction. I feel excited about implementing some new ideas and making sure the group continues to be a safe, welcoming, and inclusive community for all.
What ideas are you working on?
It's early days and as a committee we are always looking at ways that we can enable members to have more fun on and off the bike! For example, we will look at having regular bike maintenance workshops. These will teach current and newer members basics such as changing a flat tyre, drivetrain maintenance, tuning and indexing, as well as how to keep your bike safe and roadworthy. There's lots more to come!
On the road again: Other happenings in the community
A cycling trip to KL saw the group taking on an epic ride, followed by serious recovery mode.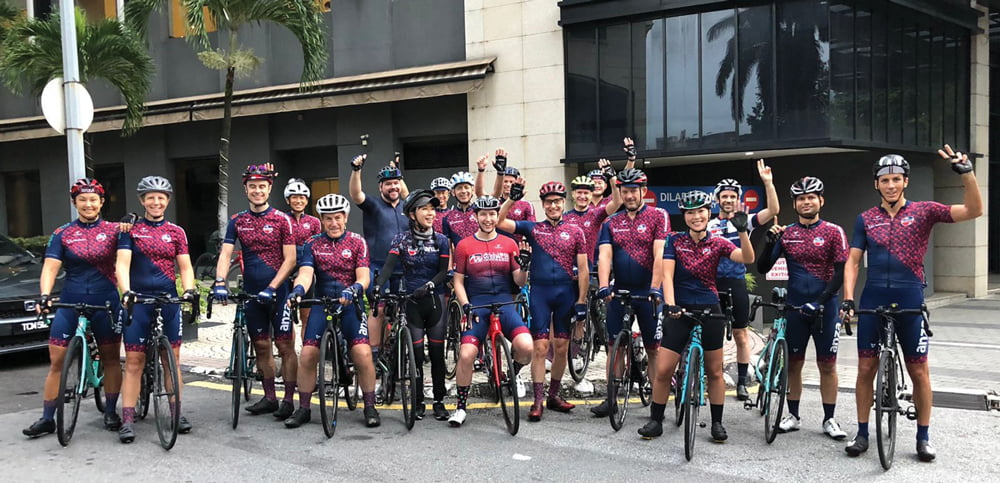 When the land crossing between Malaysia and Singapore opened up again a few months back, it was game on for ANZA Cycling club trips. Andrew Cherriman, the Vice President at the time and a trip organising veteran for the club, was flexing his skills to get ANZA Cycling members across the border and into Kuala Lumpur (KL) for the first long-awaited club trip since the pandemic.
Getting eighteen cyclists (plus some partners), bikes, kit and luggage into a bus and onwards to Malaysia was no small feat. Participants met up at the designated area on the Friday afternoon to get a head start on the 'Durian Tourist' traffic heading the same way for a bumper harvest season.
The long commute into KL was largely uneventful, only hitting mild traffic as we made our way to the Dorsett Hotel to get a good night's kip before two days of solid riding. Saturday saw the cyclists taking on a mammoth 140km ride with 1,800m of climbing along the windy roads of Genting Sempah and Colmar, before turning back to take on Janda Baik on the return. Let's just say, it was a good thing we had Hafiz in a support car who took really good care of everyone.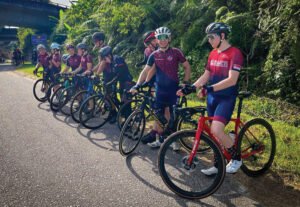 Sunday's 'recovery' ride, if you would call it that, was half the distance and climbing of the previous day, along the quiet roads of Ampang. The two days of climbing was sufficient to knock out and silence a few participants who went into recovery mode whilst commuting back to Singapore on Sunday on the bus. It was a short trip, but definitely well worth doing if you haven't done it before.