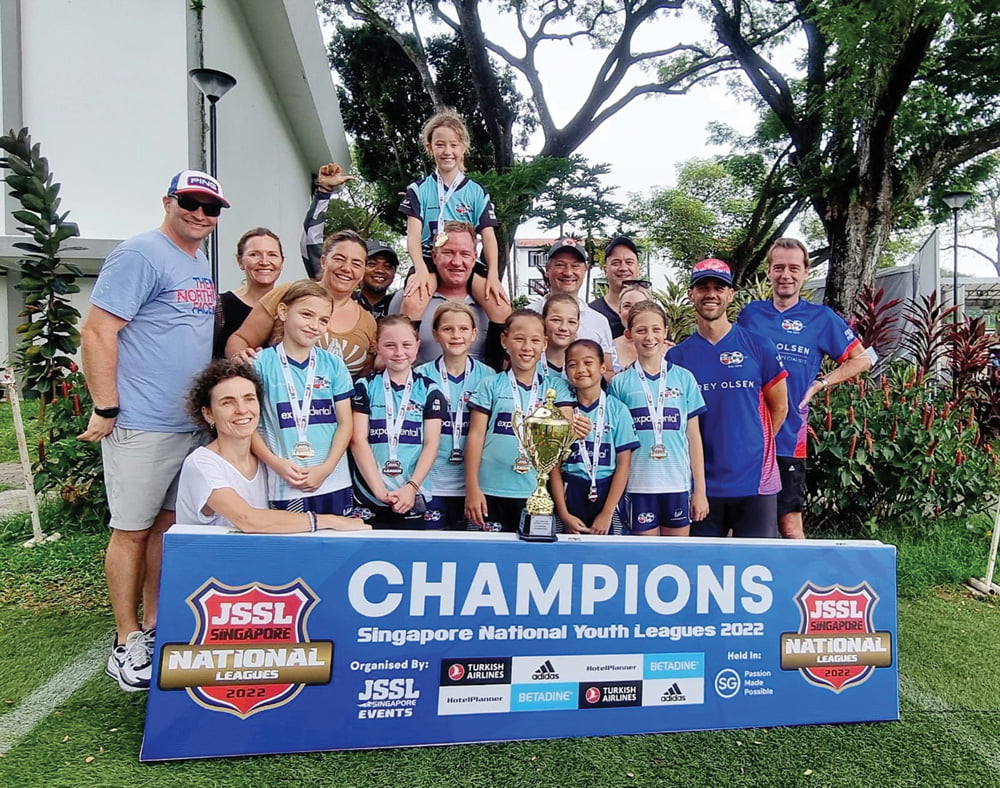 Back in June, after many changes, limitations, stops, starts, restrictions, and forehead-smacking measures to ANZA Soccer due to the ever-changing pandemic rules, our youngest Matildas won the under-10 JSSL Singapore National Leagues Division 1 championship!
Since finishing second in their first-ever tournament, the February 2020 Bangkok International Girls Football Festival, the G10 Matildas were excited to continue building winning momentum. We don't need reminding what else happened around the same time, but despite all the hurdles and roadblocks, Covid-19 didn't dampen the fire in these girls aged eight to ten. Their determination to keep playing remained steady.
Fun, hard work, dedication
When the JSSL league opened up in 2021, we registered our team in the youngest girls' age group available. This meant that our youngest ANZA Matildas would be competing with girls who were two to three years their senior and, in some cases, twice their size. This didn't intimidate or discourage them. They finished last in their division, but it only encouraged them to work harder, get stronger, and have more fun along the way.
Fast forward to the summer of 2022, after months of on-and-off Monday trainings in different combinations and group sizes. The Matildas entered the G10 Division 1, excited to prove to their parents, coaches, teammates and themselves that passion, hard work and dedication does pay off.
Although their opponents from Singapore Football Club, JSSL, Euro Soccer Academy, Singapore Football Club, and SG7 also entered the league full of vigour and strength, they were no match for our fired-up team. After five matches every other Sunday in April, May and June, the G10 Matildas finished the season in 1st place to win the 2022 Division 1 JSSL Champions Cup. The girls went home overflowing with joy and confidence – and a huge trophy to ensure they remembered this momentous event.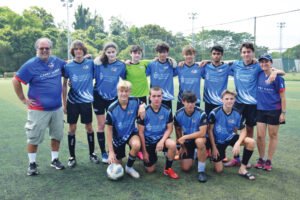 Winning foundation
For years, ANZA Soccer has taken pride in raising players to great heights while led by volunteer parent organisers and coaches, in partnership with professional coaches. It's this blend of mentors that provides our players with the motivation and inspiration to play with grit and determination. Taking home the Cup was a memorable achievement for these young girls, only surpassed by the unforgettable joy and friendships they had built along the way through victory and defeat.
Due to their fierce resilience over the last two to three years and, most importantly, because of their commitment to each other, to 'the beautiful game', and to enjoying the process along the way (no matter how trying!), our youngest Matildas have created a winning foundation to stand and grow upon. They truly are an inspiration to us all.
ANZA Soccer Kicks Off Its 47th Season!
We're delighted to announce a new season of fun, friends, and football, is now underway, with happy kids and parents enjoying our beautiful pitches at The Cage, Turf City every Saturday. Sessions began on 27 August, with general trainings (included in the fees) the following week. Our parent volunteer age group coordinators have been working hard to balance teams so that scrimmages and games are enjoyable and competitive for everyone.
Meanwhile, trials for our competition programme got underway in mid-August. The resulting teams have been training hard in preparation for the JSSL Singapore Professional Academy 7s tournament on the first weekend of September, and the JSSL Singapore National Youth Leagues the following weekend. There may still be spots available on some competition teams, which compete on Sundays.
If your child would like to join a mixed team or a girls' team, or to find out more information about the competition programme, please contact the ANZA office on 62916301.