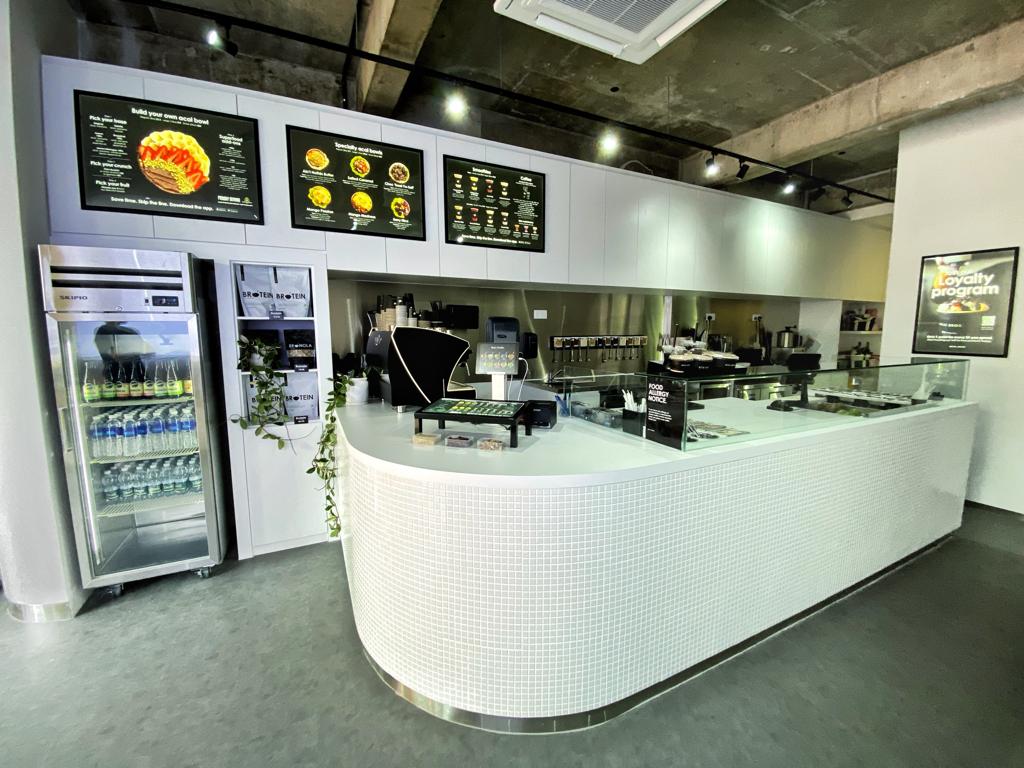 When ex Singaporean Airlines stewardess Michelle Ng was thinking of a new business venture she cast her mind back to food she had tasted on her many trips overseas. In Brisbane she had visited an Acai Brothers Superfood Bar and recalled that it tasted superior to the acai bowls she had brought in Singapore.
Acai Brothers has been operating in Australia since 2014 and have over 15 stores nationally. Founded by two friends, Ben Day and Sam Carson, they wanted to create a brand that offered a healthy fast food alternative. When approached by Michelle, they believed she would be perfect to launch their international expansion in Singapore, and hoorah, the first international store of Acai Brothers opened in Kovan just a few months back.
Plant based
The entire menu is plant based, vegan friendly, gluten free and refined sugar free. We started with a flat white made with almond milk. The beans are a blend from Honduras, Peru, Brazil and Nicaragua and are roasted and then shipped in from Australia. It was rich with a smooth flavour and one of the better coffees we've had in Singapore.
Whilst customers can build their own bowls just the way they like it, we opted for the "Ain't Nothin' Butter" with a base of acai, banana, cacao and peanut butter, topped with coconut yoghurt, chocolate buckini, cacao nibs and our choice of three fruit: banana, blueberry and kiwi. The acai comes from Sambazon, organic and fair trade acai from Brazil. Many companies use apple juice to sweeten the base but Acai Brothers blend it with banana which makes it smoother and more subtle. The addition of coconut yoghurt as a topping gave it a fresh taste which counteracted the stickiness of the peanut butter.
We also tried a "Berry Nice" with a base of mixed berries, acai and banana topped with buckini, coconut yoghurt, our choice of strawberry, blueberry and banana and a berry sauce. Again it tasted super-fresh and was a very generous portion.
Finally, we had a "muscle milk", a coconut milk, chocolate vegan protein shake. This had the addition of shredded coconut, cashews, cacoa, dates and banana. Vegan protein powders can be gritty but this was creamy and the dates and shredded coconut gave it a lovely natural sweetness. 
Michelle hopes this branch will be the first of at least three in Singapore and we will certainly be venturing back to Kovan to pay her another visit.
1019 Upper Serangoon Road
534757