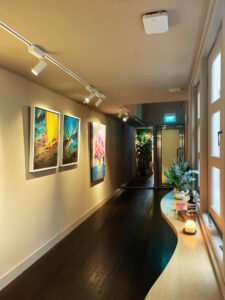 Some of us like to start a night out with a long, luxurious bath and time invested in getting party-ready. Others prefer to dive straight into proceedings, hardly pausing for breath while racing from boardroom to bar. Appetite offers a spot that bridges the gap between leisurely preparation and instant gratification. Tucked at the end of Amoy Street, you enter the venue through a nondescript shophouse door and head up a narrow flight of stairs into something of a hidden world. In contrast to the bustling eateries below, Appetite's Lounge area is low of light, quirky of layout and warmly welcoming. The walls are lined with art which forms a curated exhibition that is swapped up every few months; the seating is stylish yet loungey; staff are smiley, friendly and knowledgeable. 
You could be forgiven for thinking that you've accidentally stumbled into a hipster's apartment, especially when you take a second flight of stairs up into the attic, aka the Listening Room. This small but perfectly formed space features cosy sofas, antique rugs and a 3,000-strong vinyl selection complete with turntables and speakers that will get anyone born before 1980 feeling nostalgic and hot under the collar. (Look, don't touch – there's a music director on staff!).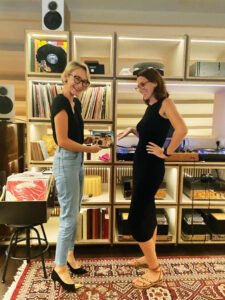 But wait – as joyous as the scratchy sounds of Fleetwood Mac makes us – we are here for the food. Appetite's new Happiest Hour features a menu curated by Ivan Brehm, chef-founder of Appetite and one-Michelin-starred Nouri on the ground floor. Alongside a glass of bubbly, guests can enjoy specially created small bites and sharing dishes based on Brehm's culinary philosophy of exploring ingredients and cultures from different regions (what he calls "crossroads cuisine"). First up, Tortilla de Camarones, a tempura-like fritter topped with spot prawns, spiced Marie Rose sauce, and a squeeze of grapefruit and lime. Next, Foie Gras and Chicken Liver Parfait, a dish that celebrates Brehm's formative years at Hesten Blumenthal's The Fat Duck, UK, and his love for nouvelle cuisine. Last but not least, King Crab Bhel Puri, a rice bowl luxed-up with Norwegian king crab gives a nod to Vietnamese Chả Cá Lã Vọng. Each dish paired perfectly with the fizz and was not too filling.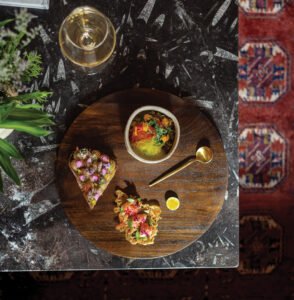 But alas, the point of Appetite's Happiest Hour is to provide a pit-stop. Happening from Tuesday to Saturday, 6pm to 8pm, it's the ideal launchpad for a night on the tiles or a pre-dinner soiree. "We want our guests to come in and unwind before they transition to the rest of their evening," says Brehm. The problem is, with nibbles and ambience this good, plus the possibility of a 1967 mono edition of Sgt Pepper's Lonely Hearts Club Band just waiting for a spin, it might be hard to get rid of us.
VERDICT: This two-storey gem is ideal for those who love an early evening start followed by bed by 9pm, or dedicated merrymakers wanting a chic spot to start the night in style. 
Appetite's Happiest Hour includes three dishes paired with a glass of bubbly at $68++. 
72A Amoy St, 069891, appetitesg.com