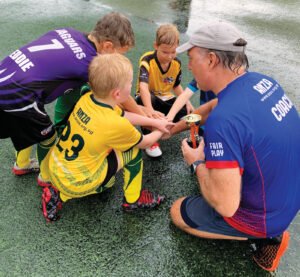 ANZA Soccer, like many of our sub-groups, relies almost entirely on volunteers to operate. From booking the pitches, to organising our pro-coaches and even designing and delivering our kits – it's volunteers who make it all happen.
In fact, it's the community focus and grassroots nature which is what makes ANZA Soccer stand out from other soccer clubs in Singapore. We still offer high quality and competitive teams, but with the added layer of a community and grassroots connection. The kids get the benefit of a truly international soccer programme, and our parents get the benefit of volunteerism.
Carnegie Mellon University did a study in 2013 that showed volunteering offers more than just psychological health benefits: it can also lower your blood pressure and extend your life. With the stress of the past few years, we could all do with a bit of relief and volunteering could be just what the doctor ordered.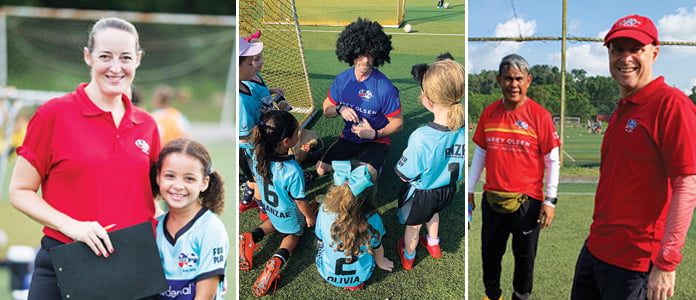 The good news is, you don't need to know anything about soccer to join in, as there's a huge variety of ways to get involved. From simple roles like team parent, who organises fruit each Saturday, to more complex committee roles where you can be part of the strategic and structural decisions, each role allows you to get involved and support your children in an activity they love. No matter what you take on, you're guaranteed friends for life. In fact, that is the one consistent piece of feedback we get – it's the people and the community that make ANZA Soccer so special.
Our volunteers speak!
Meet some of the amazing volunteers who get out on the pitch to bring ANZA Soccer to life.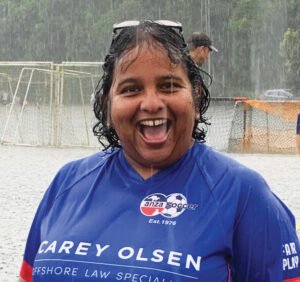 SHEHARA – TEAM COACH G8 MATILDAS
What drives you to volunteer as a coach?
"Rain or shine, parent coaching the Matildas is a highlight of my week. The girls are a delight and there's a lot of laughter and fun. The biggest benefit has been the additional time I get to spend with my daughter, Sandrene, doing something she loves. I'd recommend it to anyone, even if you've never coached before."
LEAH – GROUP 6 AGE GROUP COORDINATOR
Why did you choose ANZA Soccer to volunteer your time and energy?
"My daughter played the last two years and in hearing more about parent coaches and organisers I was reminded of how I grew up. Sports were always coached by Mums and Dads who gave their time so we could play. I needed to get involved. During my first committee meeting, I was surprised to hear such a variety of accents! It's a diverse group that make me feel so welcome."
What advice would you give others about volunteering with ANZA?
"When your child's group coordinator asks, throw up your hand! There are many people that make soccer happen, and roles can vary in commitment. Your child can grow with ANZA soccer and volunteering helps to support them in this awesome community."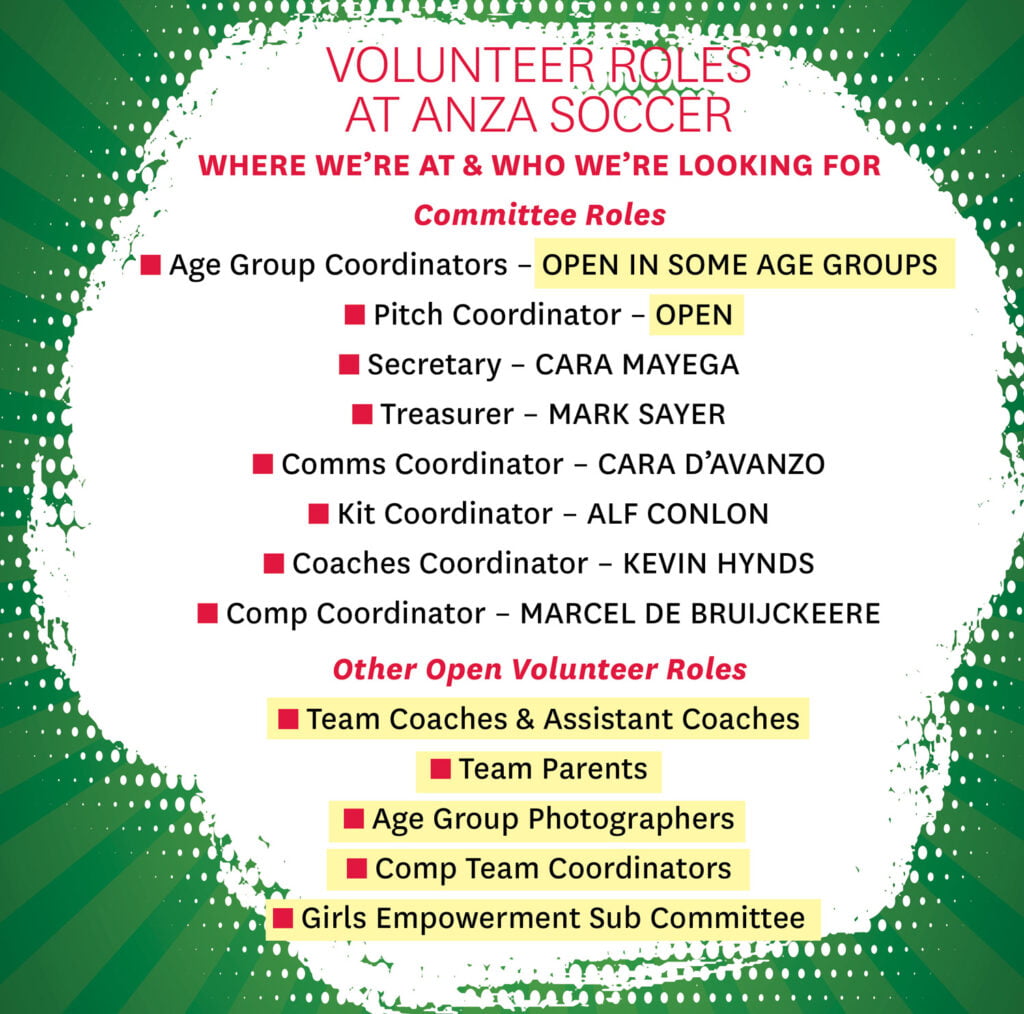 Want to get involved?
Contact info@anza.org.sg for more info.