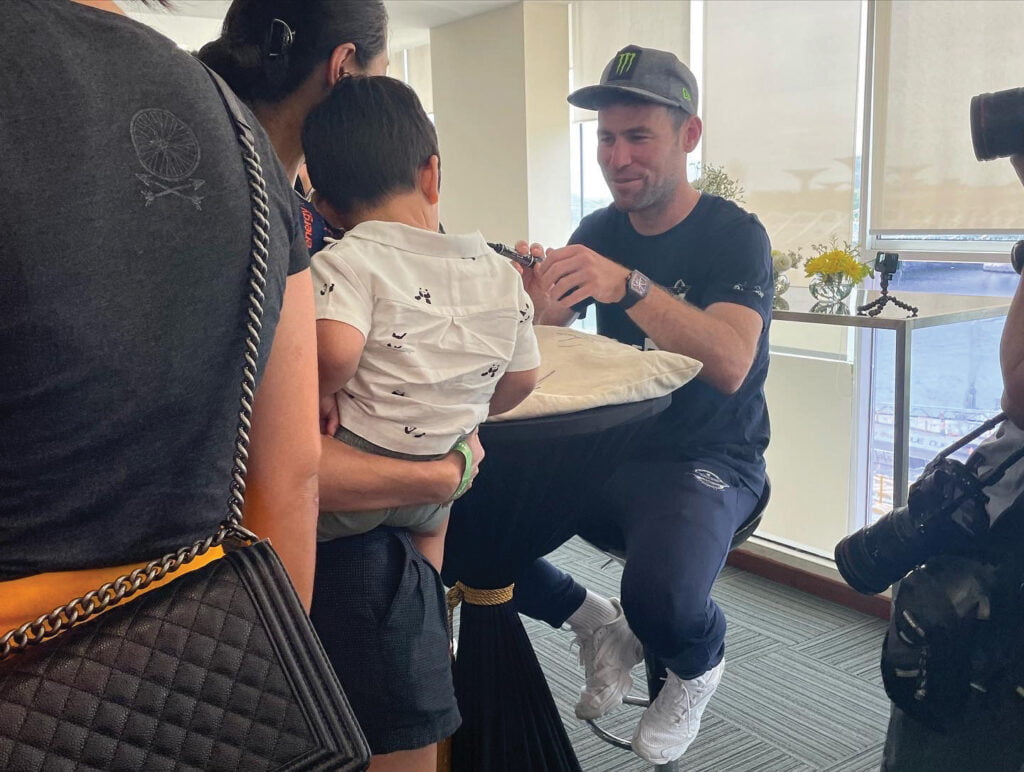 The first-ever Tour de France Prudential Singapore Criterium took place at the end of October which saw pro racers Chris Froome, Jonas Vingegaard, Antonio and Vincenzo Nibali, Alejandro Valverde and Mark Cavendish descend upon the red dot (screeeeam!). Throngs turned out to watch them race the 3.2km circuit with reigning Tour de France champion Jonas Vingegaard taking first place after being the first to cross the finish line at the end of the 20 laps. ANZA Cycling were excited to head down to The Float @ Marina Bay to not only witness the action, but to ask joint record holder of the most number of stages won (34) at the Tour de France, Mark Cavendish, some key cycling questions. Yes, much 'fangirling' ensued alongside photo opportunities and signings. A fantastic weekend was had by all.
ANZA: How does a sprinter prepare to get through three weeks of some of the hardest climbs in the world?
Mark Cavendish: The difference between a sprinter and a climber is that a climber will train to be able to race on the climbs, so with a lot of accelerations, whereas a sprinter will train to get through the mountains without losing their sprint while trying to conserve energy. This doesn't mean going easy, we always have to go hard, but it's more of a constant pace rather than a stop-start. We train accelerations on the flat and steady on the climb, where as climber trains steady on the flat and accelerations on the climb. It's simpler than you think!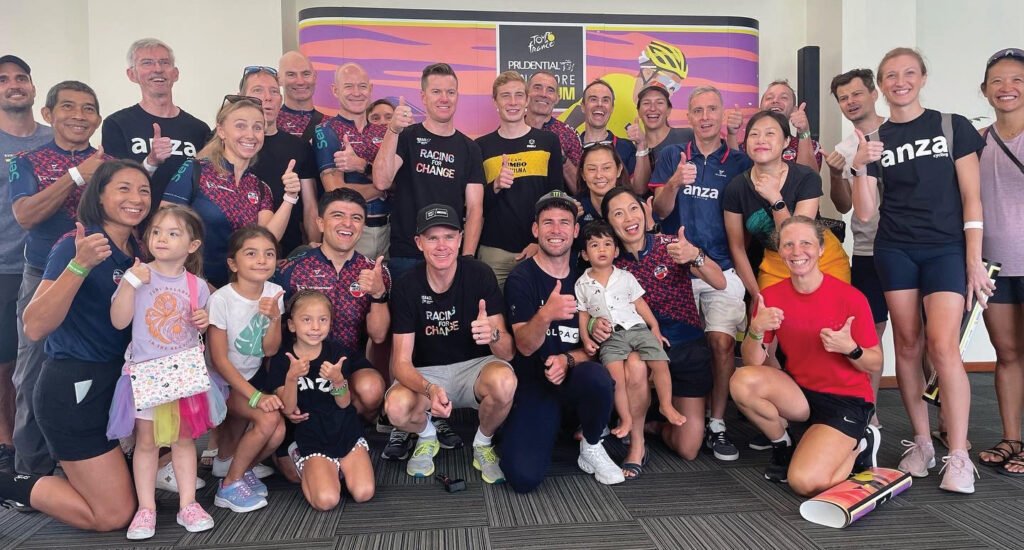 Cycling has taken off around the world. What's your advice for countries with no cycling history to develop their talent?
First and foremost, you've got to take cycling outside of sport and look at riding bikes as a mode of transport. The biggest problem in the UK was being able to ride on the roads while feeling safe. The more people can go out on the bike safely, the more they will enjoy it. Fundamentally, the first thing to look at is the transport infrastructure of the country. l like riding with my family as a mode of transport. Once you get people enjoying the bike that way, then you can look at racing.
How important are off-bike activities for cyclists such as weights and core flexibility?
It all helps, but you don't need it. I don't really have any advice as I do most of my strength training on the bike. Rather than putting in two hours in the gym doing weights, I prefer to do extra hours of cycling. When you're younger, core stability doesn't really matter; you can gain benefits from it, but as you get older it becomes more important. As for activities like yoga, it depends on the person. I don't do it or much stretching, although maybe I should!
Have you got any nutrition tips or favourite ways to recover or eat while in training?
Don't wait to get hungry on the bike; eat before you feel you have to. Keep it to little and often. If you can take 60g of carbs every half an hour as a bar or a gel you should never 'explode' on the bike, if that makes sense!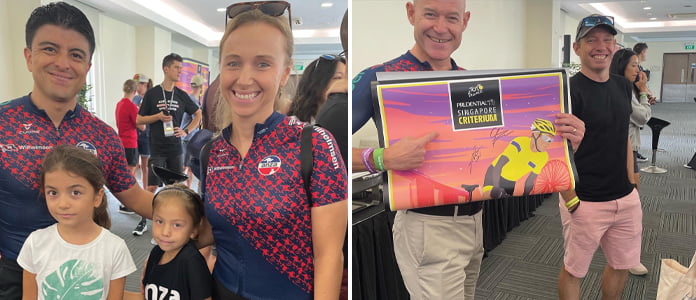 What's the hardest day on the bike you've ever had?
There's been a few in the Tour de France. It's rare to go three weeks in a race when you don't have one day that's a bit much. I've certainly had times when a race is not about riding the bike anymore, it's about fighting with your head to get through to the next stage and turning the pedals without force.
How do you get through those tough moments?
You have to remember that there's always a finish line. It may feel like the race is going to go on forever, but I always tell myself there is an end point. The one thing I say to my kids is to always work hard and don't give up on anything, and you can take that long term and short term. Focusing on the finish line is what gets me through.
I've had times when a race is not about riding a bike,it's about fighting with your head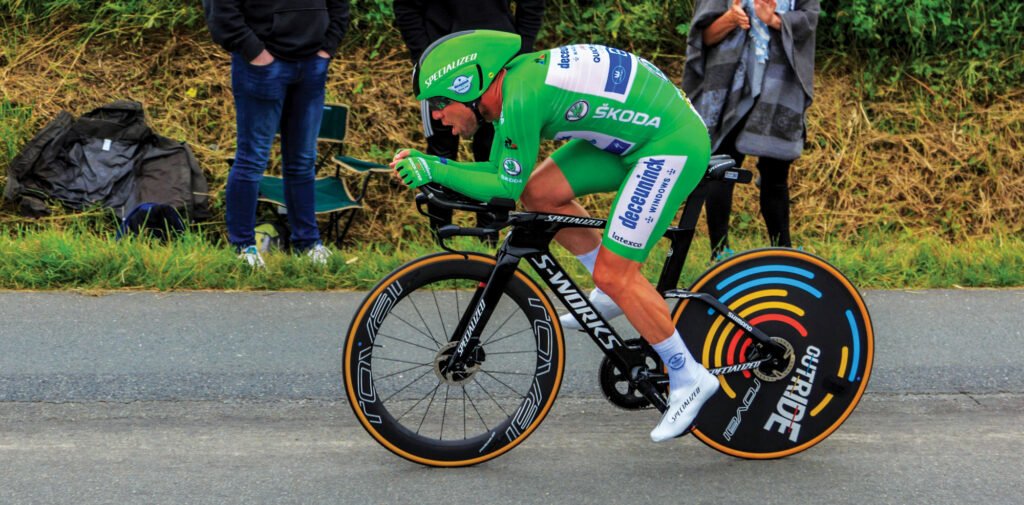 Please recommend your favourite destinations for a cycling trip …
Italy is always good. I've got a house in Tuscany and that's great on and off the bike – great weather, great food, and many cyclists. However, the Isle of Man, between England and Ireland, where I was born, will always be my favourite place to ride. It's a bit tricky to get there but it's so worth it.
What advice would you give to someone who's doing their first crit race?
Don't fear the fall. Being scared is part and parcel of riding a bike and racing – it's part of the fun! Of course, you can take more calculated risks the further forward you are in a group, but mostly, you should just embrace the thrill of the race.