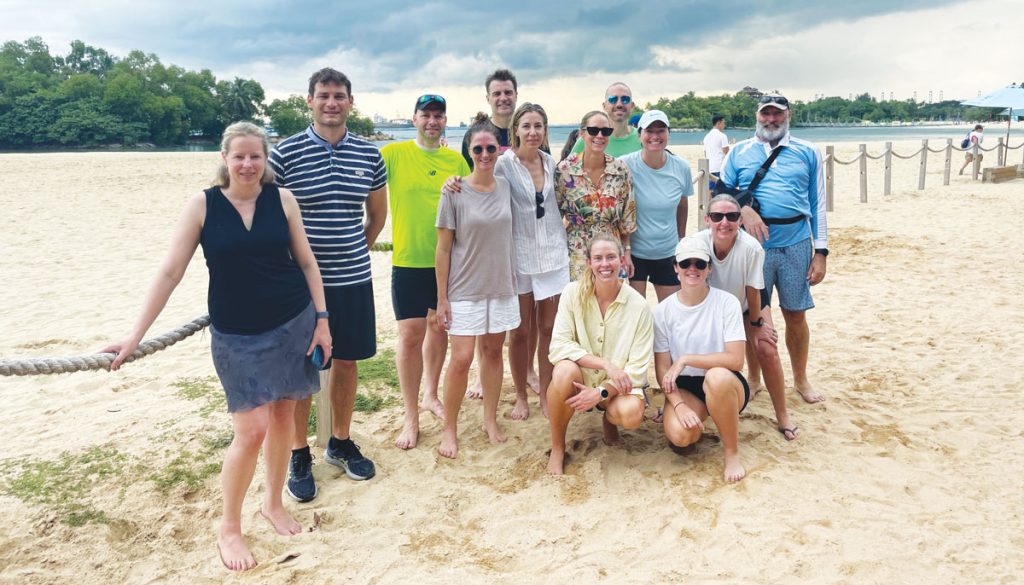 At ANZA Nippers, it's a prerequisite that all of our Age Managers must be Bronze Medallion qualified to participate as a lifeguard. So, we were thrilled when 14 brave parent volunteers signed up for the course which ran over two weekends in November.
Before they could attend the in-person training on the beach and channel their inner Hasselhoff, participants had to complete online learning modules and join Avalon Beach Surf Life Saving Club to attain their qualification in Singapore.
ANZA Nippers operates a 1:5 water safety ratio, hence the number of places we can offer each year depends on how many Bronze Medallion qualified people we have to lead and assist in each age group. The course itself is made up of theoretical and practical training in both wet and dry environments, including Hand Signals, Radio Call Signs, First Aid, CPR and Rescue Methods.
The first weekend served as orientation, practicing drills and theory; the second weekend was when these skills were put to the test. Participants also had to complete the dreaded 400 metre swim in under nine minutes to gain the accreditation.
Needless to say, everyone was relieved and smiling once that part was over – it was time for a well deserved beer for our "Bronzies" and the trainers from Avalon.
WHO ARE AVALON SLSC?
Avalon Beach Surf Life Saving Club is on Sydney's stunning Northern Beaches, about a 45-minute drive from the Central Business District of Sydney. It has around 1,100 members including more than 225 Patrolling members, 400 Nippers and more than 360 General and Associate members.
ANZA Nippers have a trusted relationship with Avalon SLSC and our Bronze Medallion training would not be possible without their support. Big thanks to the trainers Steve and Charlotte Broderick, and Helen Tan and Lauren Petersen, who travelled all the way to Singapore.
How was it for you?
Course participants give us the lowdown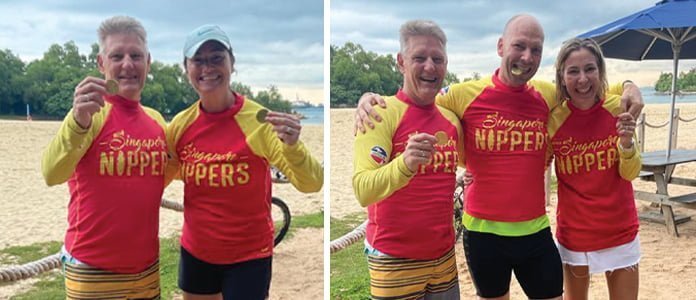 Participant #1: Kris Day
Why did you do the Bronze Medallion course?
Nippers is valuable family time for us, and an opportunity to do something memorable with the kids. We signed up to get more involved in the community, and to enable us to increase group sizes and welcome new members at Nippers. Being involved as a parent and volunteer is great, but ultimately we need to know there are trained lifeguards available on the beach so we can all enjoy the fun.
Which part did you find the most challenging?
Most of us were relieved to get the timed swim out of the way as completing this exercise successfully is a prerequisite to continuing the course. Other elements including the first aid and theory were both challenging and rewarding in equal measure. I feel like I learned a lot in a short space of time.
What will you do with your new qualification as a lifeguard?
Hopefully, I can use it to coach one of the age groups as we grow the number of intakes for ANZA Nippers throughout 2023.
Did you enjoy the course?
Yes, very much. I'd highly recommend it for those interested in joining the Nippers community, or to people who are looking to learn life skills around first aid and water safety.
Participant #2: Susan Soulard
What made you sign up?
My French family joined Nippers in 2022 and I've really enjoyed the community and Australian culture. I've always loved the beach and was keen for a challenge.
Which part was the most difficult?
The ocean swim! And on the second weekend I was diagnosed with dengue fever!
What are your lifeguarding plans?
To become an Assistant Coach and have the opportunity to teach the kids the knowledge acquired in the Bronze Medallion. I love having fun with the children and Sunday mornings at the beach are just great- rain, thunder, lightning or shine!
Would you recommend the course?
When I signed up, I could hardly swim a full 50m freestyle. Now I swim regularly at the local pool and look forward to participating in fitness activities such as the Metasprint which takes place in February. It's never too late to start a new fitness regime, learn new skills or be part of a wonderful community.
For enquiries contact Kat at
 sgnipperscomm@gmail.com
Follow us on @sgnippers or @SingaporeNippers