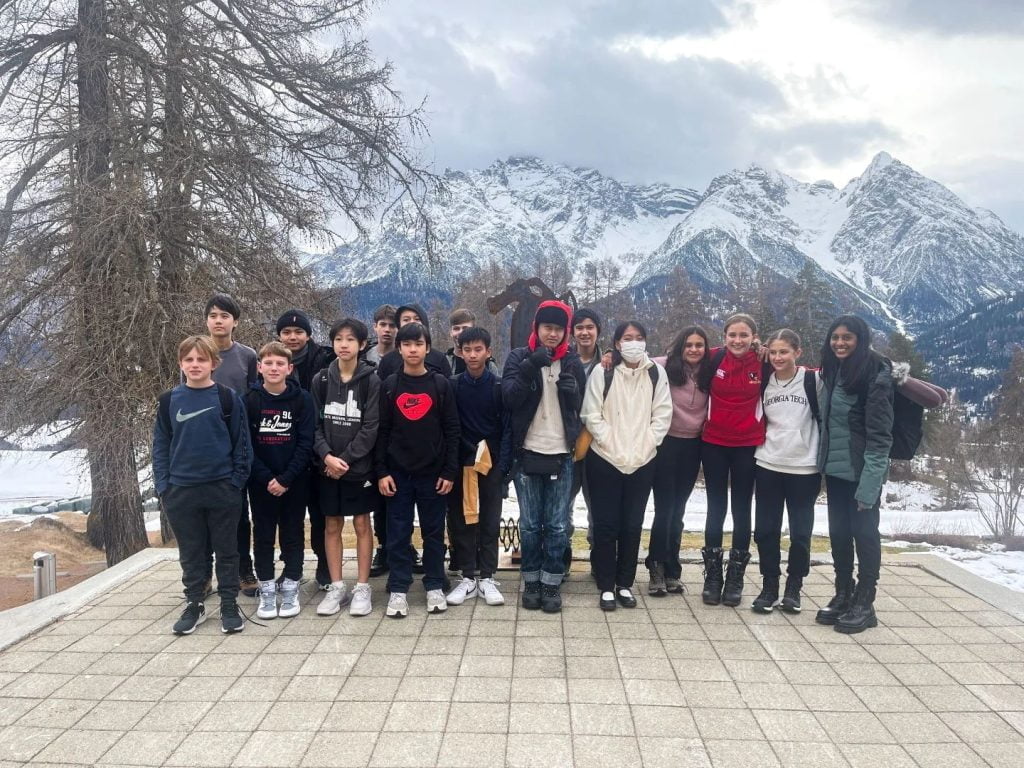 Ignite Switzerland is an exclusive 12-week residential programme for a cohort of Year 9 students from the
Dulwich College
International schools in Asia. This programme is truly transformational because it not only meets the core IGCSE academic criteria of the curriculum, but also focuses on developing self-confidence, independence, resilience and a sense of community through world-class indoor and outdoor learning.
The first cohort of Dulwich College (Singapore) Year 9 students to take part in the Ignite Switzerland term abroad programme thoroughly enjoyed their experiences. Located at Hochalpines Institut Ftan (HIF), a boarding school in the Swiss Alps, the students were fizzing with excitement when they returned.
By living away from home and encountering new challenges, the students discover their best selves, finding new ways to reflect on the world in an awe-inspiring natural environment, surrounded by mountains, forest, pastures, rivers and wildlife.
"This programme is unique, offering an incredible opportunity to experience life away from home, with a variety of activities and learning opportunities that would otherwise be unavailable, but with the security of being in a school with the same high expectations and values as those found here," said Melanie Ellis, Head of Senior School.
When each student was asked to describe their experience in one word, the enthusiasm was unmistakeable: "exciting", "inspiring", "eye opener" and "adventure".
Student Indrani shared," I've learned and developed independence and responsibility; being responsible for simple things like cleaning up my room; as well as for my actions and words. The challenges I faced during my time at Ignite have made me a stronger person. I know that with the right mindset I can now do anything."
Passion project
As well as keeping up with the Year 9 curriculum, students took advantage of everything the Alps had to offer, including downhill and cross-country skiing, snowboarding, tobogganing, snowshoeing through the forest and ice-skating. They really were living the dream!
In addition to the core curriculum, students choose from a range of electives, including photography, filmmaking, art, music and exploring the natural world, where they consider what constitutes a truly sustainable and ethical society. Besides developing basic life skills, such as learning how to cook, the students take on a 'Passion Project' which they will present and share upon their return to school.

"My 'Passion Project' was a website focusing on how climate change has affected the region's economy, community and biodiversity," says student Hayden. "The excursions we took during our time at HIF brought to light the immense issues that climate change has caused. With everyone on a digital device, I chose to use a website with many photographs, which I took to visually present the issue and to spread this message efficiently and quickly. I will continue to expand and build the knowledge that I have gained to propose sustainable solutions."
Ignite Switzerland presents amazing new opportunities for current and future generations of students. It is hoped the experience will inspire them to Live Worldwise and make a positive difference in the world. Click here to view the photos showing how the students spent their time at HIF, and here for more programme information.
Dulwich College (Singapore), 71 Bukit Batok West Avenue 8, Singapore, 658966, +65 6890 1003, admissions.singapore@dulwich.org, www.singapore.dulwich.org